Klibido Review
Last Updated: Jan 28, 2022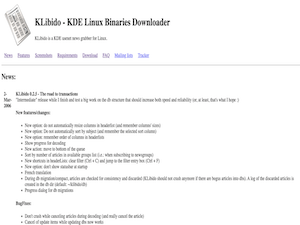 Rating
Price
free
Retention
500 Days
Free Trial
None
Features
Linux Binaries Downloader
Not a Full-Featured Newsreader
Supports Multiple Servers
Initially released in 2004, Klibido supports multiple servers and is able to automatically join multi-part posts and decodes posts using an internal decoder or the uudeview library (yEnc supported). It can view any file supported by KDE and has a download queue management feature.
As mentioned on their website, Klibido is not a full-featured newsreader. While it is not capable of fully displaying articles from Usenet, you can download these encoded articles from newsgroups and save them on your device.
While this news grabber seems to offer good service, it is also important to note that Klibido's most recent version was released way back in 2006 and since then no further updates has been made and is said to still be in its beta phase until today. That being said, some functions don't work as expected. For example, unsubscribing to a newsgroup that has items in the download queue has been untested. You may benefit from exploring other Usenet newsreaders that have been recently updated or is in continuous development.
Highlighted Features
Klibido has some very basic features as far as binary downloaders are concerned. It has a file view, capable of newsgroup browsing and has a download queue manager which are essential but basic features.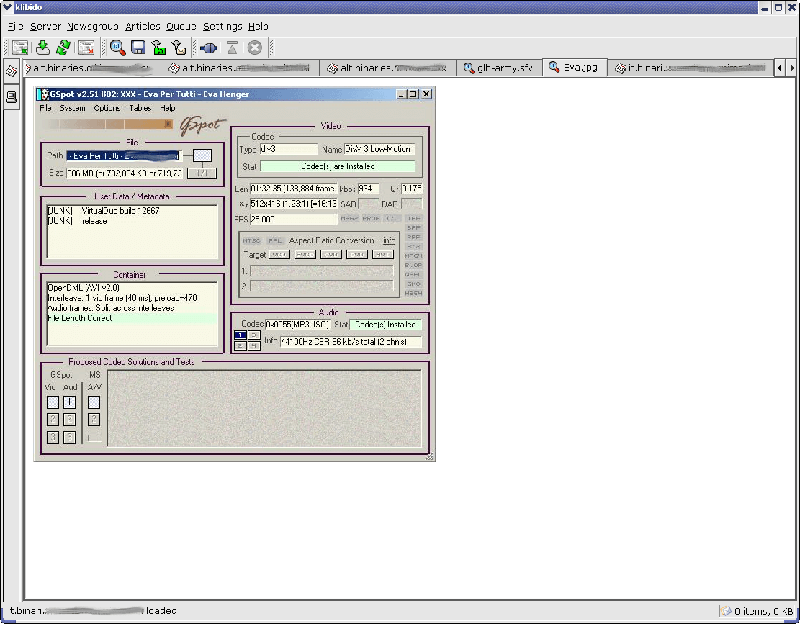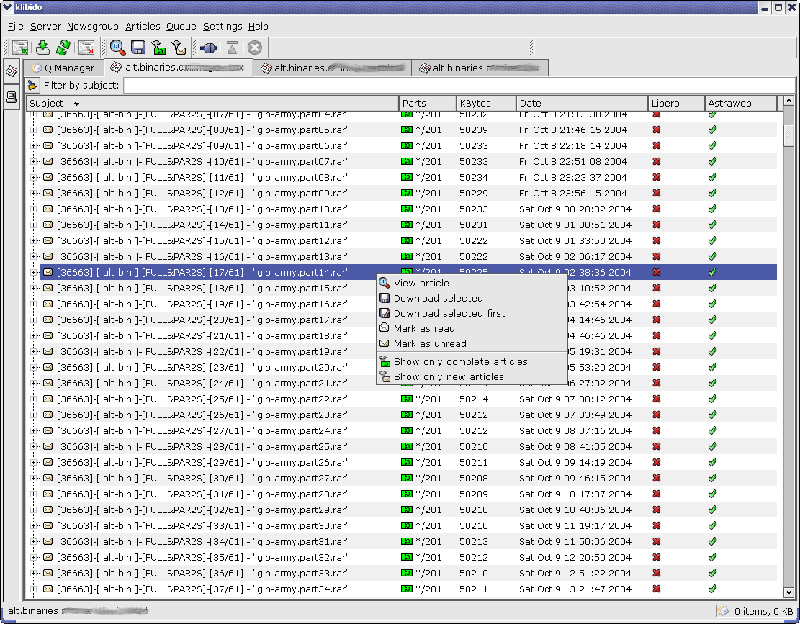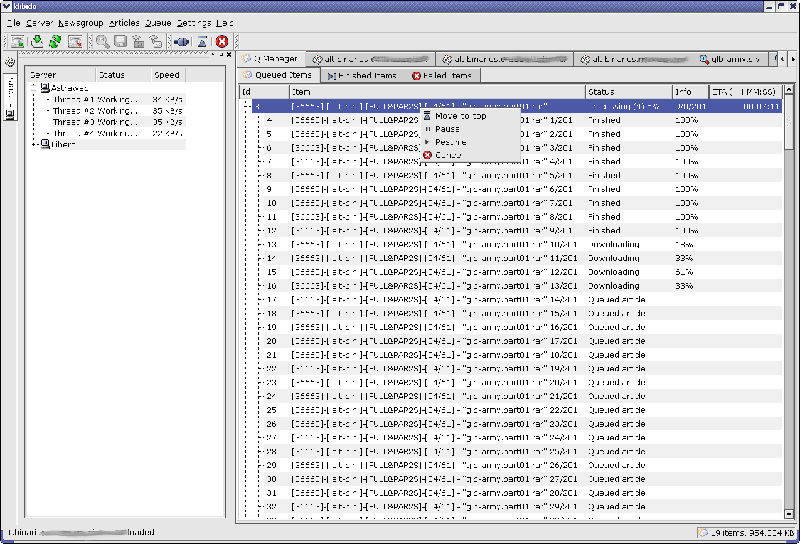 The complete list of features based on their website are as follows:
Automatic joining of multi-part posts
Automatic decoding of posts, using the uudeview library (yEnc supported) or an internal decoder
Multiple servers support, with priorities and fallback if an article fails on a server and is present on another server
Queue balancing: KLibido spreads the bytes load across servers with the same priority
Multiple download threads per server support, with the ability to add or remove threads "on the fly"
Gracefully handles network errors, timeouts, disconnects and out-of-space errors
Acceptable (at least, by me :) memory usage (80-100 MB VMRss with several large groups open)
Filter articles by subject and state (read, unread, complete, incomplete)
Multi tabbed interface in IDEAl mode, to open multiple newsgroups at once
KParts interface for previewing posts (.nfo, images, etc…) inside the program
Nzb support
Download queue management:

Pause (and resume) the queue
Pause (and resume) the single posts
Drag and drop the items around to change the download order
Cancel download
Lists of finished and failed items
Granularity, with the ability to see the progress/status of the whole post and of the single articles of the post
The progress of the download is saved and survives program exits/crashes
Plans & Pricing
Klibido can be downloaded for free from SourceForge. However, we would like to reiterate that this software is still in its beta phase and has not been further developed since 2006. Its current release is its version 0.2.5.
Usage Overview
If you are not looking for anything special and are into a program that has very basic functions and nothing more, then Klibido would be a decent option. While it is said to be still in its beta phase and has not been upgraded for almost 15 years, Klibido still works according to how it's supposed to function. As its developer said, "If you treat it gently, it will work". It is said to be used to download hundreds of Gigabytes and has not encountered any issues.
Installation
Klibido requires the following before being able to install the program on your Linux device.
Gcc 3.x, with C++ support
Kde/Qt 3.2 or greater
The UUDeview Library version 0.5.20
Gentoo users, please note that the library is in the "dev-libs/uulib" package
Berkeley Db 4.1 or above with C++ support
If you compile the Db from source, remember to pass the "–enable-cxx" option to configure.
Once you have all these requirements on your device, you can download the Klibido source package from their website. Build instructions are on the ReadMe file.
Debian Linux:
Sarge: Edit your /etc/apt/sources.list. Add
**Sid: **the package has been included in the distribution
Ubuntu Linux:
The Debian package doesn't work on Ubuntu. However, after adding the deb-src to sources.list, it can easily be rebuilded on Ubuntu:

apt-get install apt-build
apt-build build-source klibido
cd /var/cache/apt-build/repository
dpkg –install klibido_0.2.2.2-1_i386.deb
Configuration
To use Klibido, you would need to enter the necessary details on your server settings, which would include the server name, port, and if required, your username and password. These details would come for your selected Usenet provider. If you have yet to decide which service to use, you might want to check out top Usenet providers and see which of them suit your needs.
Scheduling & Automation
Klibido does not have additional features that provide further automation or scheduling functions. The only automation it does is the joining of multiparts and decoding of posts.
Usability
Klibido has a very simple interface. And while simplicity can be a good thing, this program comes across as visually outdated and needs improvement. Despite this, Klibido is easy to use mainly because the software has very limited functions and is still in its beta phase since its conception back in 2004.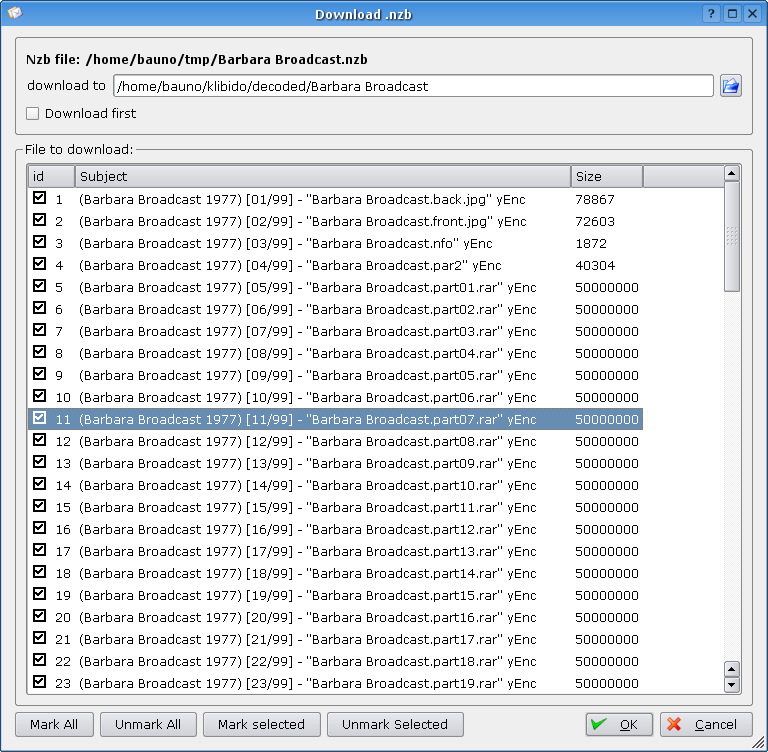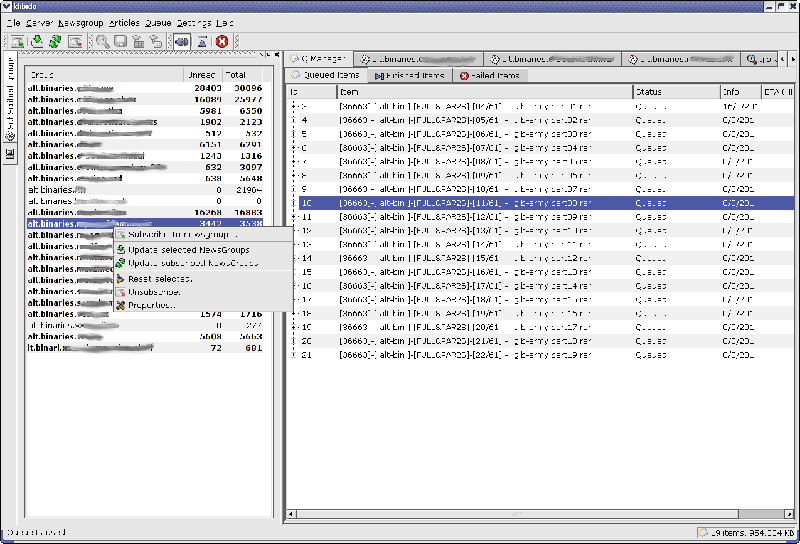 Conclusion
Although Klibido has decent features as far as news grabbers are concerned, this program definitely cannot compete well with most newsreaders and downloaders. It has very minimal capabilities and limited features that, although works well, is not at par with more updated and developed Usenet clients in the market. For the longest time, Klibido has been in its beta phase and has not been further developed since 2006. This makes us think that the creators of this software have abandoned support and have completely let go of the program.
We recommend Usenet users to explore other more reliable Usenet newsreaders and NZB downloaders that provide more efficient and convenient features.
Best Usenet Newsreaders