HelloNZB Review
Last Updated: Jun 07, 2019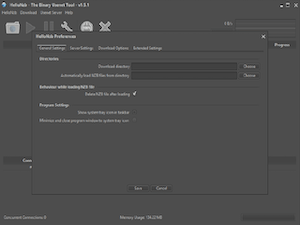 Rating
Price
Free
Retention
500 Days
Free Trial
None
Features
Java-Based NZB Downloader
Supports Multiple Servers
Extracts, Repairs & Unzips
HelloNZB is a Java-based program. It's tested on Windows and Linux, but it should work on other operating systems, as well.
HelloNZB is free and, though it's rather simple, it does get the job done. It even has a web server built into it, so you can access the program remotely, if you wish. It has other features built into it that make it surprisingly versatile, considering that it costs nothing and does a lot of what some paid options out there will gladly charge you for.
Installation
HelloNZB is very easy to install. Just download the file—we got ours off of SourceForge—and install it on your computer. Once it's installed, it'll open up and ask you to configure your settings. There's really nothing unexpected or noteworthy involved in the setup process. Have your server information ready for the most seamless experience.
Using the Program
You can see from the screenshots that HelloNZB has a very straightforward interface. There isn't anything here that might confuse you, so it's a good program if you're new to USENET. If you're not new to USENET, this is still one of the more efficient options out there for handling NZB files.
You can drag and drop NZB files into the interface and they'll start downloading. Using the program on Linux is a bit more complex, but those on that OS will likely be technically adept enough to handle whatever challenges it poses.
You can set up additional servers from the option menu. This program has a slider that allows you to select your maximum number of connections. HelloNZB is very easy to work with in every regard, really, so it shouldn't pose any particular challenges for anyone familiar with USENET.
Technical Details
Java based
Excellent for underpowered systems
Supports SSL
Supports multiple servers
Web server for remote access
Automatically extracts and repairs PAR and RAR files
Drag-and-drop interface
Open Source
Summary
HelloNZB is a Java-based NZB downloader that's actually quite feature rich, given its lack of a price tag. The program is also small, so it's a good option if you're running it on a system that's underpowered. HelloNZB supports multiple servers. It also boasts a drag-and-drop interface, automatic extraction and repair and other features that make it worth considering.
Summary Page
HelloNZB is Java based. It's tested on Windows and Linux, but has broad platform support, making it an option for people running alternative systems. This program is remarkably easy to use and, even though it's free, its features keep up with some of the paid newsreaders out there. For those who want to conserve system resources—and their money—HelloNZB is definitely worth taking a look at. It's free, so it's not an issue to download and test it yourself.
Also be sure to check out our list of top Usenet NZB/ Newsreaders for quick recommendations / overviews.
Visit HelloNZB
Best Usenet Newsreaders