HelloNZB Review
Last Updated: Jan 27, 2022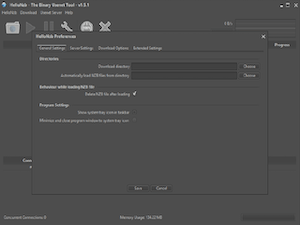 Rating
Price
free
Retention
500 Days
Free Trial
None
Features
Java-Based Newsreader
Supports Multiple Servers
Extracts, Repairs & Unzips
HelloNZB can download from Usenet servers via NZB index files. It is completely free to use and has several good features that other paid options out there would gladly charge you for.
HelloNZB is rather simple to use and has an interface that is both modern-looking and can easily be navigated through even by the most beginner of users. This newsreader is capable of automatic archive verification via PAR2, automatic RAR archive extraction, and has a built-in yEnc and UU-decoding.
In 2019, the developer of HelloNZB came out with several versions of this software with the latest one being version 1.5.1. Since that year, no further updates have been made.
Highlighted Features
HelloNZB has a lot of features similar to that of other Usenet clients in the market today. And while HelloNZB may not be considered the best there is, it is still considered a reliable and decent option as far as quality newsreaders are concerned.
Load binary files from Usenet servers via NZB files
Java-based, runs on many platforms (tested on Windows and Linux systems)
Small footprint: Only one .exe or .jar file needed to download, no installation required
Built-in web server for remote access (BETA)
Automatic PAR2 and MultiPAR checking and repairing
Automatic RAR archive extraction
Extract RAR archive while files are being downloaded
Support for parallel download from alternative Server
Support for multiple concurrent connections
Support for server authentication
Support for secure connections (via SSL)
Built-in yEnc- and UU-decoding
Drag'n'Drop of NZB file(s) into the HelloNzb window
Localization (currently available languages: English, German, Dutch, Turkish, Greek)
Max. Download Speed limitation
Automatic computer shutdown after all downloads have been finished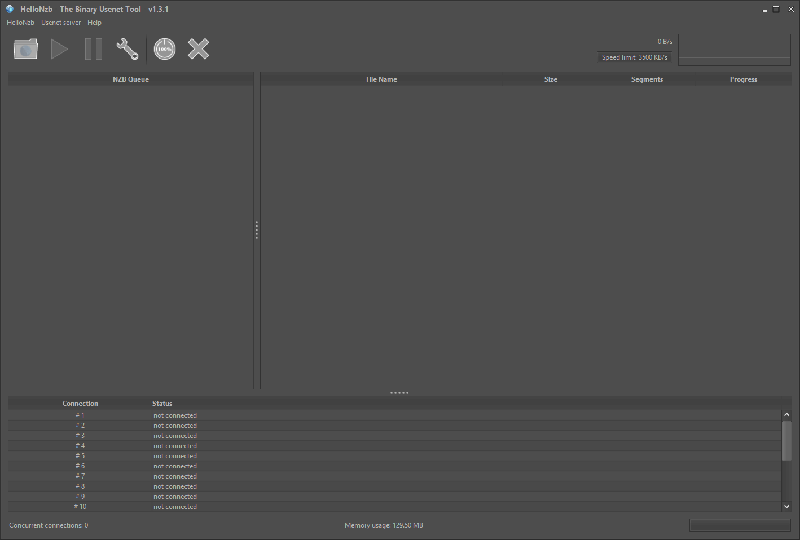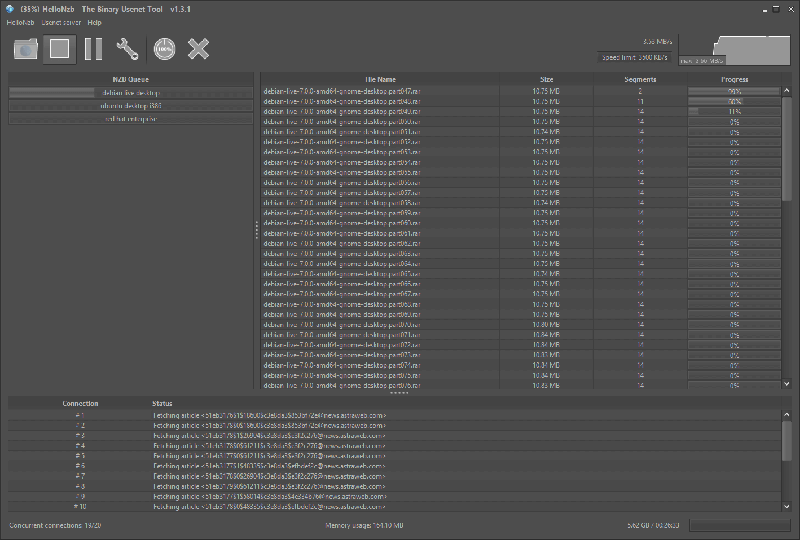 Plans & Pricing
While HelloNZB is completely free to download and use, its developers also encourage donations so they can continue with upgrading the software and provide support to its users. Donations can be done via PayPal.
Usage Overview
HelloNZB is a very simple and easy-to-use tool. And while others may worry about the software being too simple, this newsreader does get the job done. It even has a web server built into it so you can access the program remotely if you wish.
Installation
To install HelloNZB, we got the file from the SourceForge website. It is very easy to install. Simply open the downloaded file and start the installation process. The first prompt would ask you to choose the components that should be installed.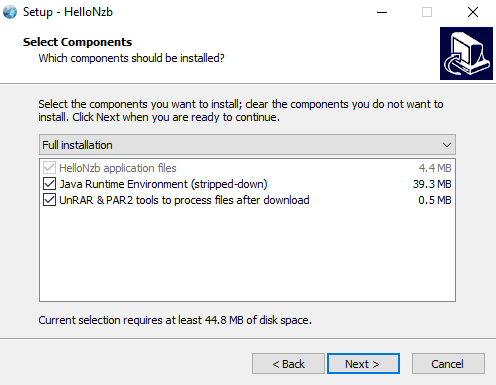 You will then be asked to select where you want to place your HelloNZB shortcut and if you want to create a desktop shortcut.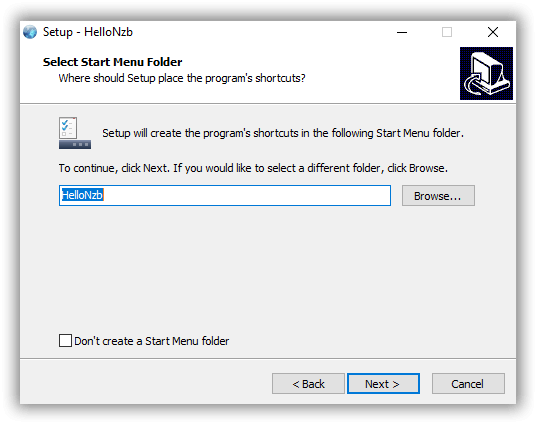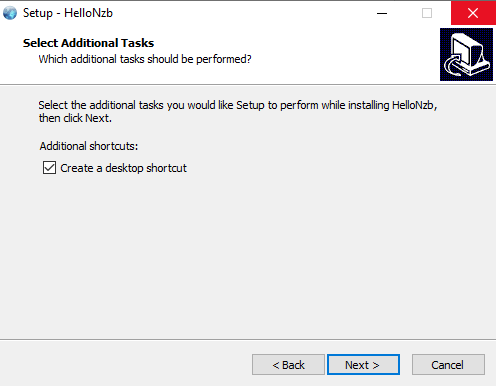 Once you've determined the shortcut location, review all the installation information presented and then click on "install". You could go back if you want to change any of the mentioned settings on the message box.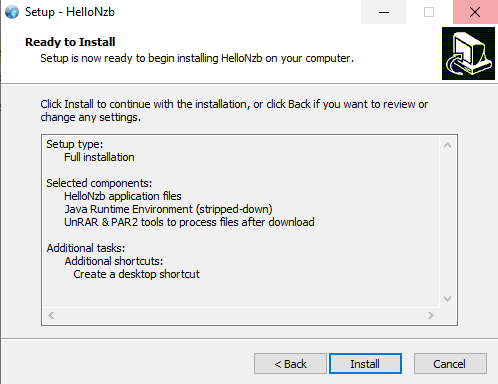 Once your set-up wizard is done, Click Finish and start configuring your HelloNZB settings.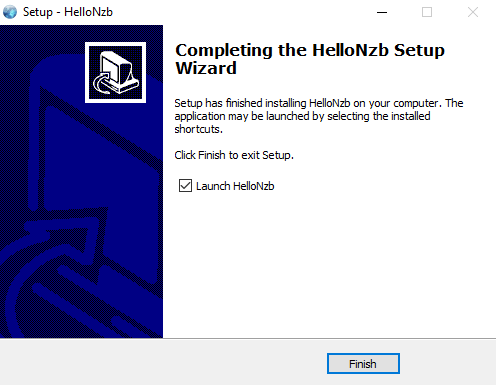 Configuration
Like any other newsreader, the first thing you need to do to be able to use HelloNZB is to configure your server settings. Enter the connection information coming from your Usenet service provider. This includes the host name and port. Also, if required, log in with your username and password. Make sure you click the "Secure connections" tick box to enable anonymous Usenet downloading. You can set up additional servers from the option menu. This program has a slider that allows you to select your maximum number of connections. HelloNZB is very easy to work with in every regard, really, so it shouldn't pose any particular challenges for anyone familiar with USENET.
On the HelloNZB preferences section, you can also customize the general settings, download options and extended settings according to your needs.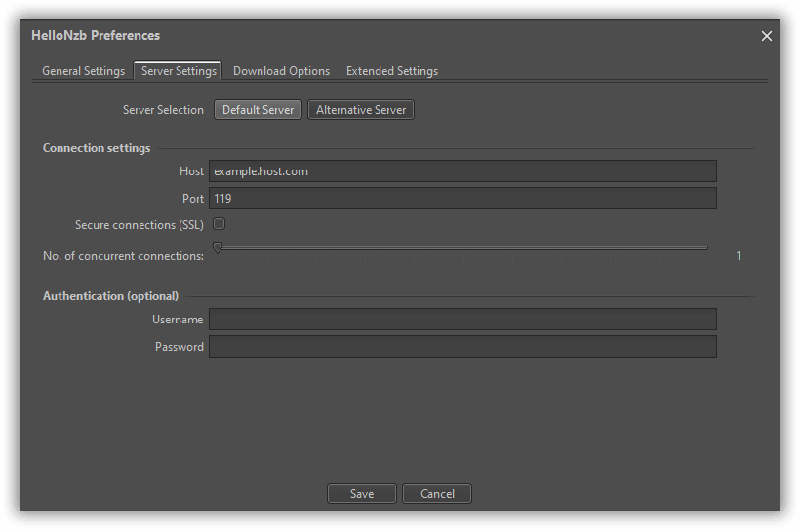 Scheduling & Automation
Aside from the usual automated newsreader functions that include automatic archive check via PAR2 and MultiPAR, and automatic RAR archive extraction, HelloNZB also has other features that add convenience to the whole Usenet downloading experience. Users have the option to limit the download speed, thus controlling how much bandwidth the software consumes. It also has an automatic shutdown feature that turns your computer off once all your downloads have been finished.
Usability
HelloNZB has a very straightforward interface. There isn't anything here that might confuse you, so it's a good program if you're new to USENET. If you're not new to USENET, this is still one of the more efficient options out there for handling NZB files. You can drag and drop NZB files into the interface and they'll start downloading. Using the program on Linux is a bit more complex, but those on that OS will likely be technically adept enough to handle whatever challenges it poses.
In addition to its basic features, HelloNZB also provides exemplary user support not only through multiple language options but also by providing a help section and a problem directory where users can ask for assistance, check out other discussions or inquiries and even find software updates and other platform changes.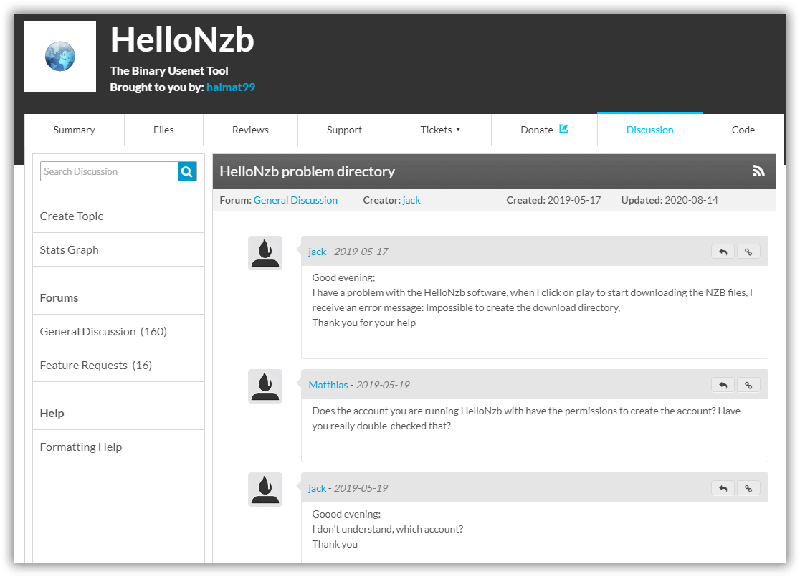 Conclusion
For a free and simple newsreader, HelloNZB is definitely worth checking out. While other newsreaders would charge you a fee for their full features, HelloNZB provides similar functions and great support without the user having to pay for anything. And while it has only been tested on Windows and Linux, HelloNZB as a Java-based newsreader also has a broad platform support, which makes it a good option for people running alternative systems.
Visit HelloNZB
Best Usenet Newsreaders