Gygan Review
Last Updated: Feb 10, 2022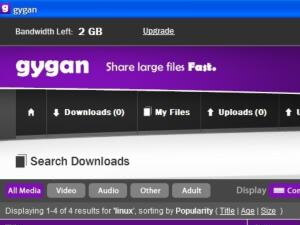 Rating
Price
Free
Features
Newsreader Software
No Longer in Business
Free and Paid Options
All in One Client
Editor's Note: Gygan is currently shutdown and is no longer active. The review below is kept for historical purposes.
Check our list of best usenet service providers and best nzb sites for alternatives.
In the file sharing world, the possibilities are numerous. You can choose between RapidShare, USENET, BitTorrent, numerous P2P file sharing services (and their supported programs) and this is just for starters.
A recent newcomer to the Usenet scene, Gygan,  takes and implements some of the best features that RapidShare and USENET offer.One of the biggest differences is that Gygan acts like a standalone client.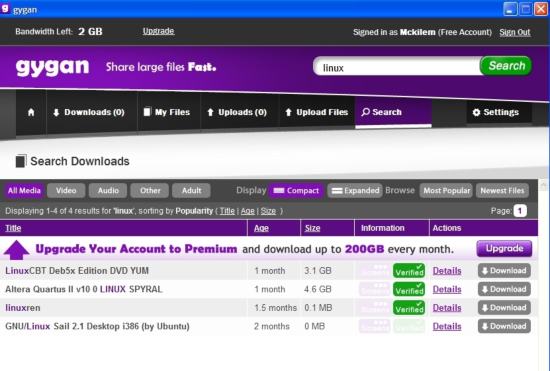 Its similarity with RapidShare comes from the fact that content available for download is stored on private sharing network on Usenet. Further, Gygan provides very fast uploads and downloads as it provides indirect access to USENET, by using own servers. It sounds excellent, but the thing is that you cannot download unlimited amounts of data.
Newly registered users get 4GB of free download traffic in the first month, but this value decreases to 1GB afterwards. If you want to download more, you will have to pay between $.33 and $.50 per GB, depending on the package.
While unlimited downloads are not available (if not paid, of course), unlimited uploads are available for free and what 's best, if many people download the files you have uploaded, you can earn money through Gygan 's Reward program.
Currently, the Gygan application is in beta status, it is approximately 2.7MB in size and the installation is quick and painful. Once the program is started (make sure that it 's not blocked by firewall or antivirus software), you will be prompted to enter username and password, or to create account if you don 't have any.
Once you have created your account (either free or paid) and entered your credentials, user-friendly interface shows up and all you have to do is to enter desired search term into corresponding field, click search and download desired file from the list that appears below.
Summarized, some handy features Gygan offers are:
unlimited speeds and storage
sharing files and creating content feeds
unlimited file size and no restrictions regarding file types
If you prefer USENET access more, you can check our list of best USENET service providers and find your favorite.
Visit Gygan