Groundhog Review
Last Updated: Feb 10, 2022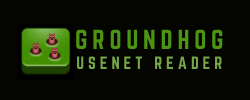 Rating
Price
Free
Features
Mobile Newsreader for Android Users
Multi-Language Support
Online & Offline Mode
Group Search
Groundhog is a mobile newsreader developed by Almarsoft company and is free and available on the Android market. Its source code is freely available and has an interface that works well on a lot of touchscreen, mobile devices.
However, while this app is useful and convenient, we have recently found that the developer's website is no longer active. Groundhog was formerly available on Google Play, but as of writing, you will no longer find it on their list of applications. Also, Groundhog has not been updated since 2011 and from previous checking, this mobile newsreader was still on its beta phase.
If you are fortunate enough to find an installer for this app, make sure you have a valid Usenet service subscription from a reliable Usenet service provider.
Highlighted Features
Groundhog has some pretty decent features as far as mobile newsreaders are concerned. It functions as a basic newsreader without the capabilities of downloading files. And while Groundhog has not been updated since 2011, we have found forums that have been talking about this application up to 2016 regarding its noteworthy features.
Works well with touch screen mobile devices and tablets
Adjustable text sizes
Group Search
Supports multiple languages: English, Chinese, Japanese and Russian
Online and Offline mode
Color-coded threads
Multi-part and Uuencoded attachments are both supported
Plans & Pricing
Previously found on Google Play, Groundhog was available to download for free. There are also other websites where you can download Groundhog from. Make sure to download this app from a reliable Android app website so as not to put your device at risk.
Usage Information
Groundhog is recognized for its ease of use. It was once very easy to find through the Android market platform where you can conveniently download the app and instantly use it. And with its several decent features, Groundhog enhances a user's experience by providing Usenet access on-the-go.
Groundhog's main selling point is its accessibility and mobility, and as a newsreader it conveniently combines the basic functions of Usenet clients while addressing the needs of users for a handy way of reading files from Usenet.
Installation
As previously mentioned, Groundhog can be downloaded from multiple sources. While it may no longer be available on Google Play, you may be able to find this app on a number of websites that contain different software. Once you have found a Groundhog installer, simply download the file and instantly use it after configuring your settings.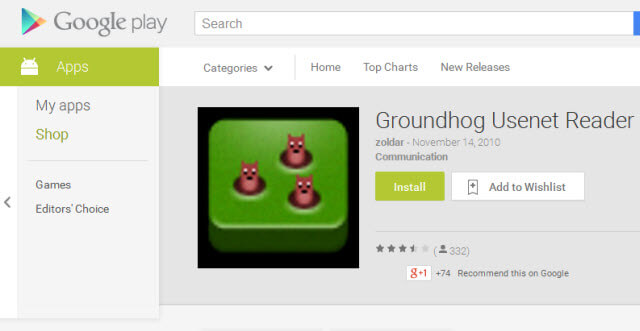 Configuration
You would need a valid subscription from a reliable Usenet provider to be able to use Groundhog. Once you've installed Groundhog on your device, make sure you configure your server settings according to the details provided to you by your Usenet provider. This would include your server name and port. You may be required to enter the account details (username & password) from your provider. Also, make sure to use an SSL port to keep your activity private and secure.
Scheduling & Automation
Groundhog does not have any scheduling or automation features since this application is a basic newsreader and does not have the functions of a file downloader. However, Groundhog has an online and offline mode that allows you to read through Usenet even if you're disconnected from your internet or data service.
Usability
As far as mobile newsreaders are concerned, Groundhog has an easy-to-use interface. It adapts well to any screen size and different small devices like mobile phones and tablets. Its touch screen compatibility makes it a useful choice for Android users, and with its online and offline mode, Groundhog provides an extra layer of functionality.
Conclusion
While there are a lot of pretty good things to say about this mobile newsreader, like being recognized for its ease of use and its multiple features, Groundhog might seem outdated for some users. There have been no updates on this app since 2011, and their developer's website is currently not active. It is also particularly disappointing that Groundhog is no longer available on Google Play. And while you may still be able to find it on other software websites, there is a chance of putting your devices at risk if you are downloading it from an unknown and unreliable website. That being said, you may want to explore other Usenet newsreaders that may be compatible with mobile devices or simply go for top Usenet clients and NZB downloaders that would assure you of a good quality Usenet experience.
Visit Groundhog