FileFactory Review
Last Updated: Feb 10, 2022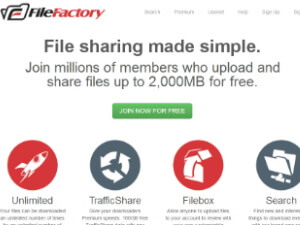 Rating
Price
Free
Features
FileFactory Software
Download Videos
Download Music
Free and Paid Plans
Editor's Note: Filefactory no longer offers USENET access in their packages
FileFactory is a file sharing service that also offers USENET access. The basic service comes with unlimited downloads, 100TB of TrafficShare — a service that allows you to let other downloaders access your files—and a resume feature. The resume feature will pick up downloads if they happen to get dropped before they complete.
The basic service costs $19 per month. The company takes credit cards and other major payment forms, so there's little hassle in getting set up. According to the company, the downloads are entirely unmetered, so unlimited actually means unlimited in the case of this provider.
30 Days - $19.00
90 Days - $39.00
180 Days - $59.00
365 Days - $99.00
Around the Internet, reviews of the service have been mixed. Some users have reported getting very fast download speeds from FileFactory and others have complained that the value isn't there for the service. Whether or not you're impressed with it will largely depend upon what you really need out of a service like this and whether the features particular to FileFactory meet those needs or not.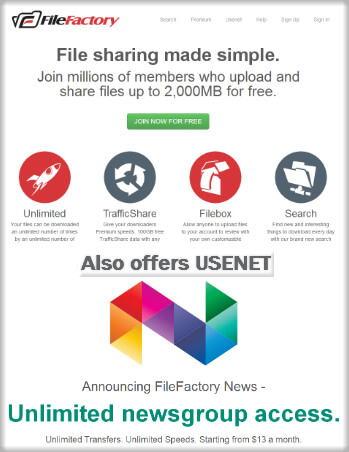 The service advertises that it's compatible with games, documents, movies and music, so there are really no restrictions on what you can share on the service and how much you can download over it.
With a premium account, you have the potential to earn money off of the service. Internet forums reveal that many users have been paid by the service, so it appears to be on the up and up in that regard.
What Is FileFactory USENET
FileFactory also offers access to the USENET system. Their USENET service is priced at $13US per month so it 's not the cheapest. This service comes with a free newsreader. It offers unlimited transfers, as well. There are no daily or monthly limitations on this so, like the basic downloading service, this appears to be completely unlimited.
The newsreader provided with the service works with PC and Mac computers. It offers video previews, so you can see what you're downloading before you commit to downloading the entire file. It also comes with its own integrated search service and has automatic decompression built into it. The service does provide security over SSL, so your privacy is protected. It also offers unlimited connections, so you can max them out to as much as your computer can handle.
Overall, we are interested in FileFactory, as it seems to be a good service. However, the $13 per month it costs for the USENET service is a bit pricey. Many of our top Usenet providers offer lower prices for unlimited downloads, connections and speed. — See list of our leading USENET service providers here.
Visit FileFactory