FileBot Review
Last Updated: Aug 25, 2019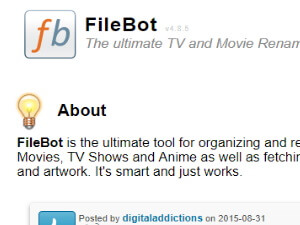 Rating
Price
Free
Features
Organize Your Media
Download Cover Art
Download Subtitles
Help Your Organization
FileBot may be just what you need to help get your messy video files in order. The software goes a bit further than that, however, in that it allows you to download cover art and subtitles for your content. If you're still not convinced; it also works for your audio files. All your music and video can now be organized easily and you can finally get rid of that mess on your hard drive.
How it Works
FileBot takes your files and automatically looks for the correct titles based on the data source that you prefer. There are several online sources to choose from.
The format engine on this software allows you to customize how your files are named, so you can go with an organizational scheme you already have in effect if you prefer to. Having all your files with a standardized name format makes it a lot easier to keep everything in order and to ensure that, when you search for a file, you remember how it was named and that you've got much better chances of actually finding it.
All you have to do to rename your files is drag and drop them in the interface. The application is platform independent and even works off of a command line if you want to do things the old-fashioned way and not use the drag and drop. The drag and drop only requires you to put your file in the interface and to wait while FileBot looks up the appropriate name for your file.
You can draw from sources such as OpenSubtitiles, TheMovieDB and IMDb, so you'll definitely have access to good data to use for renaming your files. The subtitle find service is a great addition, as well.
Getting the Software
The software is free and you can download it off the project website. It's definitely worth having and, even if you're not happy with it, it doesn't cost a dime so you should at least give it a try. It's updated on a regular basis and it's a great way to keep all your video and audio files organized in a way that makes them much easier to deal with. If you're tired of how messy these files tend to become and you want everything standardized, FileBot could help you do that without a huge investment of time and that alone makes it worth giving a shot.
Visit FileBot