Dump Truck Discontinued
Last Updated: Nov 13, 2015
Dump Truck, the encrypted file storage service that comes with some Giganews USENET accounts, is going away. The last day for the service will be December 19, so you'll need to clear out your files before that day comes.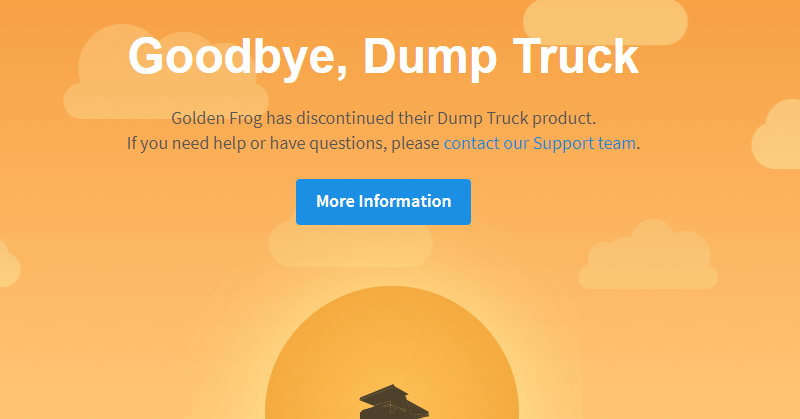 Golden Frog, the company behind the service, said that they decided to focus their efforts on Cyphr, an encrypted messaging program, and VyprVPN , their popular VPN service.
They said that the storage market has "changed significantly over the past several years," which also contributed to their decision to end the service. With so much storage being available, and oftentimes for free, Dump Truck isn't garnering the demand it once did.
You can remove your files using the Dump Truck app.
Golden Frog is not leaving its customers without options, however.
You can use DigitalSafe, another encrypted storage program, at a fifty-percent discount through Golden Frog. They haven't provided the link yet, but check back soon. We'll make it available when they provide it.
You can also use SpiderOak, recommended by no less than Edward Snowden. After the trial is up, the service only costs $7 per month. This offer is only available for Golden Frog users.
You can also encrypt files locally with VeraCrypt . It's an open source program and you can download it for free. It's available for Windows, Mac and Linux.
Out with the Old, in with the New
Cyphr and VyprVPN are both excellent privacy-protection tools and worth checking out. You can get them both bundled with your [Giganews][1] service.
As we've said in the past, [Giganews][1] is not one of the [cheapest USENET access options][8] out there, but it is, by far, one of the best. The fact that they bundle their product with Golden Frog's products makes them a very high-value subscription so, if you're looking for all-around security and truly blazing USENET speed, check them out. You can read our review of them [here][1].
You also get [Mimo][2] with the service so, even if you're a complete novice at using USENET, you won't have any trouble with Giganews.
Alternatives to Dumptruck