Binary Boy Review
Last Updated: Feb 01, 2022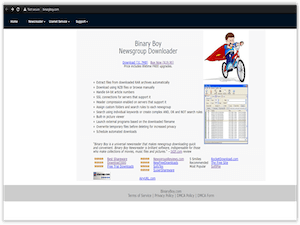 Rating
Price
$19.95
Retention
500 Days
Free Trial
None
Features
Automatic NZB and RAR Extraction
Enabled Header Compression
Multiple Server Support
Binary Boy is a Usenet newsreader compatible with Windows operating systems. It allows users to search and download files from Usenet newsgroups. It has several basic and advanced features that include NZB and yEnc support, automatic file extraction, SSL support, header compression, automated download scheduling and a feature called Dr. Binary, which searches for missing and damaged files from your download list.
Binary Boy is a paid newsreader that you can purchase for $19.95 and includes lifetime free upgrades.
EDITOR'S NOTE: Upon clicking "buy now" links to Binary Boy newsreader on their site, it redirects to a MyCommerce page that shows that the product does not exist. You may need to click through Binary Boy's Usenet access plan to be able to pay for and access the newsreader product.
Highlighted Features
Binary Boy has features similar to a lot of newsreaders out there. But while other newsreaders perform very basic functions of only being able to read and post articles from Usenet, Binary Boy is also capable of NZB extraction, which is also a prerequisite of most Usenet users these days.
Threaded decoder
Automatic file extraction from downloaded RAR archives
NZB support
Browse manually or download automatically
Handle 64-bit article numbers
SSL connections for servers that support it
Header compression enabled on servers that support it
Customize search rules and folders for each newsgroup
Search using individual keywords or create complex AND, OR and NOT search rules
Built-in picture viewer
Launch external programs based on the downloaded filename
Overwrite temporary files before deleting for increased privacy
Schedule automated downloads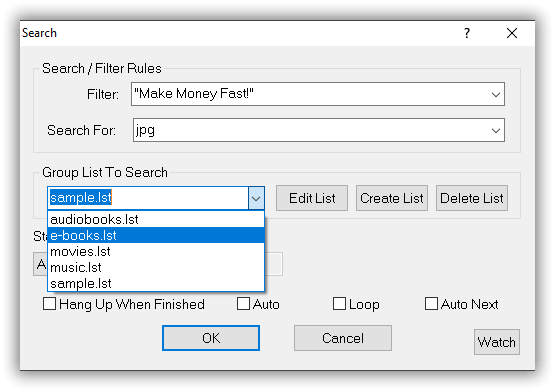 Plans & Pricing
Binary Boy can be purchased for $19.95 and can be paid via major credit cards or PayPal. You can also purchase a Binary Boy Usenet access account and receive a $10-dollar coupon if you would also like to buy the Binary Boy newsreader. Binary Boy Usenet accounts are priced at:
$7.95/mo - 50GB/mo
$14.95/mo - 150GB/mo
Free Trial Information
Binary Boy can be downloaded and used for free for 30-days. After the trial period, you would need to purchase a registration key which you can get from their website.
Usage Overview
Binary Boy can run on multiple versions of the Windows operating system from Windows 95, 98, 2000, XP, Vista and later versions. It is very easy to install and configure. You would just need to follow a few simple steps and then you are good to go.
Installation
To install the program, download the latest installer from the Binary Boy website. Open the downloaded file and follow the steps as stated on the set-up wizard. It is that easy!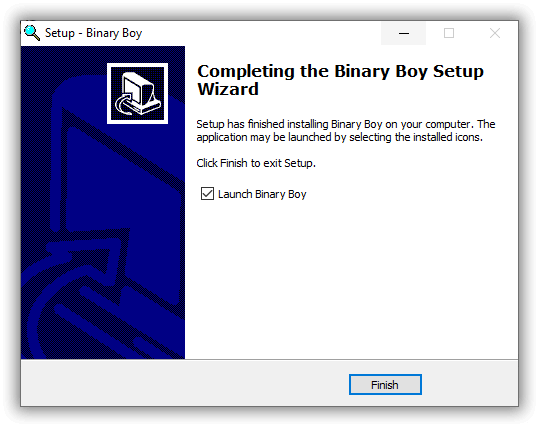 Configuration
Initially when you open Binary Boy, a trial message prompt will pop up. There you have the option to either continue with the trial version or instantly purchase the service. If you've already purchased Binary Boy, click on "Enter Key" to type in the registration key you received when you bought the program.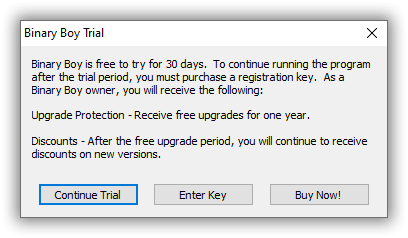 You will also need to enter some information about your internet connection before you can begin. There are three options available: Broadband, Don't dial or Dial using a phonebook entry. If you are using a dial-up modem, Binary Boy is capable of dialing your ISP automatically.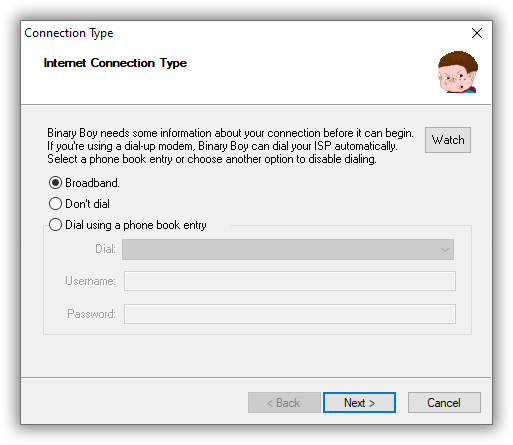 To finish the sign-up process, you will be required to create an account on the property page. This will be your official Binary Boy account.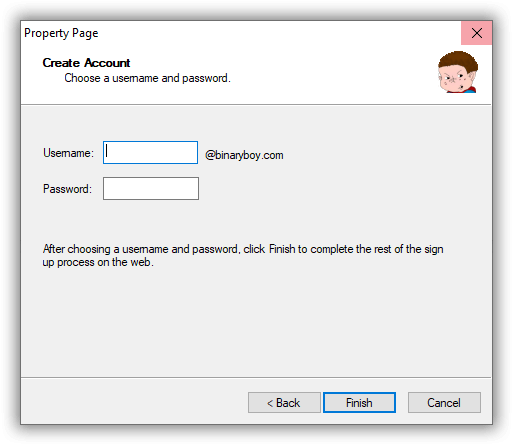 Finally, to be able to enjoy the full functions of this newsgroup downloader, you would have to configure your server settings. To locate this section, click on the settings tab and select server. This is where you would need to enter the server information of your Usenet provider.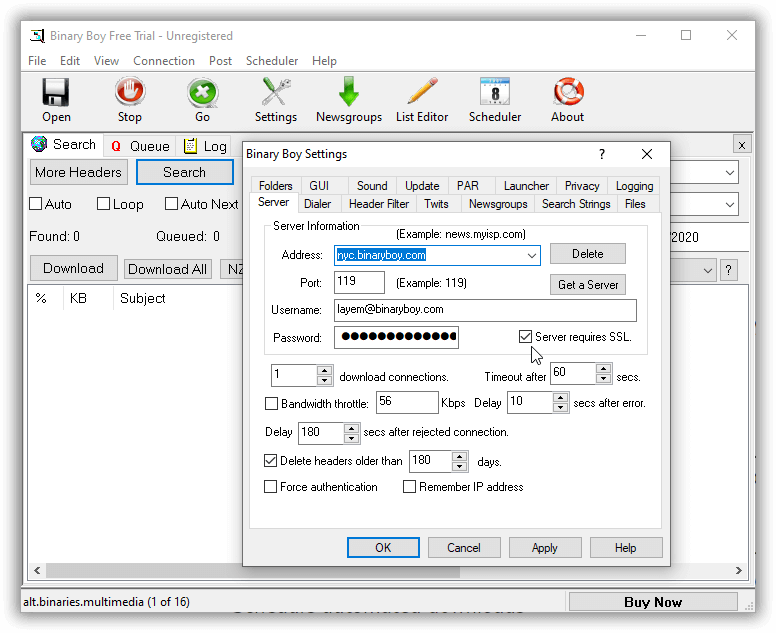 The Binary Boy website also has a complete guide on how to set up the program, including how to use some of its features, shortcut keys and command line switches.
Scheduling & Automation
Binary boy has several scheduling features that allows you to automate certain functions on the program from downloading to wake up and sleep mode.
You can configure this feature by using the schedule editor on the Schedule toolbar button. The schedule editor contains the following commands.
Event Type - An event can trigger every day at the same time or just once on a specified date.
Date - The date or time to trigger the unattended download.
Group List - The group list to search. This is the same as on the Search dialog.
Search & Filter - The text to search for and filter. All of the search and filter strings in the list as well as the global search & filter strings will also be active during the search. See Search Strings for further information.
Search New Articles - Starts searching from each group's "next message" pointer and updates the pointer when finished.
Search Last nnn Articles - Starts searching at the specified number of articles below the highest in the newsgroup. This is generally faster than Search All.
Search ALL Articles - Searches from the first available article in the newsgroup to the last.
Search Last nnn New - Similar to Search Last nnn but does not search old articles. This updates the "next message" pointer.
Time Limit - The amount of time in hours and minutes that the event can run before closing. Set to 0 for no limit.
Loop - Repeatedly searches the group list either forever or until the time limit expires.
Hang Up - Hang up after the search. Normally this should be enabled. This option is ignored when the Continuous option is enabled. You can force events to hang up even if this option is off by using the global "Hang Up When Finished" option under the Connections menu.
Cancel Changes - Cancels changes to the event if it hasn't been saved.
Save Changes - Saves changes to the event. The event is also automatically saved when you click on a different event or exit with the Save button.
Save - Saves all events and exits.
Cancel - Cancels changes to the schedule and exits.
Add New Event - Create a new event.
Delete Event - Removes the event from the schedule.
Continuous - Ignores the start times and continuously runs one event after another.
The Sleep until event feature reduces the program to an icon in the system tray and waits until it is time to perform an unattended search. Binary Boy will start a scheduled search only when it is sleeping.
Usability
Binary Boy has a pretty simple interface. With icons and buttons that are easily understandable, users can search and download from Usenet with just a few clicks. While its interface may not be the most modern-looking out of all the newsreaders in the market, Binary Boy does keep its platform clean and clutter-free. There are no unnecessary tabs and moving from one task to another can easily be done.
The font style of the interface can also be customized, and it also allows users to rename and assign newsgroups to a designated folder – keeping everything more organized.
Binary Boy also values customer support by providing enough information on their website on how to set-up, configure, and use the program. They also have an FAQs section, tutorials and a page dedicated to shortcut keys.
Conclusion
Binary Boy is a decent newsreader that has both basic and advanced features. While it may not be the best newsreader there is, Binary Boy not only does its job but also does it well enough to be considered as a reliable and competent newsgroup downloader. Its scheduling feature is one of its best assets on top of its other impressive capabilities. This newsreader allows you to customize some features of the program for you to be able to have an enjoyable Usenet experience. However, there are a lot of other newsreaders and downloaders in the market today that perform better than Binary Boy. While this program has enough good features, it could only probably be considered as a secondary option for newsgroup downloading. Feel free to compare Binary Boy to our list of the best Usenet newsreaders to see if this Usenet client is for you.
Visit Binary Boy
Best Usenet Newsreaders