Z51 Review
Last Updated: Jan 19, 2022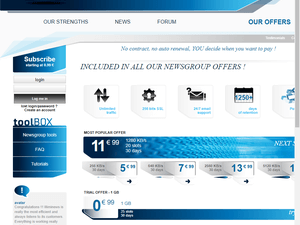 Rating
Price
€11.99 / Month
Retention
1250 Days
Free Trial
None
Features
Newsreader Builtin
SSL Included
EU Servers Only
Z51 is a partner of Unliminews that offers some advantages for European users, primarily the payment methods accepted. The pricing designs are similar and they offer a no contract, non-auto renewing service. Like Unliminews, this Usenet service provider has the PureNZB Newsreader client offering for their customers.
Quick Facts:
Unlimited Traffic
Multiple Plans
1250 days of binary retention
Up to 50 connections
SSL Encryption
24/7 Email Support
PureNZB newsreader included
Retention and completion
Z51 is well over 1250 days of retention at this point. The current figure is published on their site. Their retention rate is lower compared to the best Usenet service providers.
Pricing
The pricing for Z51 services is as follows. Except the free trial, all come with unlimited downloads and for 30 days of service. They do not renew automatically:
Trial offer for €0.99 1GB download, 25 slots
256 KB/s for €5.99, 4 Slots
640 KB/s for €7.99, 12 Slots
1280 KB/s for €11.99, 20 Slots
2560 KB/s for €13.99, 30 Slots
5120 KB/s for €15.99, 40 Slots
10240 KB/s for €19.99, 50 Slots
Z51 takes PayPal payments and credit card payments through the PayPal service.
Z51 Free Trial
The free trial is detailed above, with 1GB of service for €0 99.
Z51 Coupons
None on offer at present.
Speed
Speed depends upon the package that you choose, but based on our testing, Z51 performs well in terms of the speed they provide.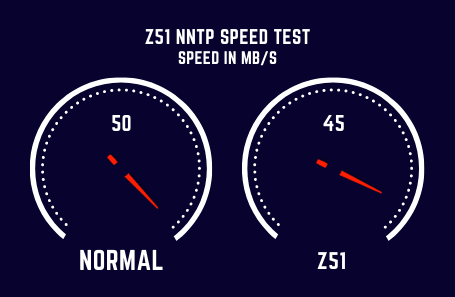 Security/Anonymity
This company doesn't log your activity. It uses 256-bit SSL encryption for privacy.
PureNZB
The PureNZB USENET client is offered along with the service, completely free of charge. This is an advanced newsreader with plenty of multimedia features built into it.
The newsreader comes set up to work with the Z51 service, so you'll be able to get to work checking your favorite USENET groups right away. It's easy enough to bookmark groups, search and download binaries. Binary downloads are automatically decompressed and repaired by the newsreader.
There's also an advanced version of the newsreader called the Black Edition. This allows you to access the more advanced multimedia features. They include streaming video while you're downloading. You can also get more information on your downloads from a variety of popular sites and take advantage of plenty of other features.
Conclusion
Z51 is solid. It allows you to choose a package that you'll get the most out of and the non-renewing feature is nice, particularly for those who might not use the USENET service that much, but who want to make sure they have a good point of access to it when they need it. This service is very similar in many regards to UnlimiNews and, if you use the PureNZB newsreader, you'll be able to keep on using the software if you switch from one to the other.
The free trial is a great offer and allows users a chance to try out PureNZB and the Z51 service.
Recommendation
Check out our page containing a list of best Usenet service providers or check out the Z51 free trial.
Altenatives To Z51
| Name | Price | Info |
| --- | --- | --- |
| Newshosting | $8.33 | Best Price / Free Newsreader |
| UsenetServer | $7.95 | NZB Search / Fast Speeds |
| Eweka | €7,00 | Best EU Provider / Lifetime Discount |
| Easynews | $9.98 | Easy Web App / File Previews |
| TweakNews | €7,50 | Free Newsreader / Free VPN |
| PureUSENET | €5.97 | Good EU Provider / Free SSL |
| XLned | €7.49 | Fast Speeds / EU Servers |