UseNext Review
Last Updated: Jan 20, 2022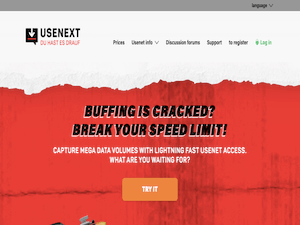 Rating
Price
€19.00 / Month
Retention
2705 Days
Free Trial
30 Days or 10 GB
Features
No Newsreader
Careful With Free Trial
6 Plans
UseNeXT is a Usenet service provider based in the UK, but offers tech support in German and English. The company has an interesting plan structure that combines elements of block and metered access.
Quick Facts
30,000+ Terabytes of content
Six Server Farms
SSL (Privacy Protection)
Multiple Packages
High Speed Usenet Access
SpyOFF VPN Included
Unlimited Speed
14-Day Free Trial
Flexible Plan Options
Binary Retention
UseNeXT currently offers 2705 days of binary retention time, which is lower than some of the best Usenet service providers today.
Pricing
UseNeXT plans work a bit differently than many other provider's plans. With this company, you get a given amount of data download at a maximum of 800 Mbit/s. After that amount is exhausted, you can still download, but at 2,000 kbit/s.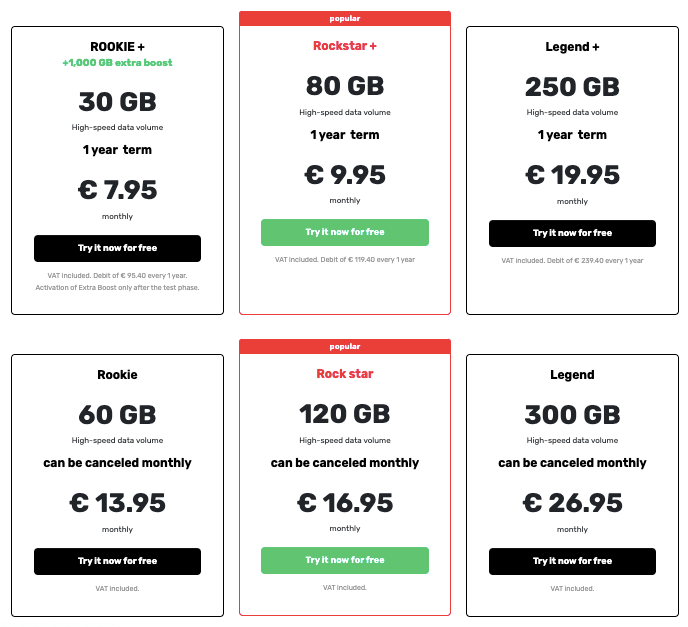 Free Trial Info
UseNeXT offers a 14-day trial with 300 GB of download, total. If you're not happy with the service, cancel before the term is up and you won't be billed.
Special Offers / Coupons
We currently don't have any special offers from this provider, but be sure to check back often, as we do frequently get deals we can pass on to our readers.
Speed Test
UseNeXT did very well in speed testing. This provider's main selling point is speed and they say that your broadband connection's speed is really the only limitation on how much speed you can expect from their servers.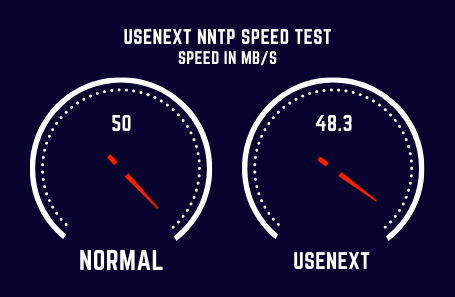 Connections
Oddly, UseNeXT doesn't specify how many connections are allowed. This Usenet service provider guarantees up to a specific speed, however, so increase your number of connections until your download speed is as fast as possible and, if it slows down with more connections, simply reduce the number until you reach your peak.
News Servers / Ports / Configuration
High speed:
Newsserver: high.usenext.de
Port: 119/443 for unencrypted connections or port 563 for SSL connections
Flat rate:
Newsserver: flat.usenext.de
Port: 119/443 for unencrypted connections or port 563 for SSL connections
Frequently Asked Questions
Q: I'm a little confused by the plans, how do they work?

A: UseNeXT plans combine elements of metered and unmetered plans. You get a certain amount of download data at the highest possible speed and, after you've used that data up, you can still download, but at a reduced speed—which is still quite fast. It's similar to how many cellphone data plans work: X amount of data at high speed and then unlimited at a reduced speed.

Q: Is it safe to use overseas USENET providers?  

A: For some customers, overseas providers are the only options in USENET so, yes, it's generally safe. We don't recommend fly-by-night companies on UsenetReviewz. However, we're not responsible for the practices of any company, so be a smart consumer and verify any questions you have with a provider before you sign up.

Q: I'm not sure if my download speed can even get as high as UseNeXT offers, am I wasting money?  

A: No. Remember that the exceptionally fast download speed that UseNeXT offers essentially guarantees that they'll max out any user's speed. If you have a 40 Mbit/sec connection, for instance, what you're paying for is being able to max that out. Not many customers will have broadband speeds as fast as UseNeXT's servers.

Q: Does this provider take Bitcoin?  

A: No, not as of now. They take PayPal and credit card payments.

Q: Is telephone support rare for USENET?  

A: Somewhat, yes. Most companies offer a web form that allows you to submit a support ticket and an increasing number of USENET service providers are offering live chat web support. UseNeXT offers telephone support in German and English, which is a very nice touch to improve their customer service.
Support
You can contact support via phone at:
Germany +49 (0) 89 20 17 20 17
English (UK) +49 (0) 89 20 17 20 16
English (USA) +1 888 412 2598
You can also contact support via a web form located on their website
Contact Information
Aviteo Ltd. Palladium House
1-4 Argyll Street
London, W1F 7LD - Great Britain
Comp. Registration Office Cardiff No. 5069029
Security /Company Privacy Policy
UseNeXT says they do not share any of your personal information with third parties beyond payment processors. Their plans are metered in some cases, so the company will have to monitor how much data you download, but there's no indication that they monitor what data you're downloading.
Payment Options
UseNeXT accepts PayPal and credit card payments.
Our Opinion
UseNeXT has some very nice features to offer. Their plans are a bit different than most providers, but they offer a great blend of block access and unlimited access. If you don't think you'll download more than 30 GB per month, then the lowest-priced plan should serve you well. If you go over your limit, the nice thing about this provider is that they don't shut off your account until you buy more access. You can still download at a slower rate until your next payment date comes due.
While they are not over favorite USENET service provider nonetheless they may work well for your situation. The support is good, particularly given that they offer three different phone numbers you can call to get assistance if you're not finding information on the site that answers your questions. The site itself has a very detailed FAQ, so most users should find themselves able to get answers for the most common questions.
You'll have to bring your own newsreader with this provider. See our list of recommended newsreader to make a choice, and there are plenty of others you can take a look at if that one's not to your liking. Any newsreader should work fine with this provider, but keep in mind that you'll have to configure both the full-speed and metered server to ensure that you can keep downloading after your high-speed limit has expired.
Overall, this company is OK however our list of best Usenet service providers offer better deals so in most cases we would recommend choosing elsewhere.
Altenatives To UseNext
| Name | Price | Info |
| --- | --- | --- |
| Newshosting | $5.99 | Best Overall / Fastest Speeds |
| Eweka | €6,99 | Best EU Provider / High Retention |
| UsenetServer | $7.95 | Unlimited Access / NZB Search |
| Easynews | $9.98 | All-in-One / Usenet Search |
| TweakNews | €7,50 | Quality Retention / Quality Completion |
| PureUSENET | €5.97 | Good EU Provider / Free SSL |
| XLned | €7.49 | Fast Speeds / EU Servers |