Usenet Prime Review
Last Updated: Jan 21, 2022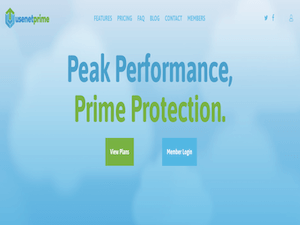 Rating
Price
$10.00 / Month
Retention
1100 Days
Free Trial
None
Features
1100 Days of Retention
SSL Encryption
Unlimited & Block Plans
In a market saturated by a large number of Usenet service providers, Usenet Prime positions itself as a company that provides "peak performance and prime protection". A relatively new Usenet provider, Usenet Prime offers unlimited speeds, block plans, SSL encryption, decent retention rates and a very helpful and fast customer support.
While Usenet Prime is not a Tier-1 Usenet service provider, they are a reseller of a provider with its own backbone. They use servers located in both the US and EU, and they offer customers with relatively cheap plans that either offer unlimited access or non-expiring block accounts.
Quick Facts
$10/ mo for unlimited speed and no access limits
500GB and 1TB Bloc account available at $20 and $35, respectively
50 simultaneous connections
US and EU Servers provide optimal connectivity
Prime binary and text retention with over 99% completion rate
1100 days retention for binaries
104,000 newsgroups supported
256-bit SSL encryption
No tracking logless access
Fast and efficient support team
No Bitcoin payments
No Free Trial
Retention
On their website, Usenet Prime claims to have high retention rates without disclosing the actual number of retention days. Based on our research, Usenet Prime currently has 1100 days retention for binaries which, although is decent enough, is not as high when compared to the best Usenet service providers.
Pricing
Usenet Prime offers a single unlimited access and speed plan, which is at $10 per month. They also have two Block access accounts that customers can choose from. All plans include Free SSL encryption, 50 simultaneous connections and no tracking, logless access.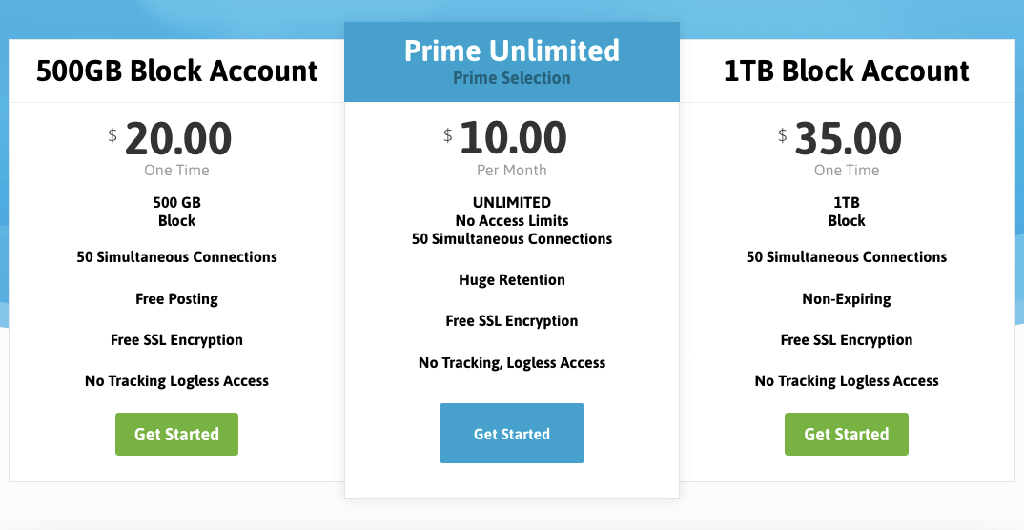 UsenetPrime also offers an unlimited yearly plan which costs $75.00 or $6.25 per month.
Free Trial Info
Usenet Prime does not have any free trial offering.
Special Offers
Usenet Prime also does not have any special features or offers. However, they do offer discounts during special occasions like the usual Black Friday sale. You can also consider checking out the Tier 1 Usenet service provider they resell, UsenetExpress to find additional offerings like VPN inclusions.
Speed Test
Usenet Prime prides itself with having servers in both the US and EU. They allow users to maximize the speed of their internet service provider. Based on testing, Usenet Prime performs well at any time of the day. Of course, how fast your Usenet access and downloads would be depending on the capacity of your ISP.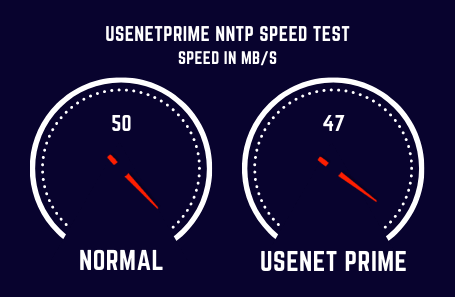 Connections
Usenet Prime subscribers can use up to 50 connections included in their plans with free SSL to protect your privacy.
News Servers/ Ports/ Configuration
Usenet Prime news server is news.usenetprime.com. The standard 119 and 80 port can be used upon configuring their settings. For SSL encrypted ports, make use of 563 and 443 to your Usenet activity secure and anonymous.
Frequently Asked Questions for Usenet Prime
Why Usenet Prime?
Usenet Prime aims to deliver amazingly fast, feature-rich Usenet access through 256-bit SSL-secured tunnels running to servers located throughout the world. Offering friendly customer service, fantastic member features and benefits, all at affordable prices, making it the Prime way to Usenet.
Are Usenet Prime users allowed to post content on Usenet?
Yes. Posting is allowed and is enabled by default.
How long does Usenet Prime Block Accounts last?
Both the 500GB and 1TB Block Account have no expiry. Your Block account access only ends when you have consumed the total capacity of your account.
Does Usenet Prime keep activity logs?
Usenet Prime does not keep any activity log. As mentioned on their website, all their plans have a "no tracking, logless access" inclusion.
What types of payment does Usenet Prime accept?
Usenet Prime accepts credit cards as payment, as well as PayPal as an alternate option.
Can I change my subscription?
You can upgrade, downgrade, or cancel your monthly subscription at any time. There is no sign-up fee, cancellation fee, or minimum fee. You can use Usenet Prime for as short or as long as you need.
How do I request for a refund?
To receive a refund of your payment, you must be within 30 days of your original payment to Usenet Prime. Login to the members area and you'll find a section labeled "Request Cancellation". Your account will then be deactivated, and a refund will be made by our support team. You can also send your refund/cancellation requests to support@usenetprime.com, including your account number, and we'll happily process your refund.
Security/ Privacy Policy
This Usenet service provider provides 256-bit SSL encryption on every Usenet download to keep user activity secure and anonymous. While they do not have any VPN inclusions on their plans, SSL encryption should be enough for most Usenet users.
With regards to their privacy policy, Usenet Prime does not keep logs of any user activity. They only collect the necessary information when you register to any of their packages. This includes your name, email address, credit card information, billing address, zip code, and other useful information. And as with many other websites, the servers used to run the Usenet Prime website collect certain data pertaining to your equipment and communication method that you use to access the Internet and the website itself.
To keep user confidence, Usenet Prime uses state-of-the-art security solutions to process payment information and firewalls to provide a high level of security on their website.
Support
Usenet Prime has a friendly and efficient support team that you can contact via email at support@usenetprime.com or hello@usenetprime.com. They also have a message form available on the Contact Us section of their website, where you can also find other information on how to reach them.
Contact Information
Contact Usenet Prime via email: hello@usenetprime.com or support@usenetprime.com
Phone number: (737) 228-3666
Address: 2153 E. Main St. C-14 #104, Duncan, SC 29334
Payment Options
Usenet Prime accepts Visa, Mastercard, Discover and American Express credit cards as payment options. They also accept PayPal as an alternative. Unfortunately, Usenet Prime currently does not accept Bitcoin payments, which is something that other users are looking for in terms of options to keep their payment information more secure.
Opinion
Although Usenet Prime is a relatively new Usenet service provider in the industry, they do have some pretty decent inclusions in plans. The Usenet service has good offerings that include a decent retention rate, high-speed access, options for block accounts, use of up to 50 connections and a very good customer support. Another good thing about Usenet Prime is that its pricing plans are very straightforward. There are no overwhelming number of packages and no confusing descriptions which could be the downfall of some providers.
Of course, Usenet Prime is not on the level of the best Usenet service providers yet, like Newshosting, UsenetServer or Eweka. However, this is not to say that Usenet Prime cannot compete with other reliable services out there. It would be best if users could try out their service for free, even for just a few days. Unfortunately, Usenet Prime currently does not have any free trial.
Visit UsenetPrime