UseNetNow Review
Last Updated: Jan 14, 2022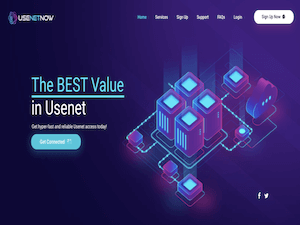 Rating
Price
$7.99 per month / Month
Retention
4869 Days
Free Trial
None
Features
EU and US Servers
Cash Accepted
50 Connections
UsenetNow offers very simple subscription plans or, if you prefer, you can buy a non-recurring plan. This is a no-frills USENET service and you'll have to bring your own newsreader and other apps. Currently, this Usenet service provider only offers one-week, 1 month and 3-month plans.
Quick Facts
Unlimited Speed
Unlimited Downloads
SSL (Privacy Protection)
US and EU Servers
Global Availability
High Retention rate
50 concurrent connections
Flexible pricing model
Accepts Money Order Payments
Accepts cryptocurrency payments
Binary Retention
Binary retention on this provider's servers is at 4869 days.
Pricing
UseNetNow offers 1 week, 1 month and 3-month plan. These plans can either by subscription or non-renewing.
| Duration | Price | Connections |
| --- | --- | --- |
| 7 Days | $3.99 | 50 |
| 1 Month | $7.99 | 50 |
| 3 months | $16.99 | 50 |
Free Trial info
There is no free trial available from this provider.
Special Offers / Coupons
There are currently no coupons or special offers available from this provider.
Speed Test
UsenetNow performed well in terms of speed. All USENET service providers should offer extremely fast connectivity.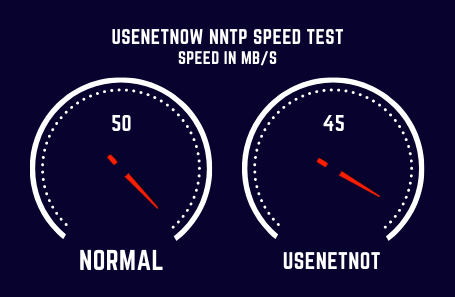 Connections
UsenetNow offers up to fifty connections to its servers at all account levels. You should not need anywhere near this many connections, however.
News Servers / Ports / Configuration
Standard Servers:
US Server: usnews.usenetnow.net
EU Server: eunews.usenetnow.net
EU Server 2: eunews2.usenetnow.net
Ports:
Standard Non-SSL Connections: Ports 23,119, 2000,8080,9000
SSL Connections: Ports 443, 563, 5563
IPv6 Access:
US Server: usnews-v6.usenetnow.net
EU Server: eunews-v6.usenetnow.net
EU Server 2: eunews2-v6.usenetnow.net
Frequently Asked Questions
Q: What does "no-frills" mean in terms of USENET service? - It simply means that the service doesn't come with a supplied newsreader or other software. A subscription includes the USENET access and nothing more. If you have your own newsreader software and know USENET fairly well, this shouldn't make much of a difference, though new users might prefer a company with more features, such as Newshosting or Tweaknews.
Q: Is there any advantage in paying by money order? - For people located in jurisdictions where USENET access might be restricted, paying via money order may provide a less traceable way for acquiring the service than paying online. Some users might just prefer to pay via money order for security reasons, as well.
Q: Does this provider offer block access? - UsenetNow doesn't offer block access. They offer non-renewing accounts, however. The closest thing they offer to block access is their low-priced week-long offer. If you want block access, you can check out Tweaknews as one option.
Q: My USENET is slow, even though I've heard it should be very fast. What's wrong? - If your USENET isn't as fast as it should be, go ahead and try increasing your number of connections. Counterintuitively enough, you can also try decreasing the number of connections. There's a sweet spot where you'll have enough connections for maximum speed but not so many that your computer slows down. Keep increasing and decreasing the number of connections until you find it.
Q: Does USENET service usually require a lot of support?  No. USENET has been around for a very long time and it's generally very reliable. If you are having some type of trouble, make sure you're using the right ports, which are listed below. If you're still having trouble, check your username and password. Other problems will probably have to be resolved by your provider, but trouble with USENET is rare.
Q: Does SSL protect my privacy?  Yes, and we recommend that you use it at all times. Remember, however, that your SSL only protects your USENET traffic. If you want all-around protection, you'll need a VPN. Some of the best Usenet service providers like Newshosting, Tweaknews and UsenetServer all have add-on VPN options.
Q: Does this provider accept Bitcoin?  No. Several of our best providers do accept Bitcoin, however, if you prefer to pay with cryptocurrency.
Q: Why do some providers have two retention figures?  Some providers offer figures for both text and binary retention. Most users are only going to be interested in the binary retention, which refers to how long files are kept in the provider's system. Text retention refers to how long articles are available from the various newsgroups your provider uses.
Q: Why do some people use servers on a different continent?  This is usually about privacy. Some US users prefer an EU server and some EU users prefer a US server for jurisdictional reasons. People in nations where Internet and USENET access is severely restricted usually don't have a server in their home nation, so they're pretty much left without any other option than using an offshore server. Fortunately, USENET is fast enough that even downloading off a server on another continent is fast. If you have speed problems, go ahead and try a geographically closer server or try adjusting your ports according to the instructions above.
Support
UsenetNow has a ticketing system you can use to get support. It's located at: http://support.usenetnow.net/
Contact Information
Blocknews
PO Box 824
Alfred, Maine USA 04002
Email: support@usenetnow.net
Security /Company Privacy Policy
UsenetNow says that they do not monitor your activity on their system, which newsgroups you visit or what you download. They will not release information to law enforcement unless presented with a warrant.
Payment Options
UsenetNow accepts several payment methods. Major credit cards and PayPal are accepted for online payment. Cryptocurrency payments can only apply for non-subscription products. You can also download a form so that you can mail in payment via money order. Cash or Money Order payments give users two extra days for free.
Our Opinion
UsenetNow is a basic service with little in the way of extras. The price isn't bad, but it's not really competitive with what many of our best providers offer. There's no file preview feature, included newsreader or any other frills, which may make this provider a bit difficult for less experienced users, given that you'll have to bring all your own software.
UsenetNow has a good privacy policy; comparable with what our best providers offer. The unlimited service is nice for simplicity's sake, but the one-week subscription really doesn't replace the lack of block access, which is the best deal for those who want budget USENET access.
Overall, there are better companies out there offering better deals. Unlimited accounts are available from our preferred providers for $10 an under, which beats UsenetNow on price. Combine that with the fact that our best providers offer free trials, oftentimes include special discounts, and that they quite frequently have products that you can bundle with your VPN access and it's easy enough to see the advantages of going with one of them. Make sure to check our list of the best Usenet service providers to compare them with UsenetNow.
Visit UseNetNow