UsenetNews Review
Last Updated: Jan 24, 2022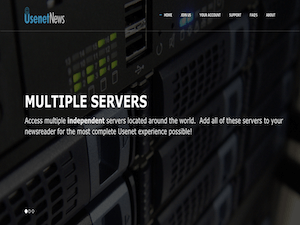 Rating
Price
$4.49/mo / Month
Retention
3000 Days
Free Trial
None
Features
Varying Retention Based on Servers
SSL Included
Unlimited Access and Speed
UsenetNews is a Usenet service provider that offers access to independent servers available packaged into one convenient, money-saving option. All their servers provide SSL access to all accounts. Their plans also have good value and feature unlimited access, no speed limits and access to their varied retention depending on the package you select.
UsenetNews Quick Summary
Access to multiple independent servers
Choice between US and EU servers or both
SSL Access
Provides unlimited access and unlimited speed
Allows Posting
Retention varies depending on the server package you subscribe to
Binary Retention
Each server has their own independent retention. The retention you get depends on the package you are subscribed to.
Blue Server Connection: 3000 Days
Gold Server Connection: 1,500 Days
All Acccess Server Connection: 2,000 Days
Pricing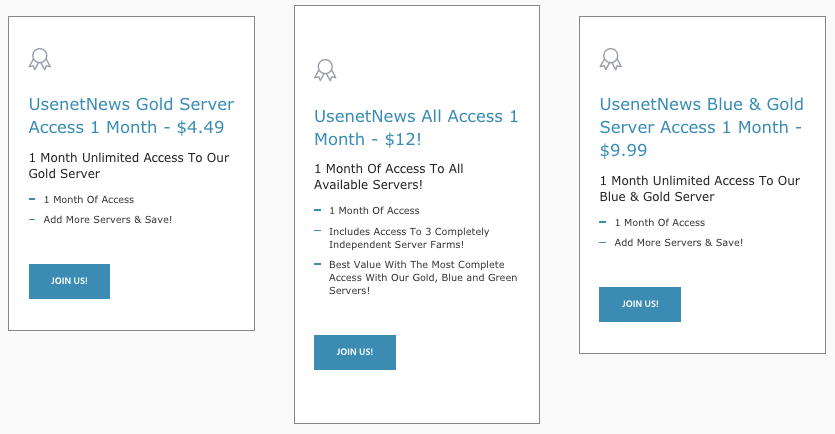 UsenetNews' membership type is only for monthly subscription. They do not offer yearly, discounted, subscriptions. As mentioned, their plans are based on the server connection you want to use.
Gold Server - $4.49 per month
Blue Server - $6.99 per month
Blue & Gold Server - $9.99 per month
All Access (Gold, Blue & Green Server) - $12.00
The breakdown of their servers are as follows:
Plan
Monthly Pricing
Retention
Connections
Servers
Gold
$4.49
1500
40
EU
Blue
$6.49
3000
50
EU
Blue & Gold
$9.49
3000
50
EU
All Access
2000
50
US & EU
Free Trial Info
This Usenet service provider does not have any free trial offering. However, they have a refund policy that states that you can request a refund within 24 hours of purchase or 5 GBs of downloads, whichever happens first.
Special Offers/ Coupons
Currently, there are no special offers from UsenetNews. Make sure to check back with us for future promotions by this Usenet provider.
Speed Test
UsenetNews provides unlimited speed across any of their plans, and they tested for speed. Please note that your Usenet activity also relies on the speed of your ISP so you will only be capped according to the speed of your own internet provider.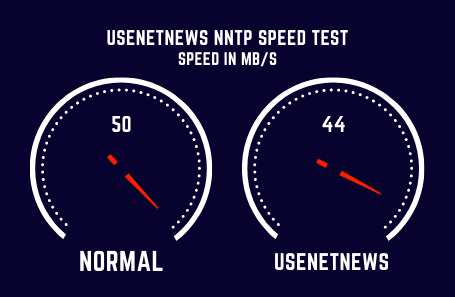 Connections
Like the retention, the number of connections depends on the server package you select. They provide 40 to 50 connections.
News Servers/ Ports/ Configuration
Blue Server Connection Information:
Server Address / Hostname: blue.usenetnews.net
Connections: Up To 50
Non-SSL Ports: 80 or 119
SSL Ports: 443 or 563
Server Retention: Up to 3,000 Days
Location: Amsterdam
Gold Server Connection Information:
Server Address / Hostname: gold.usenetnews.net
Connections: Up To 40
Non-SSL Ports: 80 or 119
SSL Ports: 443 or 563
Server Retention: Up to 1500 Days
Location: Amsterdam
Green Server Connection Information:
US Server Address / Hostname: green.usenetnews.net
EU Server Address / Hostname: green-eu.usenetnews.net
Connections: Up To 50
Non-SSL Ports: 23, 80 or 119
SSL Ports: 443 or 563
Fair Usage Policy (FUP): Up to 2TBs Per Month
Server Retention: Up to 2000 Days
Location: USA & EU
Frequently Asked Questions
Q: Is Posting Allowed?
A: All servers allow posting with an active account.
Q: Is my usage anonymous?
A: All servers provide 100% safe, secure and anonymous access with no logging.
Q: Will I be rebilled automatically?
A: If you set up a subscription, you will be rebilled automatically according to the subscription terms chosen at sign up (monthly / yearly / etc). For non-subscription accounts, no automatic rebilling will take place.
Q: Does UsenetNews provide any other service besides Usenet?
A: No, they simply provide access to the best usenet servers on the market.
Q: Can I share my account?
A: All accounts are for your own personal, non-commercial usage with no account sharing allowed.
Support
The UsenetNews website does not offer a lot of options in terms of support. Both their support page and FAQ links are redirected to the same page where it contains frequently asked questions. Other contact information is unavailable except for their support email address.
Contact Information
Customers can reach UsenetNews via email at support@usenetnews.net.
Security/ Company Privacy Policy
All of UsenetNews' servers provide 100% safe, secure and anonymous access with no logging. As for their privacy policy, UsenetNews does not seem to have published any of that particular information on their website.
Payment Options
UsenetNews accepts payment through Paypal, Credit Cards, and Cryptocurrency (for non-subscription service).
Our Opinion
UsenetNews claims to have the most ideal and best solution in response to the problems of Usenet users who find the packages and plans of other Usenet service providers too complicated and confusing.
UsenetNews has managed to put together good servers and include them in one service. But while this may be an enticing selling point, we also have to take a look more in-depth at the inclusions of these plans. For us, the best one they have is their all access plan which includes US and EU servers and offers up to 50 connections which should be more than enough for Usenet access. However, their Blue and Gold plans may not be at par with best Usenet service providers. That being said, UsenetNews still is a good option for users who are looking for flexibility in terms of the servers they wish to use.
Altenatives To UsenetNews
| Name | Price | Info |
| --- | --- | --- |
| Newshosting | $8.33 | Best Price / Free Newsreader |
| UsenetServer | $7.95 | NZB Search / Fast Speeds |
| Eweka | €7,00 | Best EU Provider / Lifetime Discount |
| Easynews | $9.98 | Easy Web App / File Previews |
| TweakNews | €7,50 | Free Newsreader / Free VPN |
| PureUSENET | €5.97 | Good EU Provider / Free SSL |
| XLned | €7.49 | Fast Speeds / EU Servers |