UsenetLink Review
Last Updated: Jan 21, 2021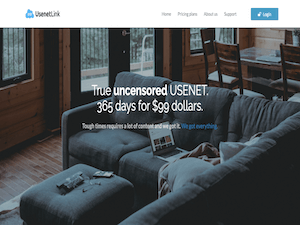 Rating
Price
$15.00 / Month
Retention
4000 Days
Free Trial
1 Day
Features
No Newsreader
SSL Included
US and EU Servers
UsenetLink is a new USENET access provider. They have 4000 days of retention, a simple pricing model but rates that are a bit higher than many providers. They offer a 24-hour free trial that you can take advantage of by signing up at their site. The company states that their vision is to provide a USENET service that eliminates the need to have a backup account.
Quick Facts
Unlimited Usenet Access
4000 days of binary retention
SSL encryption
30 connections
Bitcoin payments accepted
Binary Retention
UsenetLink currently boasts 4000 days of retention.
Pricing
UsenetLink is a bit pricier than many other USENET providers. All UsenetLink packages come with unlimited access and thirty connections. The difference between one plan and the next isn 't in terms of the service you get. Longer commitments net you lower prices.
One month for $15
Three months for $40
Six months for $75
Twelve months for $140
Free Trial Info
You can sign up for a 24-hour test on the UsenetLink site. This allows you full access so that you can decide whether or not this is the service that 's right for you.
Special Offers/ Coupons
As of writing, UsenetLink is offering their annual plan at $99 instead of $140. However, this only applies during the first year of subscription. Succeeding years will then be back to the regular price.
Payment Options
You can pay for the service with credit cards, Sofort, Bitcoin, Litecoin or Dogecoin. The addition of the cryptocurrencies makes this a good service for anonymity, of course, and this is among the few providers that take Litecoin and Dogecoin.
Speed Test
UsenetLink tested well in terms of speed like other Usenet providers. However, users should be reminded that the speed of your Usenet activity also depends greatly on how fast your internet service is.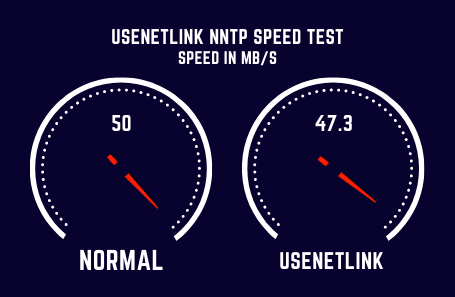 Special Considerations
UsenetLink says that they have "various techniques" they employ to find articles that other providers won 't offer access to. Whether or not that bears out will likely be revealed after using the service for a while, and by comparing it to others, but it 's nice to see a company working to improve USENET 's usefulness, at any rate.  UsenetLink says they want to build a "more complete version of USENET," something USENET fans will likely appreciate.
Security/Anonymity
UsenetLink offers 256-bit SSL encryption, so you 're covered as far as privacy is concerned. This doesn 't set UsenetLink apart from most other providers; SSL is pretty much standard. Nonetheless, if you 're worried about protecting your privacy, this company has taken that into consideration.
Conclusion
UsenetLink claims that their service is more complete than what the competition has to offer, and that might make it worth it for some users to give it a try. There's a 24-hour free trial that you can use to find out. The prices are a little higher than what you could get elsewhere, but they do offer decent discounts if you sign up for a longer term of service.
Altenatives To UsenetLink
| Name | Price | Info |
| --- | --- | --- |
| Newshosting | $8.33 | Best Price / Free Newsreader |
| UsenetServer | $7.95 | NZB Search / Fast Speeds |
| Eweka | €7,50 | Best EU Provider / Lifetime Discount |
| Easynews | $9.98 | Easy Web App / File Previews |
| TweakNews | €7,50 | Free Newsreader / Free VPN |
| PureUSENET | €5.97 | Good EU Provider / Free SSL |
| XLned | €7.49 | Fast Speeds / EU Servers |