UsenetHub Review
Last Updated: Feb 09, 2022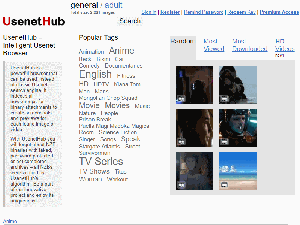 | | |
| --- | --- |
| Rating | |
| Price | Free |
| Retention | None |
| Free Trial | None |
| Features | Dead Site |
UsenetHub is sponsored by GetNZB. The service doesn't have very many files added to it yet, but they are adding files on a daily basis and it is a new service, so some flexibility in this regard is merited.
The service is based on an indexing system created by the developers themselves, which they describe as an innovative and intelligent USENET browser. This system allows you to preview videos, to take a look at screenshots if there are images in the binaries that you are after and, additionally, it will also analyze the file to make certain that it is ready for download. Content is moderated and this helps to avoid spam and other undesirable content from showing up on the index.
Editor's Note: The UsenetHub site is no longer active and now redirects to usenetbrowser.net, which is mainly an adult Usenet search engine.
The Service
UsenetHub is run by four people who are all friends. They are all professional programmers who have known each other since childhood. All of them are employed in IT working for different companies and UsenetHub is a hobby that they set up for themselves.
They pride themselves on being able to eliminate fakes and other undesirable content from their indexes, making it easier for users to pick up binaries that are actually what they are looking for, rather than picking up binaries that are only spam. This service also has a nice feature for people who want to be able to access whatever type of content they're looking for, but who do like some filtering. UsenetHub does have adult content available, but this content is labeled and kept separate from the general content. This makes it a lot easier to find family-friendly content if that's what you're looking for.
Tech Info
According to the developers, what separates this particular site from others is that it is new, innovative and that great pains have been taken to make certain that undesirable files are not available on the indexes. There is some truth to this as, as anyone with USENET access can attest, there is a great deal of spam on the USENET system and having an indexer that makes the effort to get rid of it is certainly desirable.
UsenetHub is worth keeping an eye on to see how the site evolves over time and to see what it's like once there are more files available in the indexes. Right now, we would likely prefer easynews, but people with a good idea and a good system do deserve a chance, so take a look at UsenetHub and make sure to see where they go in the future. Also look to our list of best NZB sites or our list Usenet search engines for comparison purposes.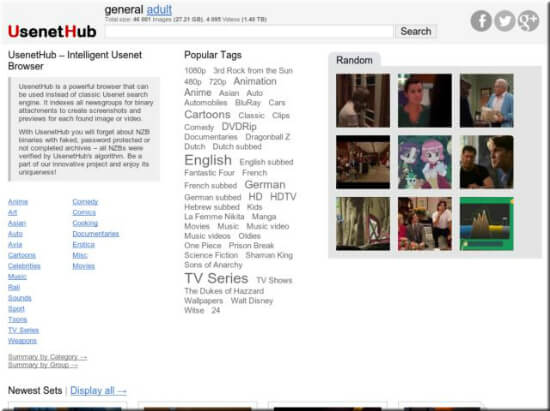 Altenatives To UsenetHub
| Name | NZBs | Price |
| --- | --- | --- |
| NZBFinder | Free 5 NZBs & 25 API Calls | 10, 20, 35 Euros |
| UsenetCrawler | Best Free Account Offering | Over 500 Groups Crawled |
| NZBgeek | Open and Free to Register | Free and Paid Service |
| NZBGrabit | Free 5 .ZIP Downloads | Arcade, and Photo Editor Included |
| DrunkenSlug | Free 100 API Hits and 5 NZBs Daily | Invite-Only Website |
| NZB.su | Open NZB Site | API Integrations |
| DogNZB | Invite Only | $20/Yr for VIP |
| NZBPlanet | Invite Only | 2 Million NZBs Indexed |
| FileSharingTalk | Forum-Based Site | Option to Donate |
| OmgWtfNZBs | Invite-Only NZB Site | $10/Yr for Donators |