UsenetExpress Review
Last Updated: Jan 24, 2022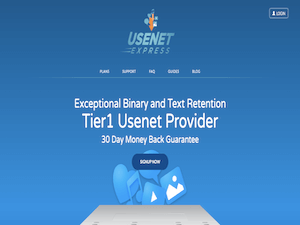 Rating
Price
$10.00 / Month
Retention
3000 Days
Free Trial
None
Features
Tier1 Provider
Block and Unlimited Plans
Unlimited Speed
Usenet Express is a tier 1 Usenet Service provider that offers multiple packages including block plans and unlimited plans. This provider has server farms in both US and Europe and offers users access to 50 connections, SSL encryption and even a VPN add-on.
UsenetExpress Quick Summary
Tier 1 Usenet Service Provider
US and EU Servers
256-bit SSL (TLS1.2)
Block and Unlimited Plan
Unlimited Speed
50 connections
Connections upgradeable to 150 connections
Includes free headers, free posting and header compression
30-Day Risk Free Trial
VPN Add-On Available
Retention of 3000 Days
No logging
Uncensored newsgroups: 100,000+
Multiple payment methods including Bitcoin
Maximum allowed streams: 150
Header compression
Free headers with unlimited account
No logging
Binary Retention
Users can find articles over 3000 days old when using Usenet Express. Usenet Express also has a completion rate of 99%.
Pricing
Usenet Express has a single block plan and unlimited plan. Their block plan includes 500GB of data and you have the option to add a VPN service with your package. Unlimited plans, on the other hand, come with a VPN account included. Both Block and Unlimited plans include 50 connections, 256-bit SSL and a 30 day risk-free feature. Pricing are as follows: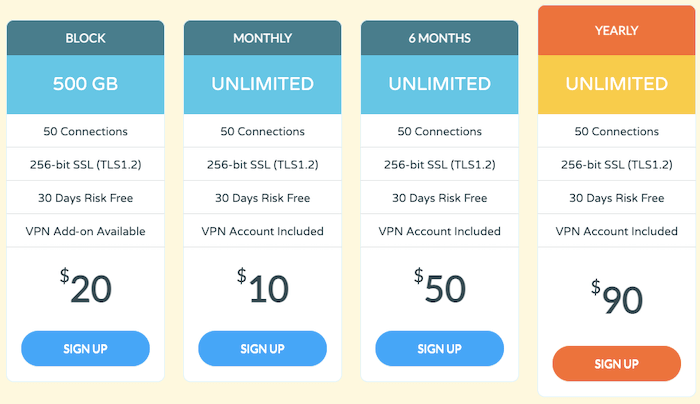 Usenet Express accepts payments via credit cards, PayPal and Bitcoin.
Free Trial Info
As mentioned, Usenet Express plans come with a 30-day money-back guarantee
Special Offers/ Coupons
The longer the duration of your unlimited plan, the cheaper the monthly fee comes out. For comparison, the one month plan costs $10 while the yearly plan costs $90, which comes out as $7.50 per month.
Additionally, UsenetExpress also offers occassional service sales or discounts from Black Friday sales, New Year's specials, to name a few. You can check back with us for future updates on this Usenet service provider.
Speed Test
Usenet Express performs well in terms of speed. This provider does not limit your speed and with servers in both the US and Europe you are assured of good server connections. However, please be reminded that your download speed heavily depends on how fast your internet connection is. Meaning to have the best possible speed with Usenet Express, your ISP connection should be fast as well.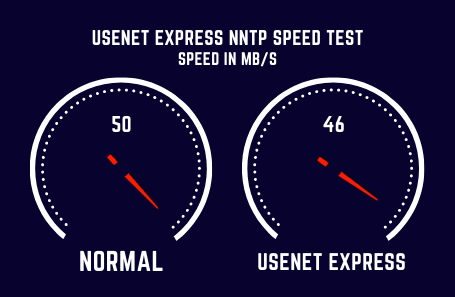 Connections
Usenet Express offers 50 secure connections.
News Servers/ Ports/ Configuration
Below is the connection information for Usenet Express:
US Hostname: news.usenetexpress.com
EU Hostname: news-eu.usenetexpress.com
Username: your given Usenet Express username
Password: your given Usenet Express password
Ports:

563 or 443 for SSL (TLS 1.0+)
564 for old SSL clients (SSLv2)
119, 23, or 80 without SSL
It is recommended that subscribers only use SSL connections.
Frequently Asked Questions
Q: Who is Usenet Express?
A: UsenetExpress provides premium Usenet access and features. UsenetExpress is known to offer some of the best retention, completion and speeds in the industry.
Q: What newsreader does Usenet Express recommend?
A: Different newsreaders will appeal to different customers based on how they use Usenet. In general they recommend using Newsbin as your newsreader. It's an excellent starting point for someone looking for a full featured newsreader.
Q: Does Usenet Express limit download speeds?
A: UsenetExpress does not limit download speeds in any capacity. Download speeds are heavily dependent on the size of your connection and the path between our servers and you. You will be able to access Usenet at the same speed available that your ISP allows.
Q: Does Usenet Express run their own spools/ farms?
A: Yes, they run their own spools and transit servers. Currently their spool set isn't as "deep" since it takes time to build retention. To supplement their spools they have agreements with other providers for older articles. Their internal numbers show around 94% of requests being fulfilled by their own spools. This number will grow as they add retention.
Q: Does Usenet Express log what users download?
A: Absolutely not. UsenetExpress does not and can not log what you download. The only thing that they are able to determine is the volume of information that you download, but not any of the content. Additionally, their SSL encrypted connections help protect your online privacy when using their high speed network.
Q: Can I share my Usenet Express account with other people?
A: No. They only allow connection from one IP address at a time. For example if you are connected from one computer and attempt to connect from another computer with a different IP address the second connection will be refused.
Support
E-mail Usenet Express at support@usenetexpress.com or open a helpdesk ticket in the members area.
The Usenet Express site also has a decent FAQ section and setup guides.
Contact Information
For Abuse
Please use the report abuse form or e-mail: abuse@usenetexpress.com.
For Sales
e-mail: sales@usenetexpress.com
For Technical Support
e-mail: support@usenetexpress.com
Regular old mail
Express Network Group, LLC
411 Walnut Street
Suite 11680
Green Cove Springs, FL 32043
USA
US tel: +1.904.531.3120
Security/ Company Privacy Policy
Usenet Express uses SSL technology to keep your Usenet activity secure and private. According to their site, they also do not log and cannot log what you download. As previously mentioned, "The only thing that we are able to determine is the volume of information that you download, but not any of the content."
Payment Options
Usenet Express accepts major credit cards, PayPal and Bitcoin as payment options.
Our Opinion
Usenet Express may not be the best Usenet service provider in the market today but they can be considered as one of the more competent and reliable services around. Being a Tier 1 provider gives users the reassurance of the quality of service they have with the company running their own server farm. What is also good is that their site provides all the necessary information new users might need when choosing a Usenet provider. The VPN inclusion on their unlimited plan is also a nice additional feature that not all Usenet providers offer. All in all, Usenet Express provides good services that compete well with other Usenet service providers in the market today.
Altenatives To UsenetExpress
| Name | Price | Info |
| --- | --- | --- |
| Newshosting | $8.33 | Best Price / Free Newsreader |
| UsenetServer | $7.95 | NZB Search / Fast Speeds |
| Eweka | €7,00 | Best EU Provider / Lifetime Discount |
| Easynews | $9.98 | Easy Web App / File Previews |
| TweakNews | €7,50 | Free Newsreader / Free VPN |
| PureUSENET | €5.97 | Good EU Provider / Free SSL |
| XLned | €7.49 | Fast Speeds / EU Servers |