UsenetDiscount Review
Last Updated: Apr 05, 2022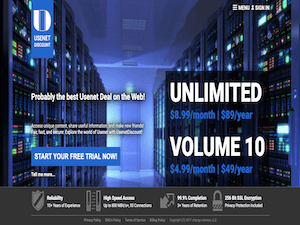 Rating
Price
$8.99 / Month
Retention
1095 Days
Free Trial
Features
10+ Years of Experience
Up to 800 Mbit/S
Up to 50 Connections
UsenetDiscount is a Usenet service provider that offers uncensored Usenet access with speeds up to 800 Mbit/s and 50 connections. Their straightforward plan comes with SSL encryption and more than 3 years of article retention.
This Usenet provider has been in this business for more than 10 years and has established itself as a decent Usenet service. And while we may not consider them as one of the best when compared to other providers like Newshosting or UsenetServer, UsenetDiscount can be considered as having a reliable service.
UsenetDiscount Quick Summary
10+ Years of Experience
Up to 800 Mbit/s
Use up to 50 connections
99.9% Completion
3+ Years of Article Retention
256-bit SSL Encryption
Unlimited Plan
Volume Plan
5-day free trial
Binary Retention
According to their site, UsenetDiscount has 3+ years of article retention. It is quite unclear how long their binary retention is or if the 3+ years only covers text retention.
Pricing
UsenetDiscount has a pretty simple pricing setup offering just two main plans: Unlimited and Volume10. See pricing below: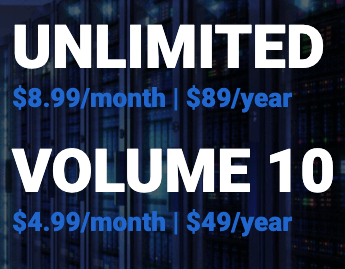 Free Trial Info
To test out their service, you can sign up for a free trial through their website. All their plans come with a 5-day free trial period. If you are unsatisfied with their service, you should cancel your plan before the free trial period ends.
Special Offers/ Coupons
There are currently no special offers or coupons with UsenetDiscount. Make sure to check back with us for future possible promos with this Usenet service provider.
Speed Test
Like other Usenet service providers, UsenetDiscount performs well in terms of speed. You will be able to max out your speed limit but of course this also depends on how fast your own internet connection is.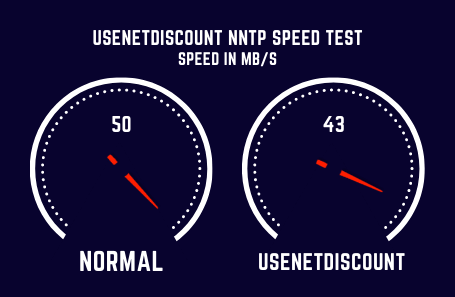 Connections
UsenetDiscount plans come with 50 connections which is more than enough for your Usenet access. Depending on the speed of your internet connection, around 20 to 40 connections are enough to maximize your bandwidth.
News Servers/ Ports/ Configuration
Configure your newsreader/Usenet client of choice according to the following settings:
Server: news.usenetdiscount.com
User: YourUserName
Password: YourPassword
Ports: 23, 80, 119, 443, or 8080; SSL enabled: 563 or 600
You can find your username and password in the welcome email you received after signing up.
Frequently Asked Questions
The FAQs below are as seen on the UsenetDiscount website:
Q: How fast are your servers?
A: Our servers support up to 50 concurrent connections per account and can deliver up to 800MBit/s+ of download speed per account. Actual speeds may vary depending on your internet connection speed, server load, and factors external to our network.
Q: What forms of payment do you accept?
A: We accept all major credit and debit cards including Visa, Mastercard, American Express, Discover, JCB, and Diners via our PCI compliant payment gateway provider. We also accept PayPal payments and will accept Bitcoin in the very near future.
Q: Do you offer free SSL encryption?
A: Yes. All accounts come with free 256 Bit SSL encryption. Use ports 563 or 600 for SSL secured connections.
Q: When will my free trial account turn into a paid-for account?
A: You have chosen one of our paid-for premium plans during the signup process for your free trial account. If you do not cancel your trial account before its expiration, we will activate the paid-for account type you have chosen. Your plan automatically renews unless cancelled, and all charges are being made to the means of payment you provided during signup.
Q: Do you monitor / log which articles I access or download?
A: No. Neither do we know which articles you access, nor do we keep log files about your reading activity. We merely keep log files about the total network utilization/bandwith consumed by your account. This is for accounting purposes only.
Q: Will my plan renew automatically?
A: Yes. All paid-for accounts automatically renew unless cancelled, and we will charge the means of payment you provided during signup. This is for your convenience and to deliver you uninterrupted service.
Q: How can I change my plan, or switch from monthly to annual subscription or vice versa?
A: Please contact customer support to change your plan or billing cycle. Please use the 'Contact' button on the bottom of this page to get in touch.
Support
You can check out the UsenetDiscount FAQ page for general questions. If you have other concerns, you can reach their team through their contact page. Make sure you include your username in your message if you are an existing subscriber.
Contact Information
No specific contact information is available on the UsenetDiscount website.
Security/ Company Privacy Policy
UsenetDiscount does not monitor or keep log files of your Usenet activity. According to their policy, they only keep log files on network utilization and consumed bandwidth for accounting purposes.
Payment Options
UsenetDiscount accepts major credit and debit cards as well as PayPal. According to their site, they will be accepting Bitcoin payments in the near future.
Our Opinion
UsenetDiscount is a decent Usenet service provider that is a reliable option if you choose to go for a not so well-known service. While they may not be as popular as our top providers, UsenetDiscount has pretty good features including 50 connections, a decent amount of retention, SSL encryption and high-speed. We especially like how simple their pricing is. They do not burden subscribers with loads of options which can sometimes be very confusing. That being said, make sure you test out their service first by subscribing and making the most out of the five day free trial. And if you are not satisfied, you can simply just cancel your account before the trial ends.
Altenatives To UsenetDiscount
| Name | Price | Info |
| --- | --- | --- |
| Newshosting | $8.33 | Best Price / Free Newsreader |
| UsenetServer | $7.95 | NZB Search / Fast Speeds |
| Eweka | €7,00 | Best EU Provider / Lifetime Discount |
| Easynews | $9.98 | Easy Web App / File Previews |
| TweakNews | €7,50 | Free Newsreader / Free VPN |
| PureUSENET | €5.97 | Good EU Provider / Free SSL |
| XLned | €7.49 | Fast Speeds / EU Servers |