UsenetBucket Review
Last Updated: Jan 20, 2022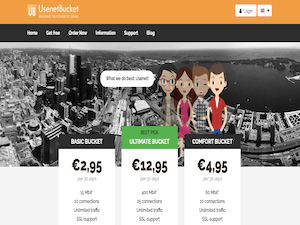 Rating
Price
€12.95 / Month
Retention
1600 Days
Free Trial
7 Days
Features
Dutch Servers
SSL Included
Accepting Bitcoin
UsenetBucket is a Dutch Usenet service provider with a lot going for them. They accept Bitcoin and have a good privacy policy and they've been good about updating their services to keep pace with the times.
Quick Facts
Unlimited Traffic
Multiple Speed Options
24-Hour Support
EU Servers
SSL (Privacy Protection)
1600 day of Binary Retention
Up to 25 connections
No logging
Multiple Payment options
Accepts Bitcoin
Binary Retention
UsenetBucket is currently at 1600 days of binary retention. This is a bit lower than our best Usenet service providers, but certainly still competitive.
Pricing
All of their subscriptions come with SSL support, which protects your privacy online.
| Name | 1-month Fee | 3-month Fee | 1 year Fee | Speed | Connections |
| --- | --- | --- | --- | --- | --- |
| Basic Bucket | €2.95 | €8.40 | €31.85 | 15 Mbit | 10 |
| Comfort Bucket | €4.95 | €14.10 | €53.50 | 60 Mbit | 10 |
| Ultimate Bucket | €12.95 | €36.90 | €139.85 | 400 Mbit | 25 |
All plans come with a 7-day return policy.
Free Trial info
You can try out their best plan, Ultimate Bucket, for free for 7 days with a 20 GB limit. If you're not interested after testing, just cancel before your payment method is charged.
Special Offers / Coupons
UsenetBucket offers a €1 fee for a 2-day trial of their Ultimate Bucket plan.
Speed Test
UsenetBucket lives up to its claims as far as speed goes. Users should have no trouble getting the advertised speeds from this provider.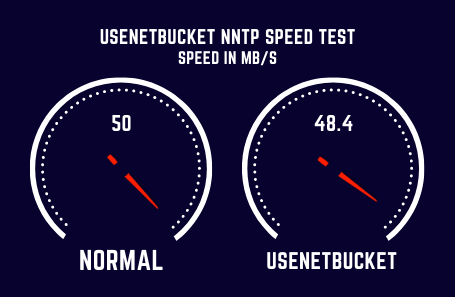 Connections
UsenetBucket offers more connections with their more expensive packages, which makes sense, given that their packages allow faster speeds the more you pay. The connection allotments should be entirely adequate for most users and, in all likelihood, most users will be able to max out their speed with fewer than the total allowed number of connections.
News Servers / Ports / Configuration
Reader.usenetbucket.comSSL Port: 443
Frequently Asked Questions
Q: How hard is it to pay for service with Bitcoin?:

A: It's much easier to use Bitcoin than it was in the past. There are several online services that will allow you to pay online with Bitcoin, and most of them are as convenient as any other type of online payment processor. Buying Bitcoin is very easy, as well.

Q: Will I be able to get English-language tech support from this company?:

A: Absolutely. UsenetBucket has a very well-written English-language FAQ that will answer most of your questions, in all likelihood. You can also contact support directly; they have English-speaking staff on hand.

Q: Would this be a good backup USENET service?:

A: Yes. It's never a bad idea to have a backup USENET service. If you're getting UsenetBucket, however, remember that they're a subscription service. To control your costs, you may want to consider getting block access from a company such as Tweaknews in addition to your subscription. It can make a difference if you're looking for very old binaries that not all USENET services might have available.

Q: Can I use my favorite newsreader with this service?:

A: Yes. UsenetBucket allows you to use whichever USENET reader you prefer with their service. If you don't have one yet, Newsbin, Grabbit, SABnzbd, and many others are very popular. You can find writeups and reviews about several newsreaders on UsenetReviewz.com.

Q: Will USENET from the EU be slower if I'm not in the EU?:

A: USENET is so fast that this seldom makes a difference. While connecting to a server in another nation might normally slow down your download speeds, keep in mind that USENET allows you to make multiple connections to news servers and that the providers sell their services based on speed. Don't worry about the download speed lacking; UsenetBucket is plenty fast.

Q: I have no idea how USENET works, how do I even figure all this out?:

A: You're at the right site. In addition to reviews, we provide tutorials and other information that will get you up and running with USENET in no time flat. It's not hard, if that's what you're worried about. In fact, USENET is one of the easiest online services to learn and it gets better all the time, making it well-worth the effort!
Q: Should I use the SSL port if I'm connecting from overseas?:
A: Absolutely yes, you should. We never recommend connecting to a news server unencrypted. You have the option of protecting your privacy and we strongly recommend that you take it. Using SSL won't slow your connection down and, in fact, it might speed it up a bit if your ISP throttles USENET traffic, and many of them do.

Q: Can I use NZBs with this service?:

A: You sure can! You can check out our listing of NZB sites to see which ones are really hot at the moment and which ones to avoid, too.
## Support
UsenetBucket has a fairly extensive FAQ where you can get answers to common questions. Your control panel will provide additional information, and you can contact support through your user control panel.
Contact Information
UsenetBucket B.V.
Planetenveld 353893
GE Zeewolde
The NetherlandsInfo
info@usenetbucket.com
Security /Company Privacy Policy
According to their privacy policy, UsenetBucket only collects information sufficient to process payment. They do not log any user's activity on their servers.
Payment Options
UsenetBucket accepts a wide selection of payment options, from credit cards to secure online payment processors. They also take Bitcoin, making them one of the better options for those who need to maintain their privacy when making payment.
Our Opinion
UsenetBucket is a good service. They have fast servers, a great privacy policy, and they accept Bitcoin. They're not quite at the level of our best Usenet service providers yet; their retention times are a bit lower than companies like Tweaknews and Easynews. They are, however, a good option in USENET service providers, particularly for Dutch customers.The things we like about this service include their competitively-priced plans, the speed they offer, and the fact that they accept Bitcoin. Combine this with a strong privacy policy and the company being located in a privacy-friendly jurisdiction and it's easy enough to see that this company offers a lot for the subscription price.If you want a Dutch service, or just a service located outside your home nation, UsenetBucket is a solid choice. They're even more so if you happen to be located in the EU. While UsenetBucket isn't quite in our top five yet, we do recommend them for Dutch customers and for anyone who's really adamant about paying with Bitcoin.
Visit UsenetBucket