Usenet-Server Review
Last Updated: Apr 12, 2022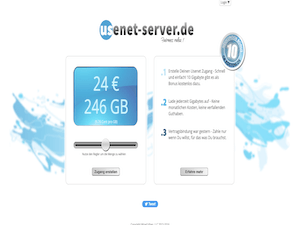 Rating
Price
€24 / Month
Retention
900 Days
Free Trial
None
Features
All Servers Located in Europe
Free SSL
50 Simultaneous Connections
Usenet-Server is a German Usenet service provider that offers fast and unlimited access. While Usenet-Server covers all the necessary basics needed for Usenet activity like SSL encryption, a good number of connections and full posting rights, it is important to note that their retention is a lot lower than the ideal retention rate.
Usenet-Server lets you buy gigabytes of load for your Usenet activity according to only what you need. Similar to block access plans from other Usenet services, the GB you pay for does not expire until you fully consume what you purchased.
Usenet-Server Quick Summary
All servers located in Europe
Fast servers
Unlimited service
900 days of retention
99% completion rate
50 simultaneous connections
Free SSL
Full posting rights
Flexible pricing
German-speaking support
No contact, no monthly payments
Paid GBs only expires until fully used
Binary Retention
Usenet-Server's retention rate is lower than our preferred or ideal rate. Currently their retention period is only 900 days. Ideally, a decent number would be at around 2000+ days. Newshosting, for example, offers over 12 years of retention.
Pricing
The pricing really depends on the gigabyte you purchase. The homepage of the Usenet-Server website automatically shows you a control area where you can gauge how much you need for your Usenet activity. It starts at €1 for 1 GB to €50 for 625 GB. The higher the number your GB is, the cheaper the cost is per GB.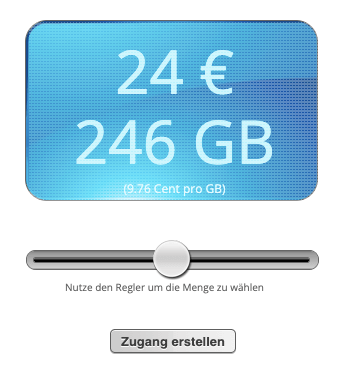 When your GB is about to be fully consumed, you can top up additional GBs anytime. There are no monthly costs and no expiring credits - Simply only pay for what you need.
Free Trial Info
While Usenet-Server does not have any free trial, they give you an additional 10 GBs free of charge when you register a new account.
Special Offers/ Coupons
There are currently no special offers or coupons with Usenet-Server aside from the additional 10GBs on new accounts. Make sure to check back with us for future possible promos with this Usenet service provider.
Speed Test
Usenet-Server has servers across Europe. This means if you are located in those areas, your speed will be quicker. But even if they don't have servers in the US, your Usenet activity will still run decently well. Like any other Usenet service provider, Usenet-Server performs well in terms of speed. Please note, however, that the speed of your activity also heavily relies on how fast your own internet connection is.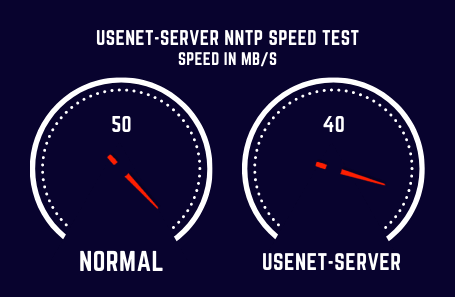 Connections
When you purchase a Usenet-Server block plan, you get 50 simultaneous connections with it.
News Servers/ Ports/ Configuration
We currently don't have the configuration information of Usenet-Server. However, once you register with this provider, you will receive all the necessary details needed for your Usenet activity.
Frequently Asked Questions
Q: What costs will I incur?
A: You pay once for the ordered gigabytes. After that there are no further costs.
Q: Do I have to create a new account each time?
A: No. You can always top up your existing account with new GBs.
Q: Do I have to cancel access at some point?
A: No. If you have used up all GBs, your account will automatically expire after 12 months. After that, you can of course create a new account at any time.
Q: Can I share access with others?
A: Yes. Only you decide what happens to your GBs.
Q: Can I fully utilize my broadband access ?
A: This of course depends on several factors. Our servers deliver +50MBit/s.
Q: Are there any newsgroups that you don't offer?
A: No. All newsgroups are available. If you're missing one, we'll make it available immediately.
Support
Usenet-Server has German-speaking support. To know more about their service, you can simply send them a message via email at support@usenet-server.de.
Contact Information
Aside from their email address, no other contact information is available on their website.
Security/ Company Privacy Policy
Usenet-Server provides SSL encryption to keep your Usenet activity private and secure. And according to their privacy policy, they "do not monitor or record your activities online. They do not monitor which newsgroups you post to or download from or what you put in news articles that you post."
Payment Options
Once you have selected how much GBs you need and have accepted their terms of use, you can make your payment by clicking on the PayPal button. You don't have to provide any further information. Your access data will be sent to your email address provided by Paypal. They only get your name and email address.
Our Opinion
Usenet-Server isn't the best Usenet service provider around with its low retention rate and limited servers that are only located in Europe. However, we appreciate the type of customization they offer in terms of their block offering and pricing. Not all service providers would give you the option to specifically just gauge the gigabytes you need and allow you to top up additional GBs anytime. This way, you can also just test out their service first by purchasing minimal gigabytes and then fully commit to their service with a bigger load if you are satisfied with what they have to offer.
Altenatives To Usenet-Server
| Name | Price | Info |
| --- | --- | --- |
| Newshosting | $8.33 | Best Price / Free Newsreader |
| UsenetServer | $7.95 | NZB Search / Fast Speeds |
| Eweka | €7,00 | Best EU Provider / Lifetime Discount |
| Easynews | $9.98 | Easy Web App / File Previews |
| TweakNews | €7,50 | Free Newsreader / Free VPN |
| PureUSENET | €5.97 | Good EU Provider / Free SSL |
| XLned | €7.49 | Fast Speeds / EU Servers |