Usenet.pro Review
Last Updated: May 16, 2022
Rating
Price
€9.50 / Month
Retention
3000 Days
Free Trial
None
Features
Discounted Subscription Plans
Account Sharing Allowed
Various Speed and Connections
Usenet.pro is a Usenet service that provides you with all the necessary requirements for usenet access from SSL encryption, a wide range of choices in terms of speed and connections, unlimited downloads. Not only that, Usenet.pro also allows you to share your account without any data limits.
According to their site, their server parks have 'triple redundancy', meaning that all data is available at various locations. On average they have a 99.7% completion rate.
What makes Usenet.pro unique is that they offer 2 main types of subscription: normal and discounted. Their discounted subscription is based on the time of usage.
Usenet.pro Quick Summary
Multiple types of plans
Subscription and Discounted Subscription
Discounted subscription - based on time usage
Various speeds and connections
Connections from 4 to 30
Speed from 4 Mbit to 300 Mbit
99.7 complete on average
Free SSL on every package
Unlimited downloads
Account sharing allowed
More than 3000 days of binary retention
Binary Retention
There are more than 3000 days of retention on Usenet.pro which ensures users that you will find data present for more than 8 years on their servers.
Pricing
Usenet.pro has 2 main plans: subscription and discounted subscription, both of which can either be paid on a 30, 90, 180 and 365 day basis.
Their regular subscription plans vary depending on the speed and number of connections you select. The speed they offer range from 4 Mbit to 300 Mbit while the number of connections range from 4 to 30.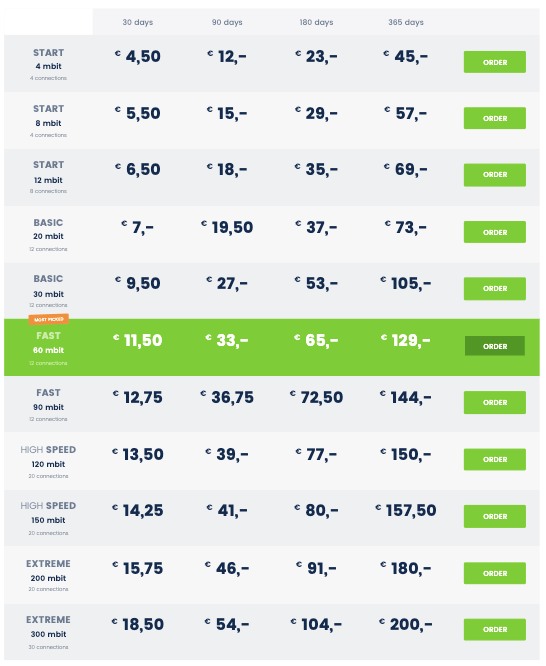 If you don't need Usenet access 24/7, you can choose their discounted subscription which gives you access to Usenet.pro servers during non-peak hours which is between 0:00 to 16:00 (Amsterdam timezone).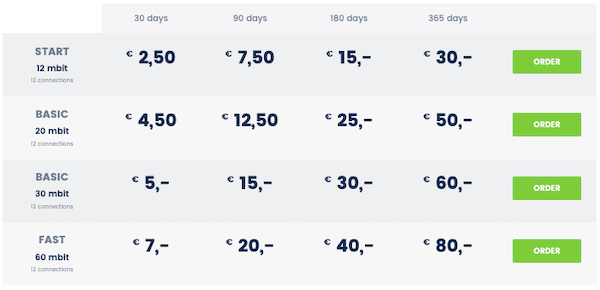 Free Trial Info
We found no free trial information on the Usenet.pro website. Unfortunately there is no way to test their service out first before actually subscribing to their service.
Special Offers/ Coupons
Currently, there are no special offerings or promotions from Usenet.Pro. That being said, you can take advantage of their discount packages if you wanna use their service during off-peak server hours.
Speed Test
Usenet.pro performs well when it comes to speed. Of course, the speed of your usenet activity depends on the plan you select since their subscription plans vary depending on the speed and connections. And since Usenet also relies on how to fast your internet connection is, make sure to select a plan that fits how fast your own broadband connection is. It is not smart to choose a high-speed plan that is far higher that how fast your net speed is.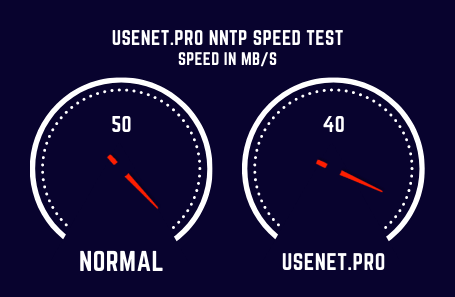 Connections
As mentioned, Usenet.pro plans vary depending on the number of connections and speed they offer. For normal subscriptions they offer 4 to 30 connections. Discounted subscriptions, on the other hand, all come with 12 connections.
News Servers/ Ports/ Configuration
Server information will be sent to you once you subscribe to their service. You can connect using ports 80 or 119. If you are using SSL to connect you are able to use ports 443 and 563.
Frequently Asked Questions
Q: How fast is the Usenet.Pro service?
A: Usenet.Pro is a true broadband usenet provider offering un-congested usenet servers and networking equipment as well as Gigabits of available bandwidth. Of course, the speed of your downloads depends on how you connect to the Internet, the quality of the connection and service your ISP provides.
Q: I've paid for Package A, can you switch me to Packet B?
A: Yes, in fact you can change it yourself. If you login to the member area you are able to adjust the speed of your subscription. We will take the remaing value of your subscription and will calculate the option for the new package. You can increase or decrease the speed of your package any time you want.
Q: What can I do in my control panel?
A: After you successfully created an account at Usenet.Pro, you will receive access to your own Control Panel. This Control Panel allows you to:
Change your personal details;
Change your account settings;
Change your current subscription;
Create and read Support Tickets;
Download the invoices of every payment you made;
See all current Promotions from which you can benefit;
Q: Do I need to cancel my subscription every time?
A: No, your subscription gets canceled automatically whenever your account expires.
Support
To reach Usenet.pro you can check out their contact form available on their website. You can also send them an email via info@usenet.pro. They also have a comprehensive FAQ page on the site.
Contact Information
Address: Koperweg 11-J
Zipcode: 2401LH
City: Alphen aan den Rijn
CoC: 57480532
VAT: NL852599134B01
Security/ Company Privacy Policy
Usenet.pro uses SSL encryption to keep your Usenet activity safe and secure. And according to their privacy policy they "Limit the collecting of personal data to personal data that is necessary for legitimate purposes only". "Usenet.Pro retains personal data it processes no longer than is necessary for the processing or as is required by law."
Payment Options
Payment options include the following:
iDeal
SEPA
Mastercard
Sofort
Visa
Amex
GiroPay
Bancontact Mister Cash
Belfius
KBC
Our Opinion
Usenet.pro seems like a reliable Usenet service provider with decent features from SSL encryption and various speed and connection options. We especially like that they have a discounted subscription offering that allows you to have access during off-peak hours of their servers. This would be ideal for users that do not need Usenet access all the time. However, it would have been better if they had a free trial offering so that users get to test their service out.
Altenatives To Usenet.pro
| Name | Price | Info |
| --- | --- | --- |
| Newshosting | $8.33 | Best Price / Free Newsreader |
| UsenetServer | $7.95 | NZB Search / Fast Speeds |
| Eweka | €7,00 | Best EU Provider / Lifetime Discount |
| Easynews | $9.98 | Easy Web App / File Previews |
| TweakNews | €7,50 | Free Newsreader / Free VPN |
| PureUSENET | €5.97 | Good EU Provider / Free SSL |
| XLned | €7.49 | Fast Speeds / EU Servers |