Usenet Clients for Smartphones
Last Updated: Jul 04, 2022
Nowadays most people are mobile and prefer to use technology that they can carry around and bring wherever they go. This is also true in the case of Usenet users who, while often still prefer using their desktop computers or laptops to access and download from Usenet, also are on the lookout for applications they can use via their mobile phones.
Providers do offer access to Usenet users regardless of the device they are using but not all Usenet clients can have mobile versions. Here are just some Usenet newsreaders that you could explore or use via your smartphones.
Easynews Newsreader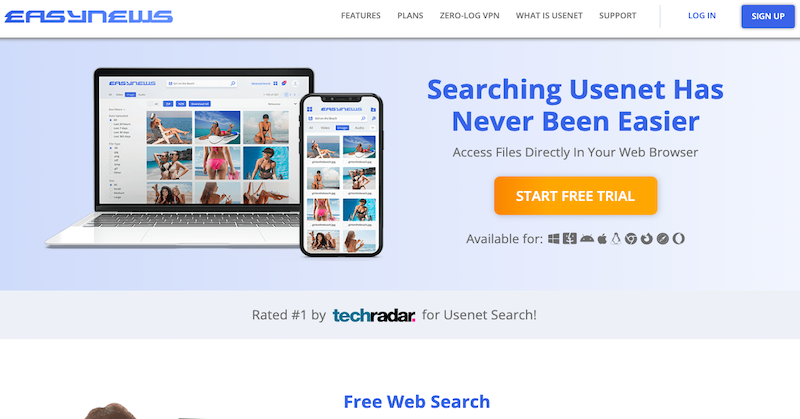 Easynews is primarily a Usenet service provider that also offers a fast and simple Usenet newsgroup reader. Easynews has a web-based Usenet newsreader that has been in development for over 15 years and allows you to access newsgroups from your desktop, laptop or any of your mobile devices. It is compatible with Windows, Mac, iOS and Android so you will be able to search, view and download files directly on any web browser of your choice whether Chrome, Safari or Firefox.
When you have a subscription with Easynews, you will also be allowed to roll your unused gigs over to the next month for the web-based newsreader. Aside from that, Easynews also supports popular formats and has a current retention rate of 5,000 day. The download limit you get would depend on your subscription plan but this varies between 20GB per month to 150GB.
Learn more about Easynews on our latest review with this popular Usenet service provider
SABnzbd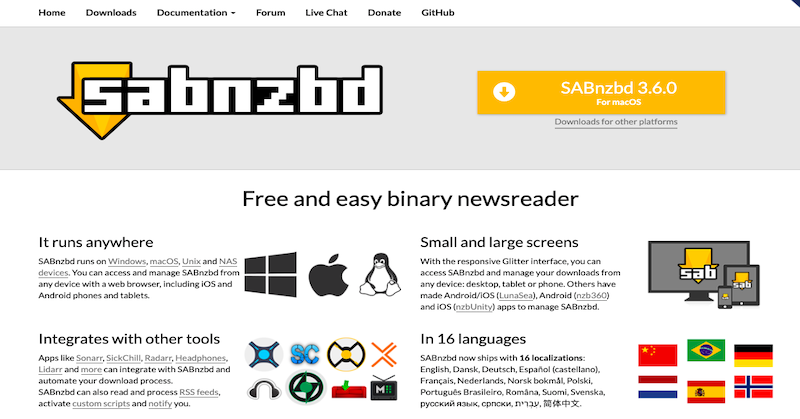 SABnzbd is one of our recommended Usenet newsreaders. As a free and easy-to-use binary newsreader, SABnzbd has become one of the more popular options for Usenet users who are looking for an NZB downloader that has a responsive web interface and has automated features.
While this application can be downloaded and run on multiple operating systems like Mac, Windows, Unix and NAS, you can also access and manage SABnzbd from any device with a web browser, including iOS and Android phones and tablets - making it a great option for users who are looking for a Usenet client you can use on the go.
For more information on this popular NZB downloader, check out our latest review on SABnzbd
NZBGet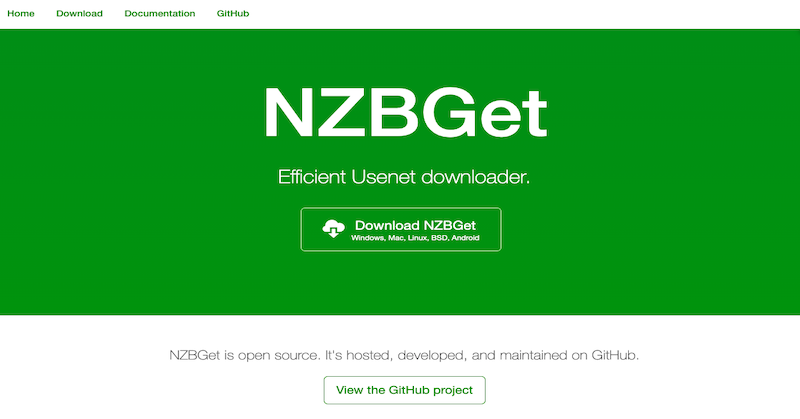 NZBGet is another popular Usenet newsreader and NZB downloader among Usenet aficionados today. Similar to SABnzbd, NZBGet can be accessed via a web interface which means you can search, view and download from your favorite browser using your device of choice. However, they have not yet released an iOS version of their web browser installer. Luckily for Android users, you can use NZBGet on your mobile phones and enjoy downloading NZB files to your device.
NZBGet is completely free to download and use. However, they encourage users to donate so that the developers can continuously improve the software and support management costs. You can either do a one time donation or an automatic monthly contribution.
This NZB downloader is popular among users for good reason. With its easy to use interface, quick installation and simple configuration, NZBGet is considered one of our recommended newsreaders in the market today.
For full details on NZBGet, check out our latest review on this Usenet client.
NZBReader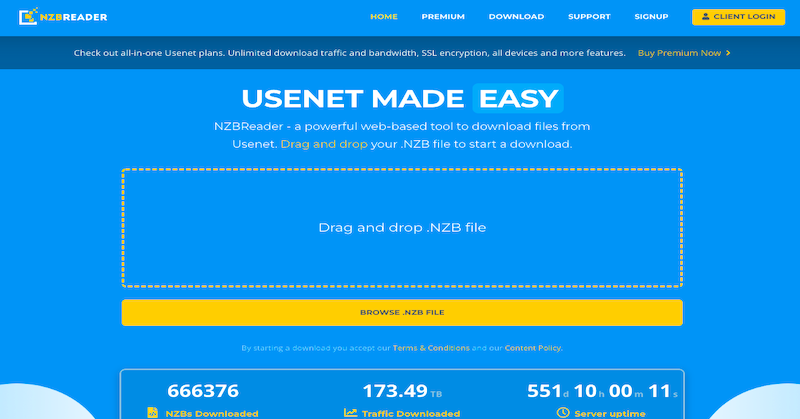 If you have .NZB files on your mobile device and would need to extract them to your phones then you can check out NZBReader.
NZBReader is a relatively new NZB downloader that we have just discovered recently. It is quite different from other more popular Usenet clients that have already established themselves as a go-to application or web-based interface for usenet newsreading and nzb downloading.
NZBReader is a web-based tool where you can download easily from Usenet. Simply drag and drop your .NZB file onto the tool and it downloads it for you.
While it is commonly advertised as an "NZB Reader", this web-based tool also offers premium access to Usenet. You can actually use NZBReader for free, however it is recommended that you purchase a Usenet access subscription with them to be able to enjoy the full capacity of this unique web-based Usenet newsreader.
You can check out our latest review on NZBReader here.