United Newsserver Review
Last Updated: May 10, 2022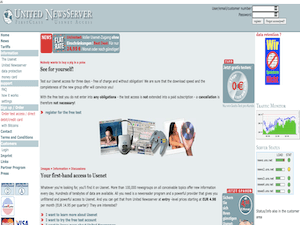 Rating
Price
€4.98 / Month
Retention
600 Days
Free Trial
Features
German Usenet Provider
Low Retention Rate
Data Protection Guaranteed
United Newsserver is a German Usenet service provider that offers you access to more than 100,000 newsgroups where hundreds of terabytes are available. However, when compared to our current top Usenet providers, United Newsserver only offers 900 days of retention for all times and just 600 days for binary retention which is incredibly lower than the ideal retention rate.
United Newsserver Quick Summary
German Usenet Provider
Access to more than 100,000 newsgroups
Low retention rate: 900 days
Binary retention: only 600 days
SSL encryption included
8 simultaneous connections can be used
Data protection guaranteed
Secure payment methods
Reliable data traffic
Bitcoin accepted
Binary Retention
One of the biggest concerns with United Newsserver is that they only offer 600 days of binary retention which is a lot lower than current industry standards. The best Usenet providers today offer up to 4000 days of binary retention over 12 years of text retention.
Pricing
Entry level prices start at €4.98 per month or €14.95 per quarter
Free Trial Info
You can test out their Usenet access for three days free of charge and with no obligations. Simply register on their website and they assure you that this type of access will not extend into a paid subscription, therefore a cancellation isn't necessary.
Special Offers/ Coupons
There are no special offers or coupons from United Newsserver
Speed Test
United Newsserver offers unlimited speed when subscribing to their plan. And while they perform decently well in terms of speed, there are other Usenet service providers that perform better. Please be reminded, however, that the speed of your Usenet activity is also dependent on how fast your own internet connection is.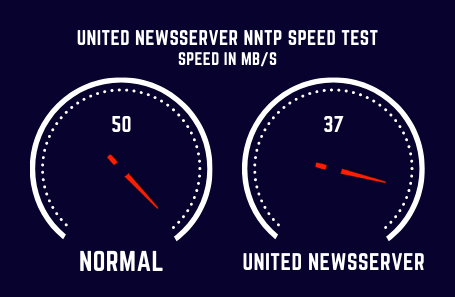 Connections
United Newsserver only offers 8 simultaneous connections. While this may be enough depending on your internet connection, we still recommend about 20 to 40 connections to maximize your bandwidth.
News Servers/ Ports/ Configuration
United Newsserver has the following servers:
news.uns.net
news2.uns.net
news3.uns.net
news4.uns.net
News5.uns.net
SSL enabled port: 563, 443
Regular port: 119
Frequently Asked Questions
The FAQs below are as seen on the United Newsserver website:
Q: What software works with United Newsserver
A: You can use any standards-compliant Usenet software. Here is a small selection of suitable newsreaders:
Windows:
News File Grabber in GERMAN
FreeAgent
NewsBin Pro
Linux:
Macintosh:
Of course you can also use other Usenet tools, such as download tools:
Windows:
Macintosh:
Q: Does United Newsserver know what I'm downloading and when?
A: No. They only track how much data is downloaded in a month
Q: Can I accidentally download something illegal?
A: Theoretically this is possible. However, it is not punishable if you do not do it intentionally or if you cannot recognize that it is an illegal offer. It is a completely different matter if you offer content illegally (e.g. copyrighted data such as music, films).
Q: How protected is my data at United Newsserver?
A: They guarantee full data protection. For the transmission of sensitive data, for example when registering, They only use SSL encryption. They do not transmit any of our customers' data to third parties. They only collect the necessary data that we need for billing. They do not record what you download from Usenet.
Q: What happens if I exceed my volume?
A: If you exceed your download volume within the current billing period, access is possible again at the beginning of the following billing period.
They would also be happy to change the billing period or put you in the next higher tariff. Simply send them an email.
Support
United Newsserver has a contact form available on their website. According to them, you can normally expect a reply from them immediately but in exceptional cases it may take a day before you receive a response.
Contact Information
To contact United Newsserver, you can use the form available on their site or via email at service@united-newsserver.de.
Security/ Company Privacy Policy
According to their privacy policy, United Newsserver does not keep logs of your Usenet activity except for how much data is downloaded by a user in a month.
Payment Options
They currently offer the following payment methods:
Debit charge
Credit card from the following institutes:

VISA
Mastercard
American Express

Money card

with a suitable card reader (also available from the United news server)
Our Opinion
Based on all the information we've gathered on United Newsserver, this Usenet provider is not a service we can recommend due to several factors more importantly on what their retention rate is and the connections they offer. While they cover all the necessary requirements needed for Usenet access, their service seems outdated and is not able to compete with the best Usenet service providers today. We suggest going for top providers like Newshosting or Eweka.
Altenatives To United Newsserver
| Name | Price | Info |
| --- | --- | --- |
| Newshosting | $8.33 | Best Price / Free Newsreader |
| UsenetServer | $7.95 | NZB Search / Fast Speeds |
| Eweka | €7,00 | Best EU Provider / Lifetime Discount |
| Easynews | $9.98 | Easy Web App / File Previews |
| TweakNews | €7,50 | Free Newsreader / Free VPN |
| PureUSENET | €5.97 | Good EU Provider / Free SSL |
| XLned | €7.49 | Fast Speeds / EU Servers |