Tretflix Review
Last Updated: Jan 12, 2022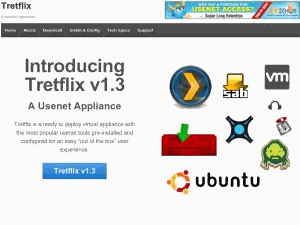 Rating
Price
Free
Features
Tretflix Software
Discontinued
Media Center
PreBuilt
EDITOR'S NOTE: Tretflix is now discontinued but it was formerly a decent option to set up many USENET applications quickly and correctly on a Linux platform.
If you're looking for an all-in-one solution for your USENET usage, Tretflix might be something to take a look at. This is a virtual appliance, which is a software solution that comes with all the components to fill a particular need. In this case, Tretflix comes with most of the popular USENET downloading software and the ability to function as a networked device, allowing you to watch any content that you download on any computer with which the Tretflix server shares a network.
What is a Virtual Appliance?
A virtual appliance is a pre-built software solution, comprised of one or more virtual machines that is packaged, maintained, updated, and managed as a unit. Virtual appliances are fundamentally changing how software is developed, distributed, deployed, and managed.
Virtual appliances are packaged, deployed, managed, and maintained as a unit. They will run on VMware vSphere, VMware Infrastructure (VI), VMware Workstation, VMware Fusion, VMware Server, and VMware Player.
Tech Specifications
To run Tretflix, the developer recommends Ubuntu Server 12.04.4 LTS. You can configure Tretflix as a standalone or as a network solution. The VM requirements include 3GB of RAM for an x86 machine or 4GB for an x64 build. You'll need 30GB of disk space and a 1 TB storage disk for the standalone solution. A single core vCPU is recommended. You can then provision the disk. You can use VMware ESXi v5.0+, VMware Player 5+ and Oracle VirtualBox 4.3 if you want a free solution. If you want to pay, you can use the VMware Fusion 5 and VMware Workstation 9 products.
What It Comes With
Tretflix features some of the best-known USENET applications out there. They include CouchPotato, Headphones, NzbDrone, Plex Media Server, SABnzbd+, Sick Beard and Transmission. You don't have to install them yourself and the entire package comes with the download.
If you have the technical skills to handle the installation and configuration of the software, the developer promises that you can get your media center up and running in about five minutes.
Tretflix, once you have it installed and configured, is an Ubuntu server. It has a command line interface that allows you to easily upgrade the applications it comes with and to get your services set up with minimal hassle.
Quick Facts
Simple & intuitive command set
App configuration & interoperability management
Self-updating via Github
Backup/Restore App data
Add/Remove static IP addresses
Add/Remove CIFS/NFS shares
Simple storage redirection and sync
Scheduler for automated tmp file/dir cleanup and app upgrades
Additional Services
Who Needs This
Virtual appliances are great solutions for setting up complex systems such as media servers. With Tretflix, you get everything you need for a complete USENET download and media center in one package.
This appliance may be particularly useful for those who want to get someone else set up and running with USENET, specifically in cases where helping them to install and use every application might be too much of a hassle. If you've got the Ubuntu skills, it's ready to go out of the box and very easy to operate once it's set up.
Tretflix might be a bit complex for those with no experience with Ubuntu servers, but it could be a lot of fun—and very useful—for those who want to learn their way around them.