Top 5 Best USENET Automation Tools
Last Updated: Aug 25, 2019
USENET may have been around for a long time, but people are always finding new ways to make it better. Automation tools are good examples of that.
Below you'll find our picks for the best automation tools. Some of them may be known to you already and, if you haven't tried them out, please do. You won't be disappointed.
Note: Below we added two additional Usenet Automation tools
#1 SonArr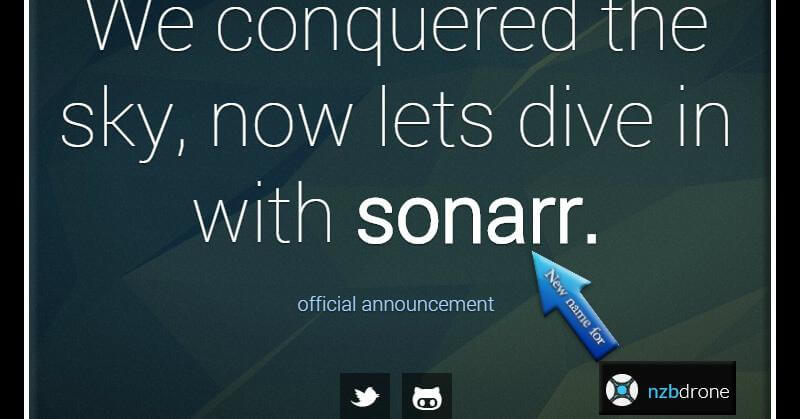 Sonarr is a PVR that allows you to automatically download content from USENET. It can read RSS feeds and, when it finds something that you have set up the program to look for, it will download the latest content related to that feed.
Sonarr can import your current tv show collections and even tell you if any episodes are missing. You can choose to find and download the missing episodes or just ignore them. Sonarr Periodically checks torrent and Usenet sites for new uploads and then determines if these shows are in your wanted list.
Sonarr allows you to specify the quality of videos that you're looking for, to continually search for them automatically and it works hand-in-hand with SABnzbd, so it has plenty of upsides to it. If you've used NZBDrone in the past, you'll be able to get up and running with Sonarr quickly and easily. It's the same program, overall, but it has been improved regularly over the years.
Usenet and Torrent Sites Downloads
Fill in missing TV episodes
Highly Customizable with Active Communitya
#2 Couch Potato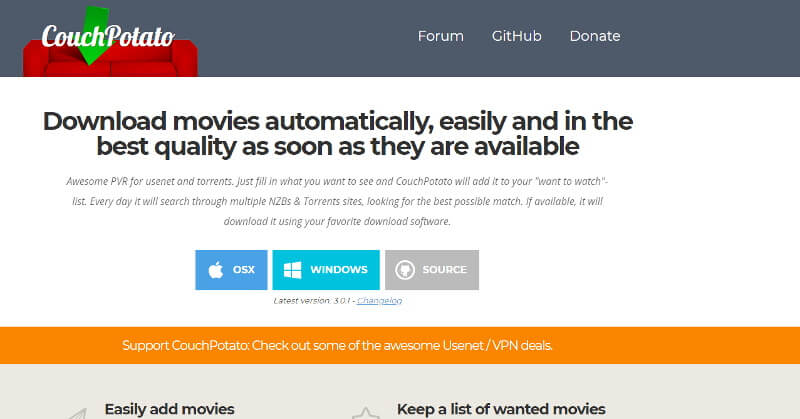 Couch Potato is very well known among USENET aficionados. It's a personal video recorder (PVR) and it's one of the most universally-employed options out there for that purpose.
Couch Potato works on Windows, Mac and Linux. It will search and download videos for you, so you can set it up to keep on looking for that binary you're after and avoid combing the indexers yourself. It also allows you to tag your files, will notify you when videos you're after come available and more.
Couch Potato is surprisingly easy to use, so check it out, even if you're a novice!
PVR for Usenet and Torrent Sites
Intelligent and Configurable Software
Chrome and Firefox Extensions
#3 SickRage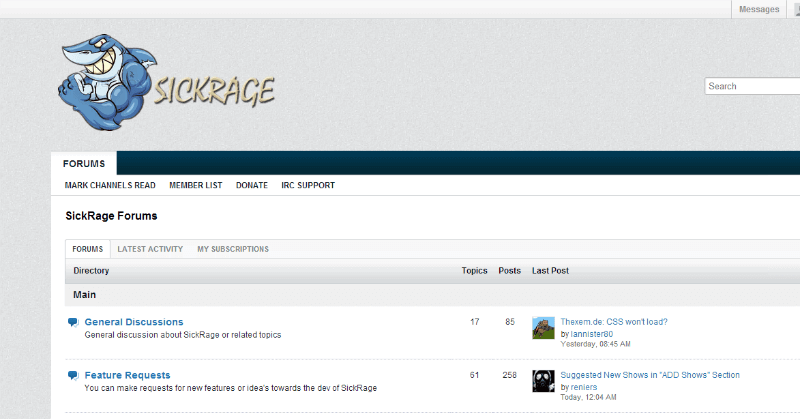 SickRage is a variation on SickBeard. For a while, it seemed to have been abandoned, but it's been actively developed once more. It has many of the same features as SickBeard, but it comes with some enhancements that might make it a bit more enjoyable to use for some people. It handles failures well, downloads poster art and does much more. It uses the same API scheme as SickBeard, so it should work with any site that interfaces with SickBeard.
SickRage is highly configurable and there are plenty of people at the program's forum that will help you out getting it set up. The organization features on this PVR are quite powerful, but it's easy to install and get going. If you run into trouble, you can use an IRC channel to get support, in addition to the aforementioned forums.
#4 LazyLibrarian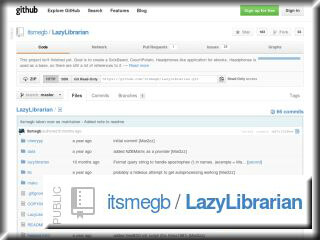 LazyLibrarian is still being developed, but it's something to get excited about. Imagine any of the aforementioned PVRs, but for eBooks. That's what LazyLibrarian will be.
It handles organizing, downloading accompanying cover art and much more. In most respects, it's exactly like a PVR, but for a different medium.
If you're a developer, you might want to see about helping out with the program, if possible. It still has some bugs here and there, but it's definitely worth checking out. It works with SABnzbd and interfaces with Newznab sites.
Although LazyLibarian seems to be abandoned at the moment, it still can be helpful.
#5 NZBGet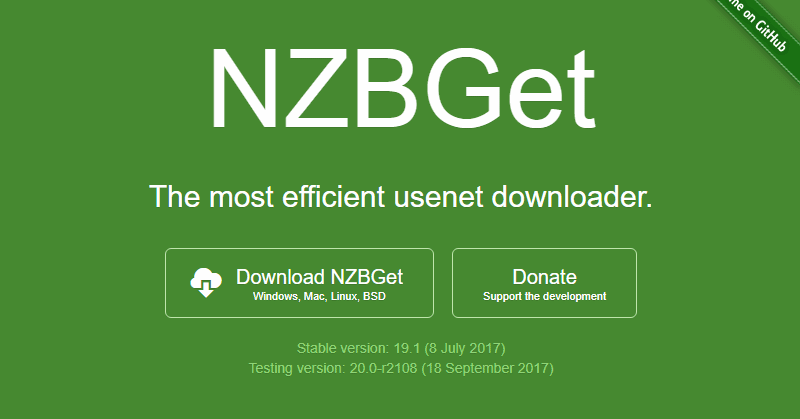 A highly efficient USENET downloader written in C++ and designed with performance in mind to achieve maximum download speed by using very little system resources. NZBGet supports all platforms including Windows, Mac and Linux. NZBGet runs invisible in background and can be configured and controlled from a web-browser.
Besides desktop class computers NZBGet works on WLAN routers, NAS devices, media players, etc. NZBGet has nice features like Automatic download, par-repair (if needed), unpack and post-processing. Also Third-party apps can communicate with NZBGet using RPC-API.
Built for speed, works everywhere
NZBGet is written in C++
Web-interface , Interface & Remote Control
#6 SabNZBD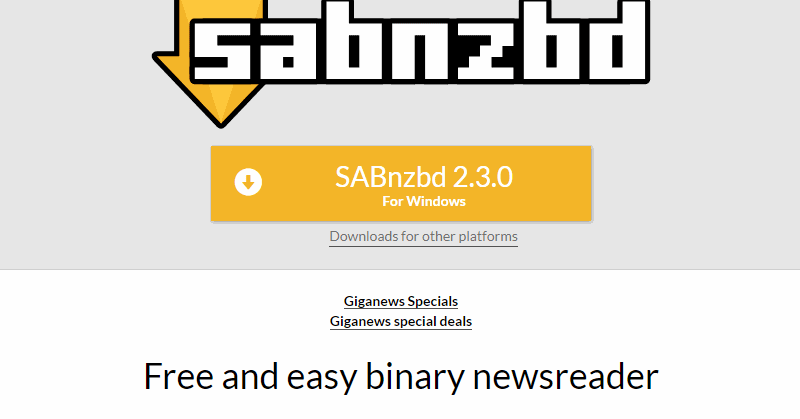 Similiar to NZBGet, SabNZBD is a USENET downloader written in Python and designed with Usenet Automation in mind. Like the Python programming language, SabNZBD runs on and supports all platforms including Windows, Mac and Linux. SabNZBD runs invisible in background and can be configured and controlled from a web-browser.
SabNZBD includes useful and relevant features like automatic download, par-repair, unpack and post-processing. Also RSS filters can be enabled to fetch and enqueue nzb-files automatically from your favorite indexers.
Slower the NZBGet
Big User Community
Automate Your Usenet Downloads
#7 Mylar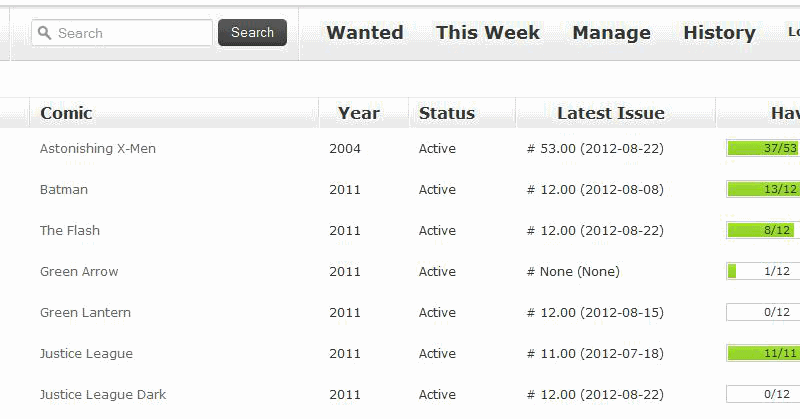 Mylar is an automated comic book downloader based on Headphones. However Mylar unlike Headphones continues to be updated and is in good shape with a motivated developer community. Mylar has the ability now to use only ComicVine data and does so by default
RSS Feed support for both nzbs and torrents
Post-Processing (both via SABnzbd and Manually-run)
Monitor comic release list for desired series
Keep checking back to get the latest and greatest on the best USENET automation tools out there!