TheHive Review
Last Updated: Feb 03, 2022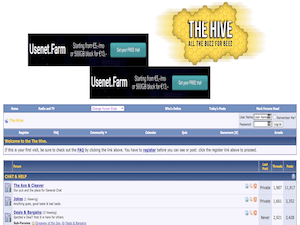 Rating
Price
$15/yr
Retention
500 Days
Free Trial
None
Features
Forum-Based Indexer
Focuses More on Games
Active Forum
The Hive is a forum-based NZB indexer that focuses more on games. Their free account is very limited, but features can be increased by donating to the site.
This NZB site is very community-oriented and puts value on how active the members are. To get certain upgrades as a free member you either donate to the site or take the time to rise through the ranks on the forum by participating and following community guidelines.
Highlighted Features
Forum-based indexer
Free user: 1 download/day
VIP Account: Unlimited downloads
Limited access to forums for free users
Full access to forum for paying users
Manual posting
Game-focused site
Quiz, Gameroom and Arcade pages
With advertisements
Chat option on-site
Radio and TV access to VIPs
Calendar available
Over 50 newsgroups crawled
Retention: 500 days
No privacy settings
Interface
The Hive site has a similar interface with that of other Newznab-based sites, but the difference is they cater more to gamers when compared to other indexers. They have limited options when it comes to other genres and does not have a movie or audio category. However, they have a separate Radio and TV page that can be accessed by VIP members. Some users might be overwhelmed by the number of menu items this site has and the cluttered look of their forum page. This makes their site look far too busy compared to other forum-based sites.
Please note that The Hive does not upload any content to Usenet or elsewhere. Members just find or search for content that is already on Usenet. They allow members to post any content they find that is posted already to the usenet public service. No files or links to files are hosted on thier server.
Membership Levels
Since free users get very limited access to The Hive site, they recommend that members upgrade to a VIP level. This level features unlimited downloads and forum access and can be paid using credit cards.
| Level | Price | NZBs | Forum |
| --- | --- | --- | --- |
| Free | $0 | 1 per day | Limited |
| VIP | $15/yr | Unlimited | Unlimited |
Support
The Hive is very community-oriented, and users can take advantage of the expertise of website members for any inquiries and questions they have regarding NZB files or Usenet itself. The Hive also has an on-site chatroom, which is always active. There you can find users you can interact and exchange information with. It will also be helpful to check out the FAQs page of this NZB site. To directly contact the site admin, The Hive has a contact form available on their site.
Uptime Status
The Hive has a pretty good uptime average, which means they are rarely offline. If they do go offline, it only lasts for just a few days.
TheHive Status / Uptime Charts
| | Status | Since | Average Response Time |
| --- | --- | --- | --- |
| ● | | | |
24 Hour Response Time Chart for
TheHive
Chart will be updated in
X
seconds
Uptime Averages
Conclusion
The Hive is not for everyone. This site focuses mainly on games and doesn't put a lot of effort on other file types. However, they have a Radio and TV that may be worth exploring. As a free user, though, you do not have access to this page, and you will be very limited to other pages of the site. NZB downloads are restricted to just 1 download per day for free members. To be able to enjoy the full features of The Hive, you would need to upgrade to a VIP level. Although you have to be prepared with a very wide range of menu options and a not so clean interface.
Altenatives To TheHive
| Name | NZBs | Price |
| --- | --- | --- |
| NZBFinder | Free 5 NZBs & 25 API Calls | 10, 20, 35 Euros |
| UsenetCrawler | Best Free Account Offering | Over 500 Groups Crawled |
| NZBgeek | Open and Free to Register | Free and Paid Service |
| NZBGrabit | Free 5 .ZIP Downloads | Arcade, and Photo Editor Included |
| DrunkenSlug | Free 100 API Hits and 5 NZBs Daily | Invite-Only Website |
| NZB.su | Open NZB Site | API Integrations |
| DogNZB | Invite Only | $20/Yr for VIP |
| NZBPlanet | Invite Only | 2 Million NZBs Indexed |
| FileSharingTalk | Forum-Based Site | Option to Donate |
| OmgWtfNZBs | Invite-Only NZB Site | $10/Yr for Donators |