The Best Plugins for Plex in 2021
Last Updated: Jul 16, 2021
Plex is a global streaming media service and a client-server media player platform. In 2018, Plex has started to discontinue official plugin support which has made several plugins difficult to install and has made it a tedious task for Plex users to find ones that actually work with this popular software suite.
But before you proceed with checking out existing working plugins, we recommend installing a VPN for Plex especially if you are going to do a lot of streaming or host content that comes from an unofficial source. Top VPN services can help you with getting around speed throttling from your ISP and protect you if ever you encounter copyrighted material.
Plex can also be used along with your Usenet activity. There are certain NZB sites, like NinjaCentral, that also offer Plex access should you want it. Plex can be considered as a miscellaneous application for Usenet activity and adds value to your whole Usenet experience. That being said, plugins enhance your Plex experience even more by providing useful functions such as subtitle management, content recommendation, content organization, to name a few.
Some information online provides outdated information on which plugins still work with Plex. So we've compiled a list of plugins that currently still work with this media player platform.
WebTools
Description:

WebTools is a collection of utilities to help with the management of your Plex Media Server.

This plugin is not limited to the usual channel interface. Instead, it utilizes a built-in web-server to display a responsive web interface which also works on mobile devices, allowing you to manage your Plex Media Server from any device.

Current available tool modules include FindMedia, Logs, PlayLists, Sub Management and TechInfo. Webtools also gives you access to UAS (unsupported app store) which is very convenient since it makes it easier to find and install plugins for Plex.

Since plugin support for Plex has been put on a hold, WebTools is no longer being further developed but still works up until the point when Plex plugin support has completely ceased.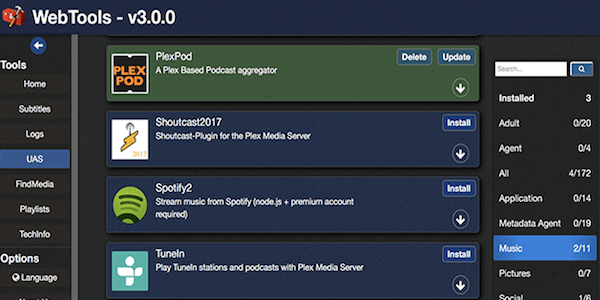 Sub-Zero
Description:

Though Plex can manage subtitles natively, it comes with a few limitations. Sub-Zero aims to solve your subtitle problems by automatically downloading the hopefully best subtitles there are, for your individual video file. Sub-Zero helps you to scan up to 10 subtitle providers, and even automatically updates your existing subtitles when better versions become available. It also features customization tools like timing offset, color, and more.

Currently it supports the following subtitle providers:

Addic7ed
Opensubtitles
Podnapisi
TVsubtitles.net
Legendas TV
Napi Projekt
Napisy24
Titlovi
SubScene
aRGENTeaM
Hosszupuska
Assrt.net
Supersubtitles
BSPlayer Subtitles
Ktuvit
WizdomSubs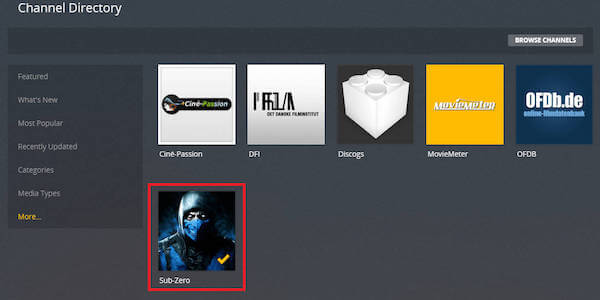 Installation

To install Sub-Zero, grab the latest release and unpack it. Afterwhich:

Place the sub-zero bundle folder inside ~/Library/Application Support/Plex Media Server/Plug-ins/
Restart your Plex Media Server

Afterwards it should automatically be updated.

Additionally, you need to enable the plugin for the library:

Go to settings > Server > Agents > Movies/TV Shows
Select the metadata provider you use on your library
Enable Sub-Zero Subtitles (TV/Movies)
Configure them
Refresh your library (or individual movies/tv shows)
Tautulli (PlexPy)
Description

Tautulli is a 3rd party application that you can run alongside your Plex Media Server to monitor activity and track various statistics. Most importantly, these statistics include what has been watched, who watched it, when and where they watched it, and how it was watched.

Tautulli also monitors recently added content, sends newsletters to inform users of new content and provides remote access to check all data on the go.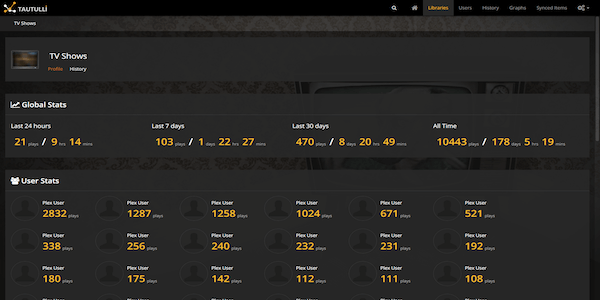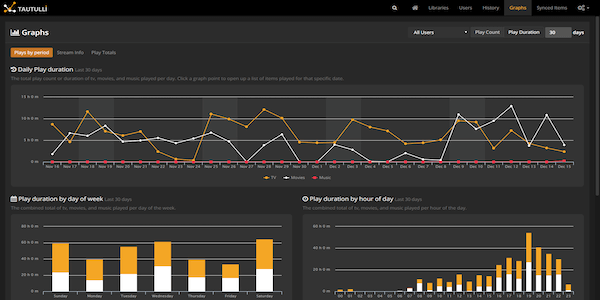 Installation

Tautulli can be installed on Windows, MacOS and Linux and can be installed as a plugin via Docker.

Windows: Download and run the latest Windows .exe installer from their release page
Mac: Download and run the latest MacOS .pkg installer from their release page
Linux: Tautulli can be installed on most Linux distribution using a Snap

Select your Linux distribution at the bottom of the Tautulli Snapcraft page to install snapd.
Install Tautulli: sudo snap install tautulli
Tautulli will be loaded in your browser or listening on http://localhost:8181/

Other installation instructions can be found on the Tautulli wiki.
Trakt.tv (Trakt Scrobbler)
Description

Trakt is a platform that does many things, but primarily keeps track of TV shows and movies you watch. It integrates with media centers (like Plex) to enable scrobbling, so everything is automatic. Discover new shows and movies, follow people with similar tastes and voice your opinion by using the Trakt website or one of the many apps built using their API.

Its key features include:

Automatically track every TV show and movie you watch
Upload watched history, ratings and playback progress to your Trakt.tv profile
Synchronize data between supported applications (Kodi 18, MediaPortal 23, Emby 25, Infuse 35)
Link all your Plex users to individual Trakt.tv profiles.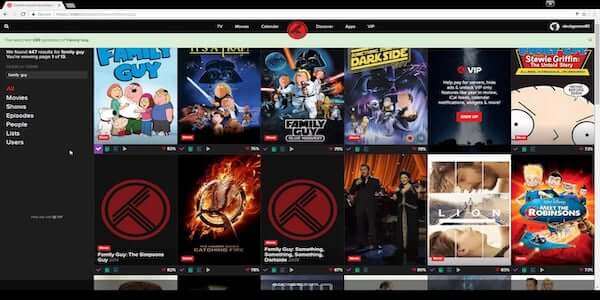 Installation

Trakt can be installed using installers for Windows, macOS, Linux and other operating systems. You can also instal Trakt.tv from the UAS.
ExportTools
Description

ExportTools is a plugin designed to help users of Plex Media Server, organize and maintain their media and server. What this little app/channel can do, is simply to export your library sections into csv or xlsx files, allowing you to open up the exported files in like excel or siml afterwards. It also can export posters, in the size you decide. It is ideal for sharing an overview of your library with others without giving them direct access.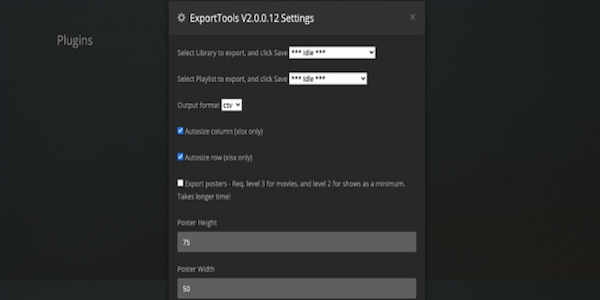 Installation

For easy installation, use the Unsupported AppStore V2 for Plex which is an integral part of WebTools to install the ExportTools plugin.

If you want or need to install ExportTools manually, you can follow these steps:

Download ExportTools or WebTools
Extract all files from the zip file
Copy the extracted files to the plugins directory
Make sure the directory is named ExportTools.bundle
Make sure the ExportTools.bundle directory contains a directory named "Contents". If not, then you might be one directory too high.
If running on Linux or Mac OS X, also make sure that the user running Plex Media Server has the correct permissions to the ExportTools.bundle output directory.
Kitana
Description

Kitana exposes your Plex plugin interfaces "to the outside world". It does that by authenticating against Plex.TV, then connecting to the Plex Media Server you tell it to, and essentially proxying the plugin UI. It has full PMS connection awareness and allows you to connect locally, remotely, or even via relay.

It does that in a responsive way, so your plugins are easily manageable from your mobile phones as well, for example.

Kitana was built for Sub-Zero originally, but handles other plugins just as well.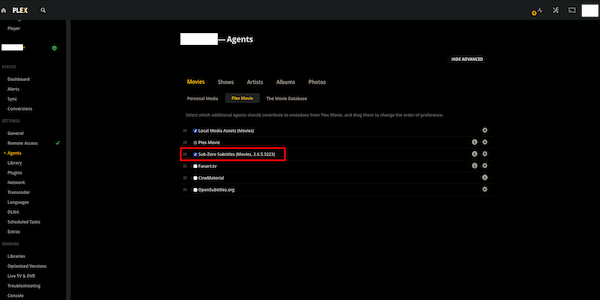 Installation

Kitana can be installed either via python or docker. For manual installation via python:

Python 3.7 required
Go to the Kitana folder

Pip3.7 install -r requirements.txt

Run: python3.7 kitana.py

Docker is the easier way as mentioned on Kitana's wiki page.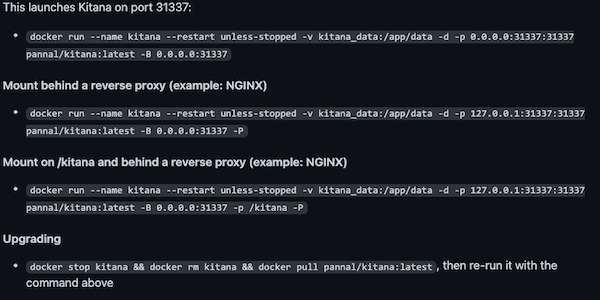 Bazarr
Description

Bazarr works similarly like Sub-Zero and is a companion application to Sonarr and Radarr that manages and downloads subtitles based on your requirements. It supports over 20 subtitle providers and updates existing subtitles if better ones become available. Its main features include:

Automatic Search - Search automatically for missing subtitles and download them as soon as they become available in your desired language.
Manual Search - Find all the matching subtitles, choose the one you want and download it to your media directory with the proper name to be used by your media player.
Subtitles upgrade - Search for matching subtitles on a regular basis and upgrade the one you previously downloaded if a better one is found.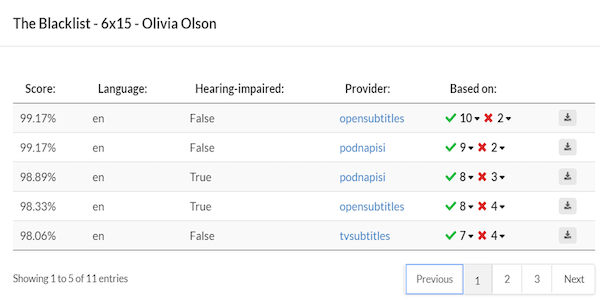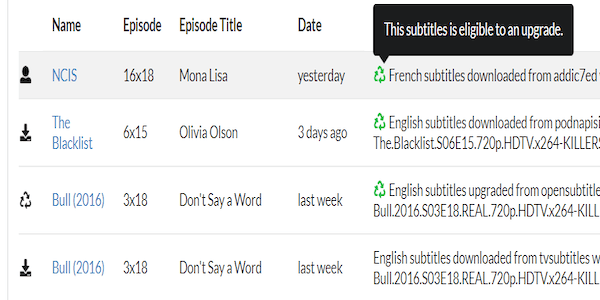 Installation

You can run Bazarr from python resources for Linux, Windows and macOS. Full instructions can be found on the Bazaar wiki page.

Bazarr also has an installer available for Windows. Simply download the installer from their website and do the usual installation process. If you install Bazarr in the Program Files directory, the account under which it runs must have administrative privileges for Bazarr to be able to update itself.

Bazaar can also be installed via Docker.
Ombi
Description

Ombi is a self-hosted web application that automatically gives your shared Plex users the ability to request content by themselves. Ombi can be linked to multiple TV Show and Movie DVR tools to create a seamless end-to-end experience for your users.

Features include:

Let's users requests content
Easily manage your requests
Allows you to set specific users to automatically have requests approved and added to the relevant service (ex. Sonarr, Radarr, Lidarr, etc)
User management system
A landing page that will give you the availability of your Plex server
Custom notification text to inform your users of downtime
Secure authentication using best practices
Slick, responsive and mobile friendly user interface.

Ombi works in this manner:

Users visits website and requests content
Ombi matches request and sends to DVR app
DVR app retrieves content and pushes to Plex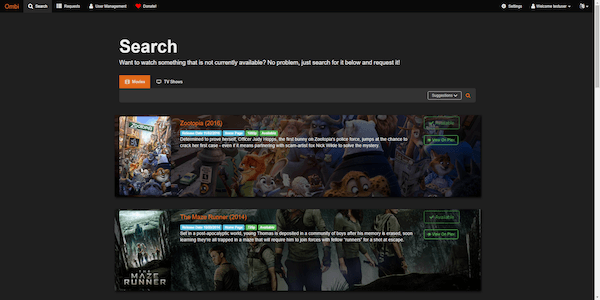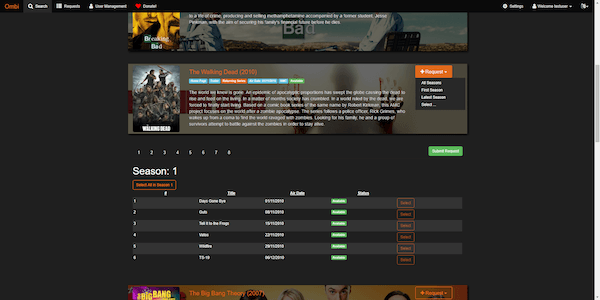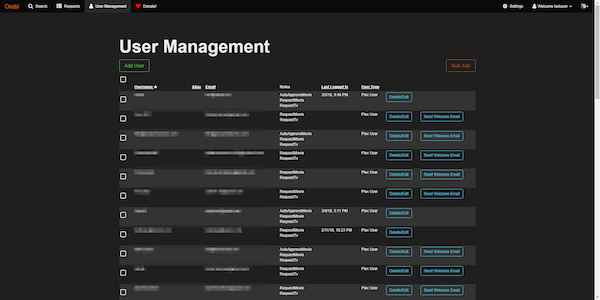 Installation

Ombi mobile applications can be downloaded through the Apple App Store and Google Play Store.

The installation workflow below is based on the Ombi website:

Install Ombi for your preferred OS using the steps provided below.
Configure your install-specific settings like the application url you'll be using externally.
Configure external access to Ombi. They recommend using SSL and a reverse proxy.
Configure notification methods and system connections (Sonarr, Radarr, etc.) Ensure you have systems to handle approved requests before you give users access to the system
Import users and assign permission.
FileBot
Description

Plex sometimes has difficulty loading the right metadata or art for badly-named media content. FileBot is the ultimate tool for renaming and organizing your movies, TV shows and Anime. Match and rename media files against online databases, download artwork and cover images, fetch subtitles, write metadata, and more, all at once in a matter of seconds.

FileBot makes renaming and organizing media files simple. It automatically matches your files with information from your preferred online database, and then renames and organizes everything perfectly for you. You can either keep things simple and stick to the Plex naming standard or customize your naming scheme to your specific needs and preferences.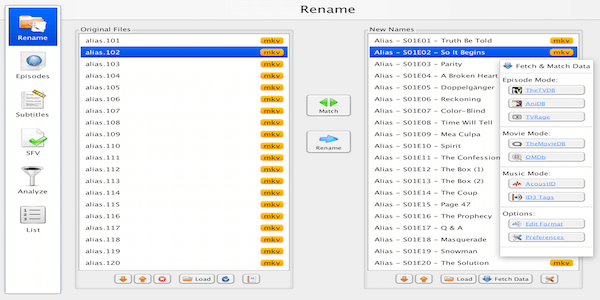 Installation

To install FileBot you can download installers for Windows and MacOS from their website. There are also packages available for the following:

Ubuntu/ Debian
Fedora
Synology NAS
QNAP NAS
Linux
Docker
Plex-Sync
Description

If you operate multiple Plex servers, Plex-Sync allows you to sync the content on all your servers. This ensures they're always matched up. This means that it allows you to sync the watch status of all your media files, so you can continue exactly where you left off on different servers.

For more complex strategies, like syncing between multiple different library mappings, just run the tool multiple times. If you need to run the synchronization on a schedule, use another scheduling tool like cron. These more advanced features may be added in the future, but currently plex-sync is very simple.

Installation

Plex-sync can be installed via NPM:

$ npm install -g plex-sync
Lambda
Description

Lambda or Local Assets Metadata Double Agents saves your Plex metadata locally and keeps it stored in the folder alongside the original video. Highlighted features include:

Takes Plex metadata and save it locally alongside media files including collections
Allows you to import back local metadata exported through 'Local Media Assets' and also what isn't handled by 'Local Media Assets'
Allows to ignore or select the naming convention exported files - if enabled by default.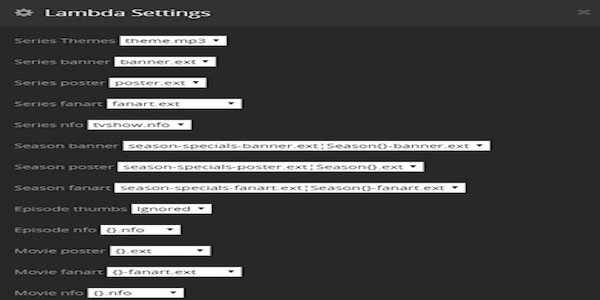 Installation

To install Lambda, you would need WebTools as a plugin as well. Follow this manual installation process:

For Plex manual installation:

Get the latest source zip in github release: https://github.com/ZeroQI/Lambda.bundle > "clone or download > Download zip (named Lambda.bundle-master.zip) and copy the folder inside named Lambda.bundle-master into plug-ins folders but rename it into "Lambda.bundle".
Cigaras IPTV
Description

Cigaras IPTV supports the users to stream live TV directly to the Plex server. Whether it is sports, news, or movies, you will get the complete cable TV package on your Plex. It is A simple Plex Media Server plug-in that reads live streams (like IPTV) urls from a m3u file and passes them to Plex in a format understandable to Plex so it could try to play them. It also has a basic program guide, supports channel categories and custom channel logos.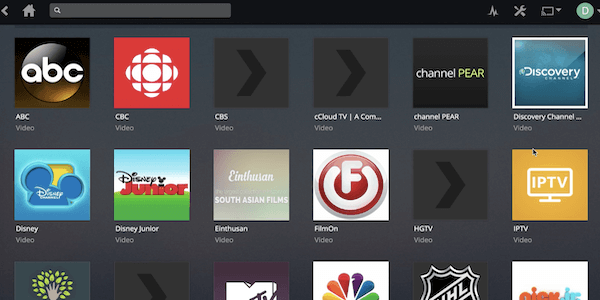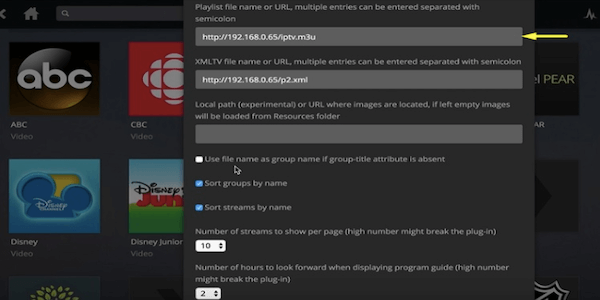 Installation

To install Cigaras IPTV, refer to the official Plex support page or use unsupported appstore. After installing the plug-in replace the included playlist with your own and you're done.
TheaterTrailers
Description

This application adds to the cinematic feel of your Plex setup by adding trailers of unreleased movies to your library. TheaterTrailers automates the downloading of movie trailers from YouTube using youtube-dl. Movie trailers are downloaded if their release date hasn't been reached. The videos will auto-delete when the movie is released.

Files and folders are named with the standard naming conventions of Plex and The Movie DB. A "Coming Soon" image is copied in as poster.jpg and two versions of the trailer are stored. One is stored with -trailer in the name so Plex recognizes it as the trailer and the other is recognized as the movie.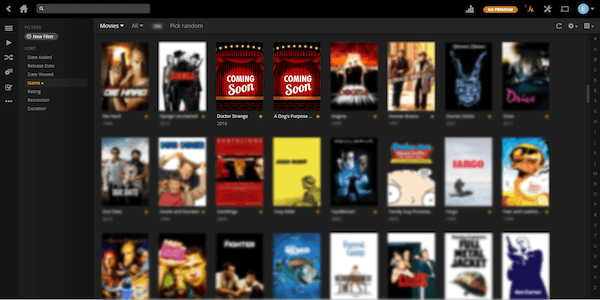 Installation

TheaterTrailers can be installed from within your OS then from within Plex. The complete installation step by step can be found on their github page. The installation process shows steps from python installation to enabling trailers to your client and server.
Manga Here
Description

This plugin creates a new Photo Channel within Plex Media Server to view Manga from Mangahere.co. It is currently under development and as such, should be considered alpha software and potentially unstable. The author of the plugin has no affiliation with Mangahere.co nor the owners of the content that they host. Manga Here features include:

Reads Manga
Searches Manga
Updates from within the Channel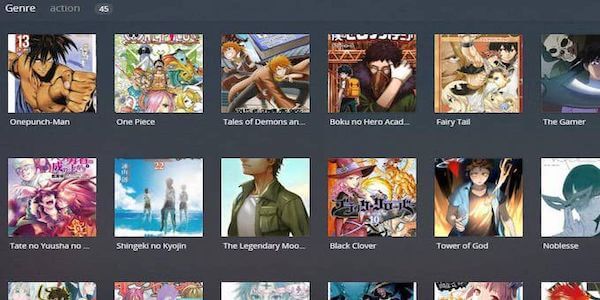 Installation

This channel can be installed via Webtools.bundle or manually follow the directions below:

Download the latest release and install Mangahere by following the Plex instructions or the instructions below:

Unzip and rename the folder to Mangahere.bundle
Copy Mangahere.bundle into the Plex Media Server plugins directory
Unix based platforms need to 'chown plex:plex -R Mangahere.bundle' after moving it into the plugins directory.
Currently, these are only some of the plugins that still work with the Plex Media Server. Please be reminded, however, that Plex has been slowly but actively pulling out plugin support and more plugins may no longer work with this platform. Make sure to check back with us for updates on active plugins.