Spotnet vs SpotLite vs SpotWeb
Last Updated: May 10, 2021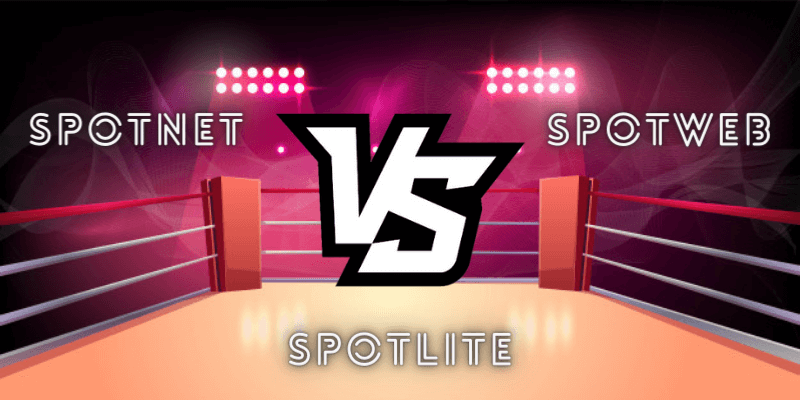 If you are an active member of the Usenet community, chances are you've encountered or used Spotnet, Spotweb or Spotlite. These three Usenet programs are mainly used to search and/or download files from Usenet with just a click of a button.
And like NZB downloaders, NZBGet and Sabnzbd, the above-mentioned programs have often been compared to each other, most likely due to the obvious reason that they share almost similar names. The word "spot" can be found on all these programs because it refers to the human-created index entries within decentralized file-sharing databases such as newsgroups.
A spot includes a downloadable file and accompanying metadata and is intended to be shared with other users. A spot can be compared to a traditional search engine index entry. However, the difference is that it is user-generated and is intended to help people identify, organize, and share content.
So, what exactly sets Spotnet, Spotweb and Spotlite from each other? And which one is the best program to use?
Before we dive into that, we need to discuss these programs individually.
Spotnet
Spotnet became popular among Usenet users after the popular Dutch community, FTD, was shut down. It became a good alternative to FTD for downloading from newsgroups.
Spotnet works as a very user-friendly newsgroup indexer, as you can easily view the various files in newsgroups, download them, fix them, and even extract them. In that regard, it is a very complete package that allows you to easily download an NZB.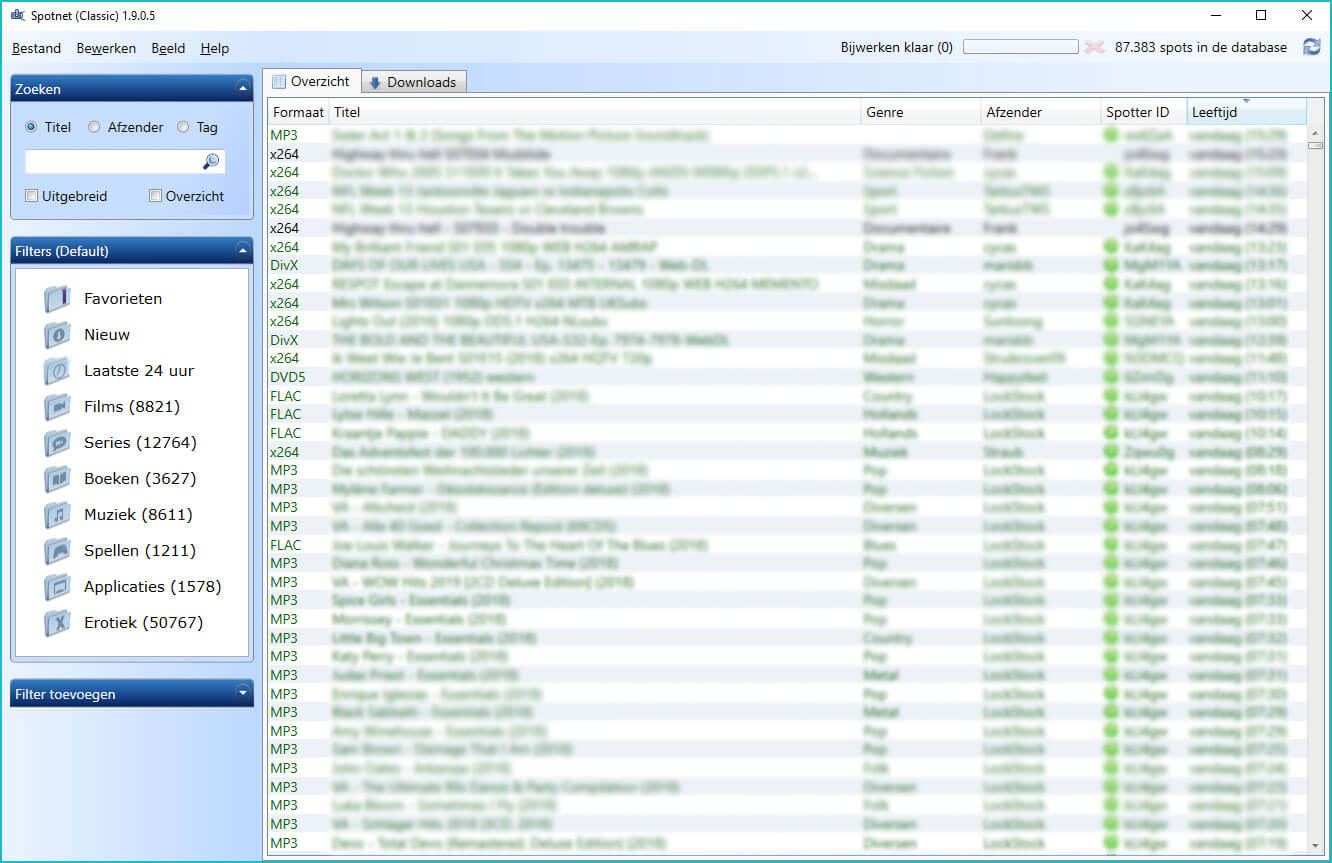 Spotnet has a very extensive range of files and categories which you can adjust according to your taste through various plugins and modifications. Users are also able to add spots to the database themselves and even create certain categories via the filters on the left pane if the categories you are looking for are missing. In addition, visitors can also leave comments and feedback on a 'Spot'. All in all, Spotnet is highly recommended for Usenet users because it is currently a total package for users who have direct access to the offer in various newsgroups with a single program. It combines all the necessary components of Usenet with the exception, of course, of your Usenet provider, which is a prerequisite when downloading from Spotnet. Spotnet can search, download, repair, and extract all within one interface – all you need to do is indicate which news server you are using and provide the corresponding login details.
How Spotnet Works
Spotnet has a user-friendly interface that makes it convenient for users to easily search for files and download them. It first offers you the option to search for files through its search box that you can easily find and then filter it by title, sender or tag. There are also advanced search filters that enable you to streamline your search even more. Once you have found the files you are looking for, you can download it as an NZB file. Spotnet offers you the possibility to easily download various files, based on the newsgroup indexer as it is used by more and more people. As most users say, it is like a combination of programs like Binsearch, which is a Usenet search engine, and Sabnzbd, which is an NZB downloader. You would no longer even need WinRAR and you can easily enjoy all the files that can be found in newsgroups.
Spotnet Installation
Download the latest version of Spotnet
Run the installation of the downloaded setup file (.exe file – windows)
Follow the installation instructions
Perform the desired installation – it is offered in 2 different types

Normal installation – install this if you want to use Spotnet more often.
Portable installation – this is for single use or, for example, for use via a USB stick

Press Next and then Finish to complete installation
Once Spotnet is successfully installed, you can open the program and enter your Usenet provider login details.
The Spotnet classic program has multiple versions, and its most recent version can be installed over older versions. All settings, filters, databases, etc. will be retained but you would need to first complete the current download. Once you've finished downloading the latest classic version, you would need to go to Edit > Database > Rebuild Spots Indexes and Edit > Database > Optimize database.
Also, when choosing a portable installation, the Spotnet program must have write rights to the folder in which it is located, in connection with the creation of the Spotnet database in the same folder. No installation data is written to the Windows registry (no uninstaller), with an automatic Spotnet update there is no last used installation path, remember where you extracted Portable Spotnet. You would also need to delete the entire Spotnet folder to delete spotnet as a portable program.
Spotnet 2.0
The classic version of Spotnet has not been updated in several years. However, a large number of users still find it useful, and it is still considered a popular Usenet program. But since developments have seemed to cease on the classic version, other developers have decided to release a totally separate and completely new program called Spotnet 2.0.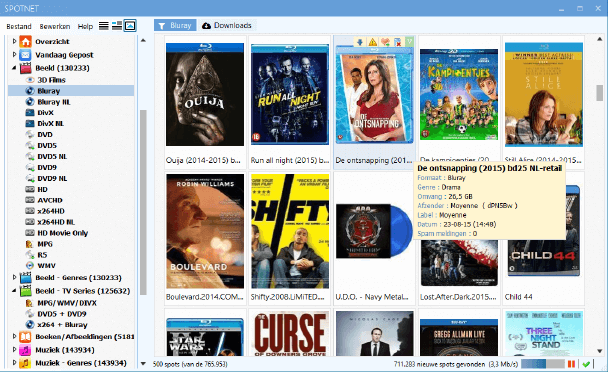 Spotnet 2.0 shares the same technology as that of its classic counterpart. However, it has several features that Spotnet classic does not have.
Installs Usenet program in the background with the help of Sabnzbd
But you can also use your own download client
Improved catalog – can be displayed in 3 different ways
Improved filters – more categories including series, audiobooks, music dvds, 3D movies
Immediate look at latest spots
Immediate look at reliable spotters – spotters who have placed downloads online more often and whose quality and security are guaranteed
Spotnet 2.0 is a very attractive program for the average downloader. With its user-friendly interface and various improved features and sorting options, it is definitely a worthy successor to the classic Spotnet program.
Spotlite
SpotLite was developed to address the need for a lightweight version of Spotnet. While Spotnet can be considered as a bit heavy and unwieldy, SpotLite is a light replacement which mainly scans newsgroups for spots and displays them in a simple overview. However, the difference with SpotLite is that it is not a download client but is considered as a supplement program for your file downloading.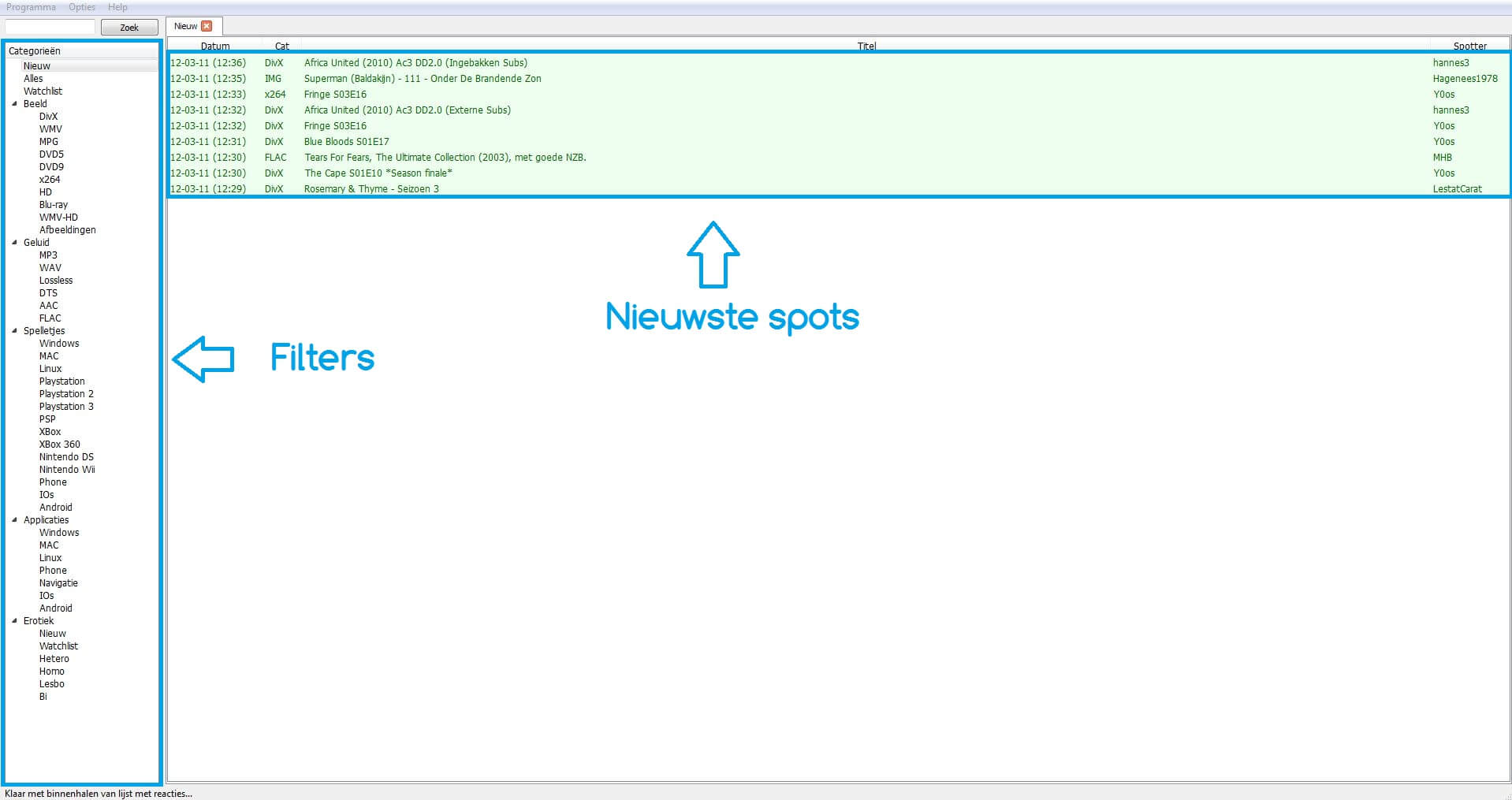 SpotLite not only has a Windows version but a Linux and MacOS variant as well, making it a convenient program on most computers. With SpotLite, you don't have to miss your favorite shows, movies, programs, and music files since it allows you to search for spots and then download them as NZBs. Once you've downloaded the NZB files you want, you can use your favorite download client to completely get the file.
How SpotLite Works
SpotLite is easy to use and navigate. With several standard NZB buttons, it is convenient to use even by new users. It is also very since the program is quite lightweight and does not take too much space from your device. SpotLite is easy to expand with several add ons like filters, skins, and the SpotLite Improver.
SpotLite comes in a standard royal blue skin with links to usual NZB indexing sites, Google, IMDB, Moviemeter.nl and NLOndertitel.com. Another great feature of this program is that it has a spam/ virus reporting system.
It is important to reiterate, however, that unlike Spotnet, SpotLite only searches the spots and shows the file names and in which newsgroup the spots can be found. You can choose your own download client. You can also indicate in the program for which period the data can be saved, so as not to save unnecessary data.
While the aforementioned statement may be considered as a flaw when compared to the full-featured Spotnet, SpotLite still is a very competent tool in terms of how light it is and the function it provides as a supplementary program for Usenet file downloading.
SpotLite Installation & Usage
Since SpotLite can be installed on several different devices, make sure you download a version compatible with your operating system.
Open the downloaded file with your device's extractor (for example: WinRAR - .exe file)
When you've extracted the set.exe, open the file
Follow the instructions stated on the set-up wizard
Enter the path where you want to install SpotLite
Click Finish when you're done setting it up
SpotLite will start immediately
The main window of SpotLite automatically shows the newest spots
Main items to set-up on SpotLite: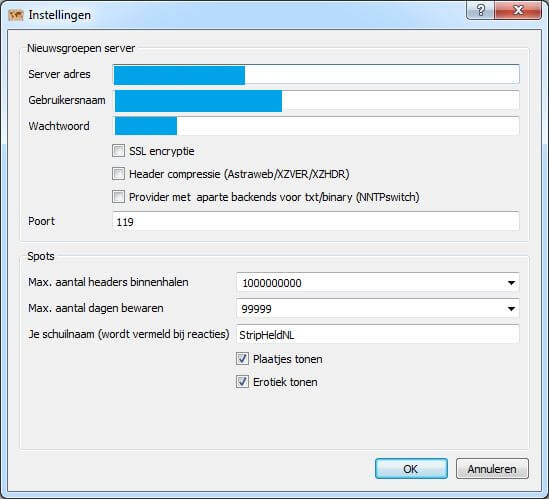 Under 'Options' click on 'Configuration', where you have to set up your server address, username and password. This information will come from your chosen Usenet provider.
In the configuration window you can also change your 'Nickname'. This nickname will be your identifier when you post comments.
Under the options section you can find several sections including customization for interface, address book, ban list and Spotmobile. SpotMobile allows you to use SpotLite via your smartphone.
Finally, you can adjust the 'Filters'. You do this by clicking with your right mouse button on the left screen, and then clicking on 'Add new filter'. In the screen you can check what the filter should filter.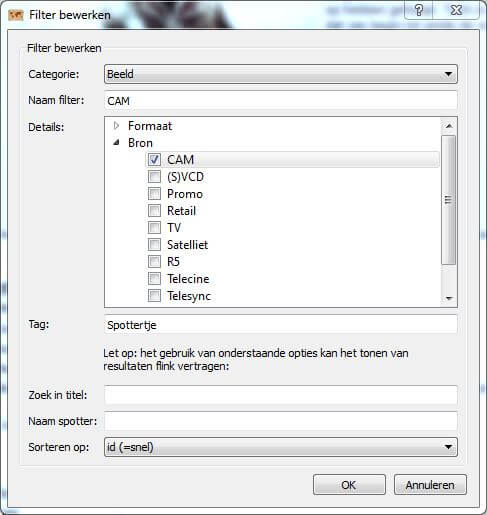 SpotWeb
SpotWeb is a web version of Spotnet. It is an open-source software that uses PHP in combination with NNTP protocol to index spots from Usenet. It uses the same database as Spotnet and runs on all systems.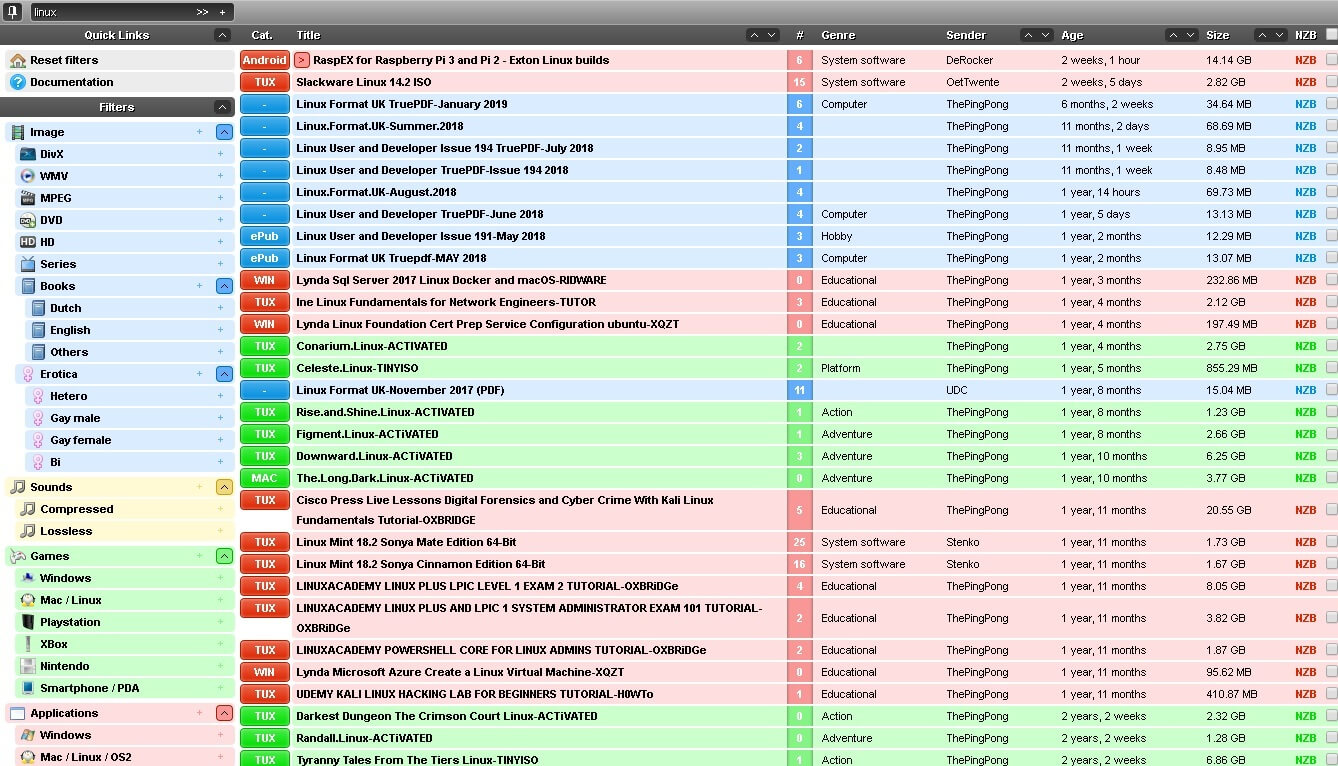 SpotWeb is one of the most featured Spotnet clients currently available and features several things:
Fast.
Customizable filter system from within the system.
Posting of comments and spots.
Showing and filtering on new spots since the last view.
Watchlist
Easy to download multiple files
Runs on NAS devices like Synology and QNAP
Rating of spots
Integration with SickGear , Sickbeard and CouchPotato as a 'newznab' provider.
Platform independent (reported to work on Linux, *BSD and Windows)
Both central as user-specific blacklist support built-in
Spam reporting
Easy layout customization by providing custom CSS
Spot statistics on your system.
Unique features among all known Spotnet clients:

Boxcar/Growl/Notify My Android/Notify/Prowl and Twitter integration
Sabnzbd and nzbget integration.
Multi-language
Multiple-user ready
Open-source and open development model
How SpotWeb Works
Using Spotweb is quite easy. With categories, recent files, and primary filters readily available on homepages of Spotweb sites, users can easily navigate through Spotweb and find the files they are looking for. The tricky thing, however, with Spotweb is finding the right type of Spotweb-based site for you. While there are Spotweb-based sites that would not require you to have an account, most of them will require you to log-in to fully access files from their index since Spotweb has an account system. You are free to browse through the site and search for files via the search box and use the filters available, however, you some will not give you access to download NZB.
There are also several advantages to using Spotweb:
Settings in SpotWeb can be set per account.
Access to (sub) parts of SpotWeb account-related can be configured.
Different groups of users can be set.
A separate watch list can be kept for each user.
SpotWeb has the option to use templates.
Due to the widely used standard PHP + SQL, addons can be easily written.
SpotWeb is updated daily, so bugs are usually fixed within 24 hours.
The makers are easy to reach, so you can help get rid of the bugs.
SpotWeb has a built-in moderation system and spam filter, making viruses and spam a thing of the past.
With SpotWeb you can place comments and spots, set your own filters and much more.
SpotWeb Installation & Usage
Spotweb is a web-based version of Spotnet and requires an existing HTTP and database server. Spotweb requires at least PHP 5.6 or higher to implement its functions, and runs on Linux, FreeBSD and Windows.
Spotweb sites are quite easy to navigate through. Most open instantly to a homepage that presents current files or posts available, and categories can be found usually on the left side of the page. Filters based on retention, file genre and size can also be used. Users can also search files by either title, poster, tag, spotterID and ratings.
Comparing the "Spot" Programs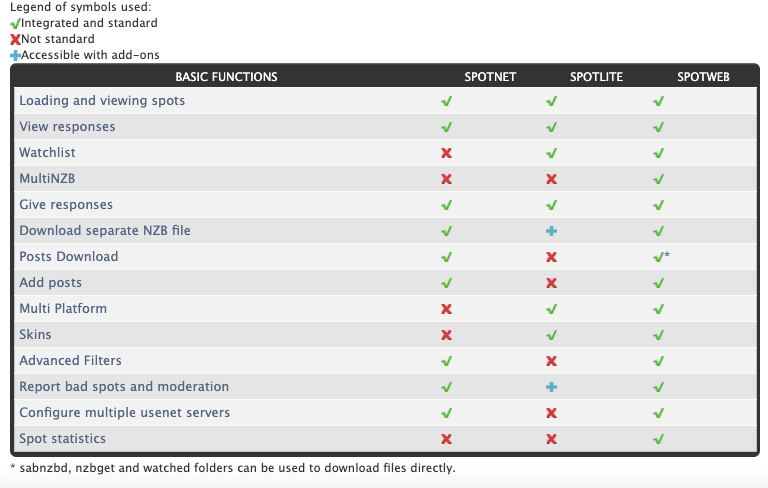 It's quite tricky to compare the "spot" programs with each other since SpotLite and SpotWeb is really based on the classic Spotnet program. However, it would all depend on what the user needs to find out which one is best among the three. Of course, the classic Spotnet version would always have the edge since it is the original and has established itself as a reliable software for Usenet users. Even the Spotnet 2.0 version has been reviewed by many as a worthy successor of the classic version.
SpotLite, on the other hand, is not as popular as Spotnet and Spotweb. Probably due to its limited features. While it is a good alternative since it is lightweight and can search for spots or files, its main function ends there. SpotLite is not capable of easily downloading files.
As an online or web alternative to Spotnet, SpotWeb is a good choice for users who like to rely on programs on the internet for Usenet downloading. SpotWeb basically has the same functions of Spotnet without having to install the software on your device. That being said, it is a pretty convenient alternative.
In summary, it all really depends on what a user needs and what is most convenient and efficient for them. All three spot programs have their advantages and are great tools that help in making Usenet experience a lot better.