Sonic News Review
Last Updated: Apr 19, 2022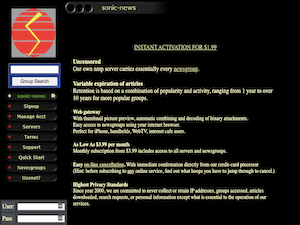 Rating
Price
$3.99 / Month
Retention
900 Days
Free Trial
None
Features
Own NNTP Servers
Web Gateway
Variable Expiration of Articles
Sonic News is a Usenet service provider that gives you easy access to newsgroups using your internet browser. This provider has a web gateway with thumbnail picture preview, automatic combining and binary attachment decoding.
Sonic News' retention varies depending on popularity and activity of newsgroups. This ranges from one year to ten years for more popular groups. Please note, however, that Sonic News is quite outdated and it is quite evident on how their website looks like.
Sonic News Quick Summary
Own NNTP servers
Variable expiration of articles
Web gateway
As low as $3.99 per month
Easy online cancellation
High privacy standards
Good support information on website
Binary Retention
Sonic News does not specify what their binary retention rate is. According to their site, the expiration of articles varies depending on the popularity and activity of groups - ranging from 1 year to 10 years. This may refer to text retention.
Pricing
For as low as $3.99 you can get a Usenet service from Sonic News. Their plans vary depending on speed. For the full list of pricing, see below: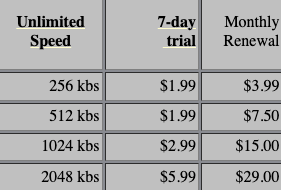 Free Trial Info
Sonic News does not have any free trial offering but they have a 7-day trial fee for all types of plans. Depending on the plan you select, this ranges from $1.99 to $5.99.
Special Offers/ Coupons
There are no current special promotions or offerings from Sonic News. Make sure to check this review again in the future for possible coupons or offers from this Usenet service provider.
Speed Test
The speed of your Usenet activity depends on the plan you select. We recommend choosing the highest speed, However this also depends on how fast your own internet connection is so you can max out the speed of your plan.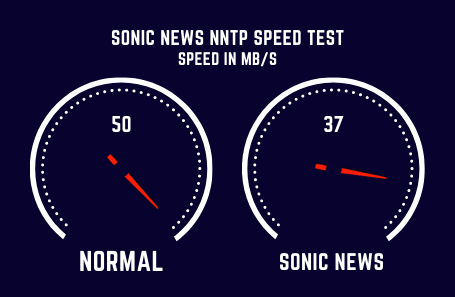 Connections
Sonic News offers 12 connections. The speed cap is divided between connections.
News Servers/ Ports/ Configuration
News.sonic-news.com

Located in France for their high privacy protection laws
Speed cap depending on your subscription level
NNTP port: 119
SSL ports: 563 or 443

post.sonic-news.com

Their own unlogged, anonymous, posting-only server
NNTP port: 119
SSL ports: 563 or 443
New account creation is currently closed
Frequently Asked Questions
Q: What is Sonic News' retention rate?
A: No information on binary retention is available and according to their site expiration of articles varies but it is unclear if that refers to binary or just text retention.
Q: What to do if you are unsatisfied with Sonic News' service?
A: According to their website, you can easily cancel online. However, make sure you find out what obstacles you might encounter when you need to cancel with your credit card
Q: How many newsgroups are available?
A: Sonic News' does not specify the number of newsgroups. You can, however, check the complete list of newsgroups available on their website. "Group names are automatically added when they reach a certain threshold of posting activity. A group's name is the responsibility of the individual who created the group. The activity that occurs within a group is the responsibility of the participants. There is no protocol either in the usenet specification or in our own infrastructure to remove a newsgroup name once it has been created."
Support
You can check out the support page on their website for general information like their recommended newsreader software and set-up instructions. For other inquiries, email them at support@sonic-news.com.
Contact Information
No other contact information is available on the Sonic News site except for their email address.
Security/ Company Privacy Policy
According to their site: "Since the year 2000, we are committed to never collect or retain IP addresses, groups accessed, articles downloaded, search requests, or personal information except what is essential to the operation of our services."
Payment Options
You can pay for a Sonic News service by using your credit card. Other payment options are not mentioned.
Our Opinion
Sonic News' service is very straightforward - varied pricing based on speed and covers the basics needed for Usenet activity. However, we do not recommend this Usenet service provider since their service is very outdated and has not been able to keep up with more modern providers who have better retention rate, outstanding number of simultaneous connections, competitive pricing and all in all better service in terms of support and additional features. It would be best to check out our list of top Usenet service providers.
Altenatives To Sonic News
| Name | Price | Info |
| --- | --- | --- |
| Newshosting | $8.33 | Best Price / Free Newsreader |
| UsenetServer | $7.95 | NZB Search / Fast Speeds |
| Eweka | €7,00 | Best EU Provider / Lifetime Discount |
| Easynews | $9.98 | Easy Web App / File Previews |
| TweakNews | €7,50 | Free Newsreader / Free VPN |
| PureUSENET | €5.97 | Good EU Provider / Free SSL |
| XLned | €7.49 | Fast Speeds / EU Servers |