Snelnl Review
Last Updated: Jan 20, 2022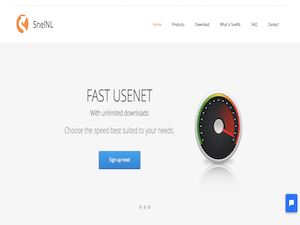 Rating
Price
€6.95 / Month
Retention
1238 Days
Free Trial
3 Days
Features
Streaming Newsreader
SSL Included
Accepting Bitcoin
SnelNL is a Usenet service provider that has a free newsreader that allows you to stream as you download. They also offer three different levels of USENET access, all with unlimited downloads.
Quick Facts
Available for Windows and MacOS
Free Usenet downloading software
Usenet streaming freeware
Free Trial
Accepts Bitcoin
Unlimited Downloads
Binary Retention
SnelNL is currently offering 1238 days of binary retention. This is less than our best Usenet service providers, but competitive with many USENET providers.
Pricing
SnelNL allows you to download their newsreader software for free. You can get a subscription to their USENET access or configure the newsreader to access USENET via another company's servers, your choice.
| Name | Monthly Fee | Annual Fee | Download Limits | Speed |
| --- | --- | --- | --- | --- |
| Slow | €3.95 | €47.40 | Unlimited | 5 Mbit |
| Basic | €6.95 | €83.40 | Unlimited | 60 Mbit |
| Fast | €8.95 | €107.40 | Unlimited | 1000 Mbit |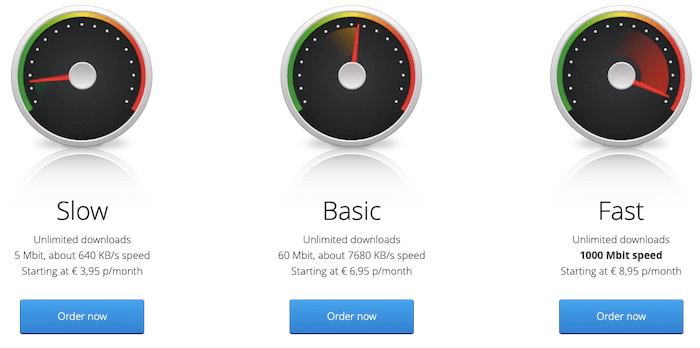 SnelNL subscription comes with their one-of-a-kind Usenet streaming software which allows you to stream on their in-app player as soon as your download starts.
Free Trial info
You can try SnelNL for three days without paying. If you don't want to subscribe after trying out the service, be sure to cancel your subscription before your first billing period begins.
Special Offers / Coupons
There aren't any coupons available for this USENET provider at present, but be sure to check back soon. We'll pass them along to our readers if we get special offers.
Speed Test
SnelNL is as known for its free newsreader as it is its USENET service, but their USENET service tested well as far as speed goes. Remember that, if you download the SnelNL newsreader and use it with another service, that service's performance will be what dictates your speed, not SnelNL.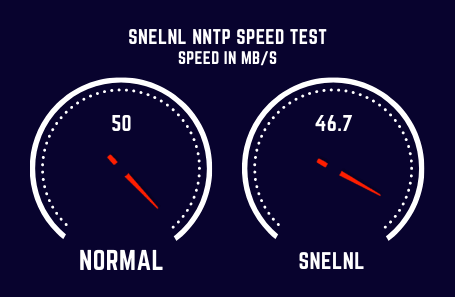 Connections
SnelNL's newsreader doesn't require you to configure connections. They're set up for you. If you have a different provider, however, and are the SnelNL newsreader, you can configure your connections manually.
News Servers / Ports / Configuration
This is all set up automatically by the newsreader. If you're using a different USENET provider, use their instructions for setting up your servers.
Frequently Asked Questions
Q: Is the "Slow" package really slow?:

A: Yes, for USENET, the speed cap on that package is very slow. Think of it as a discount option if you're not a heavy USENET user and you just want to access binaries now and then. This speed won't be enough for more active USENET customers, but the faster packages, particularly the Fast package, are competitive with other providers in terms of speed.

Q: Can I use the newsreader on my own news host?:

A: Yes. There's a separate custom configuration screen on the newsreader that you can use to access a different provider using SnelNL's software.

Q: Do I need a subscription to download the newsreader?:

A: No. You can download the newsreader and install it for free. It's designed to be most easily used with SnelNL's service, but it's fully capable of working with others as well. Some users, particularly newer ones, might enjoy its simplicity relative to other USENET clients.

Q: I'm not sure I want to download the newsreader. What's it like?:

A: The newsreader is really quite well designed, but very simple compared to other options such as Newsbin. The users most likely to enjoy this newsreader are those who are just figuring out the USENET system and, in fact, it seems designed for the needs of such users. It's streamlined, compact and very easy to figure out, but it doesn't have as many options as newsreaders that aren't associated with a particular service. Nonetheless, it's not bad at all and, if USENET seems too technical for you, the newsreader might help you get more comfortable with using it.

Q: Does this company provide SSL?:

A: Yes, and we normally list that among bullet points, but there's an important thing to keep in mind here. If you connect to SnelNL over their newsreader, you'll have an option to use SSL. If you use a different USENET service, however, you'll have to configure the newsreader according to their SSL instructions, not SnelNL's. It doesn't make setup any harder, but remember that, if you use Newshosting, for instance, and want to use the SnelNL newsreader with it, you have to configure your SSL according to Newshostings instructions.

Q: Would this work as a backup service?:

A: Not really. If you have a USENET service and you want a backup option that gives you access to EU servers, consider buying block access from one of our best companies. Block access doesn't renew, so the USENET service you buy will be there when you need it but won't auto renew on you every month, driving up your costs for no good reason.
Support
SnelNL support is available via a web contact form located on their homepage
Contact Information
SecureStream B.V.E-Commerce Park Vredenberg, Willemstad, CuraçaoChamber of Commerce register no. 130559
Security /Company Privacy Policy
Snelned says they won't share personally identifying information, but that they do share aggregate, non-identifying information with third parties.
Payment Options
SnelNL accepts a variety of payment methods, including Bitcoin. You can also pay with Bacontact, bank transfers, iDeal, Sofort, PayPal and Paysafecard.
Our Opinion
SnelNL has a nice newsreader that's clearly geared toward less experienced USENET users. It's not bad at all and the service offers decent USENET subscriptions to go with the browser, though our best Usenet service providers still offer far more bang for the buck in that regard.SnelNL's retention rates are good, but not great. They should be adequate for most users but, again, they show that this service really works best as an on-ramp onto the USENET more than as a service for power USENET users. Those latter users are likely to want to bring their own newsreader and have more configuration—and subscription—options than are offered here.One thing to keep in mind about this provider, however, is that they do offer an option if you're subscribing through another service that offers a newsreader you don't like or that doesn't offer a newsreader at all. Some users find Newsbin and other sophisticated newsreaders too much to deal with when they're getting started. IF you have a subscription to another provider and you're among the people who find newsreaders to be a bit too complex on the whole, consider downloading SnelNL for another option. You might find that it's worth it.
Altenatives To Snelnl
| Name | Price | Info |
| --- | --- | --- |
| Newshosting | $5.99 | Best Overall / Fastest Speeds |
| Eweka | €6,99 | Best EU Provider / High Retention |
| UsenetServer | $7.95 | Unlimited Access / NZB Search |
| Easynews | $9.98 | All-in-One / Usenet Search |
| TweakNews | €7,50 | Quality Retention / Quality Completion |
| PureUSENET | €5.97 | Good EU Provider / Free SSL |
| XLned | €7.49 | Fast Speeds / EU Servers |