SimplyNZB Review
Last Updated: Mar 30, 2022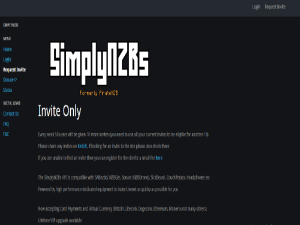 | | |
| --- | --- |
| Rating | |
| Price | £5.00/yr |
| Retention | None |
| Free Trial | None |
| Features | Dead Site |
SimplyNZB is a dead NZB site
Please see our list of best NZB sites for other alternatives
Formerly known as PirateNZB, SimplyNZB gives 10 invites to 50 random users every week. If you are unable to secure an invitation from this NZB site, you can purchase a pass with a minimum fee.
SimplyNZB has good binary retention. They have a secured and automated website and a powerful search feature.
Highlighted Features
Invite-only platform
Free Account: 10 API and 5 NZBs daily
Retention: 2145 days
Integration: Sonarr, Headphones, Couchpotato, NZBGet, SABnzbd, etc.
API and RSS: Available
Privacy: SSL connection
Ads: Limited
Forum: None
Invites: 10 per week
Indexer: runs every 15 minutes
Interface
SimplyNZB is a Newznab-based indexer. They have a dedicated page to see the status of the functions on the website.
Ease of Use
SimplyNZBs works well with well-known software to make your download and browsing experience easier. The website has a standard interface and has clean-looking pages.
SimplyNZBs has binary retention of 2145 days and is regularly growing, which is high compared to the other services. This means that users can see and download files that are uploaded from up to 5 years ago.
Membership Levels
Payments can be made via cryptocurrencies (Bitcoin, Ethereum, Litecoin, Dogecoin), and credit cards. Every week, SimplyNZBs gives out 10 invites to 50 random supporters which allow these users to expand their network and invite new users.
| Account | API hits | NZBs | Price |
| --- | --- | --- | --- |
| Free | 10 | 5 | Free |
| VIP | 5000 | 1000 | £5.00 |
| Lifetime VIP | undisclosed | undisclosed | undisclosed |
Donations start at £1.00-50.00 per year. For unsatisfied VIP users, you may ask for a full refund of your donation within 24 hours of using, by emailing root@simplynzbs.com.
Support
Frequently Asked Questions (FAQs) and other guided links are provided on the website. You can also send your concerns through their contact form, or email them at root@simplynzbs.com.
Uptime Status
SimplyNZBs has an average response rate, and there are few recorded downtime issues on its website.
Conclusion
SimplyNZB uses a Newznab interface, which makes it easy for browsing and downloading files. They have a high retention of binaries, and an upgrade to become a VIP user is not that pricey. The downside of this NZB site is that they are not open for registration and only users who receive an invitation can access the website (aside from those willing to pay). Other than that, it has features that we think are worth pursuing an invite for.
Altenatives To SimplyNZB
| Name | NZBs | Price |
| --- | --- | --- |
| NZBFinder | Free 5 NZBs & 25 API Calls | 10, 20, 35 Euros |
| UsenetCrawler | Best Free Account Offering | Over 500 Groups Crawled |
| NZBgeek | Open and Free to Register | Free and Paid Service |
| NZBGrabit | Free 5 .ZIP Downloads | Arcade, and Photo Editor Included |
| DrunkenSlug | Free 100 API Hits and 5 NZBs Daily | Invite-Only Website |
| NZB.su | Open NZB Site | API Integrations |
| DogNZB | Invite Only | $20/Yr for VIP |
| NZBPlanet | Invite Only | 2 Million NZBs Indexed |
| FileSharingTalk | Forum-Based Site | Option to Donate |
| OmgWtfNZBs | Invite-Only NZB Site | $10/Yr for Donators |