SceneNZB Review
Last Updated: Oct 30, 2020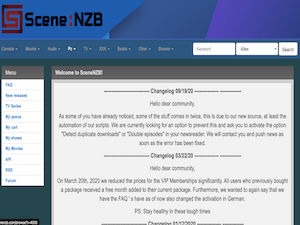 | | |
| --- | --- |
| Rating | |
| Price | €3/mo |
| Retention | None |
| Free Trial | None |
| Features | Dead Site |
SceneNZB is a dead NZB site
Please see our list of best NZB sites for other alternatives
Note: Due to some loses, SceneNZB is now offline. They may be giving away NZBs they've collected over time to other smaller projects as a start-up aid
SceneNZB is a German NZB site that mainly has a lot of German files indexed. SceneNZB does not host any files and only indexes the contents of Usenet.
As far as indexers are concerned, SceneNZB is a pretty decent option especially for those who are looking for German files. The site also has mainstream English files. You can freely access their site by registering and with no need for invites. However, they also give away invites to paying members as an upgrade which also comes along with a lot of additional features.
Highlighted Features
German NZB Site
German & English Files available
Open registration
Free daily NZBs & APIs for free members
Multiple Paid membership plans
API integrations Radar & Sonarr, etc.
RSS Feeds
Forum access for both Free and Paid members
Top TV series list for VIPs
New Releases poster wall
Interface
SceneNZB runs on a Newznab platform allowing users to have the best possible search capabilities along with community features such as access to forums. Files on this site are categorized according to console, movies, audio, PC, TV, adult content, books and other miscellaneous items. Searching is also easy to do. Simply type in the keyword you want and browse through the search results based on the file type you need.
Their menu also consists of links to pages that would be very useful for users. You have an option to put your selected file on queue or on your cart for later downloading.
Membership Level
As a free user, you have a decent but limited amount of NZB grabs and API calls a day. To get more, you can upgrade to their professional and ultimate plan. Access to certain features of the site is only open to paying members. Currently, only bitcoin payments are accepted.
| Plan | 1 mo Price | 3 mo Price | 6 mo Price | NZBs | APIs | Invites |
| --- | --- | --- | --- | --- | --- | --- |
| Free | €0 | €0 | €0 | 5 | 10 | 0 |
| Professional | €3 | €8 | €15 | 400 | 400 | 2 |
| Ultimate | €4 | €11 | €21 | 10000 | 10000 | 4 |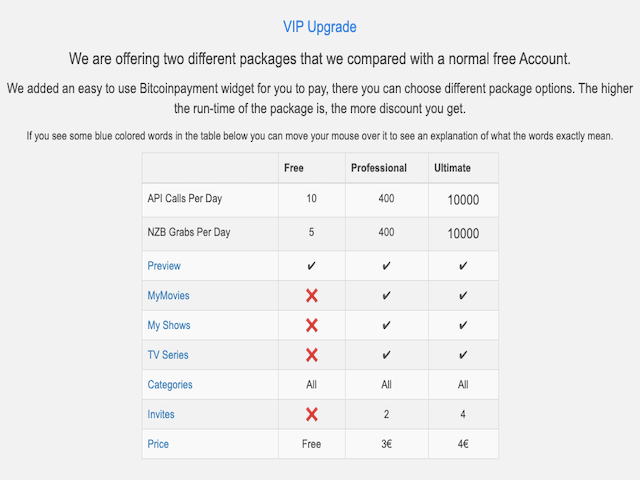 Support
The forum section of SceneNZB is a very good source of information on the site and other aspects of Usenet experience. SceneNZB has an active community of members that participates on these forum threads. If you need to directly contact the site admin, you may reach them via email at scenenzbindexer@protonmail.ch.
Uptime Status
SceneNZB has an impressive uptime average since their site is rarely offline. The site responds fast on page requests and generates search results quickly. Downloading, of course, would depend on how fast your internet connection is.
Conclusion
SceneNZB is a perfect NZB indexer for those who are looking for a variety of German files. Aside from German-language files, they also have mainstream English files. However, in terms of pricing, they could be better if compared to other NZB sites. Some popular indexers offer the same amount of SceneNZB's 6-month plan for a full year of service. Nonetheless, this NZB site still has good features to offer for paying members, but you may want to check out their what files they have first or if they have what you are looking for before you subscribe to their professional or ultimate membership plan.
Altenatives To SceneNZB
| Name | NZBs | Price |
| --- | --- | --- |
| NZBFinder | Free 5 NZBs & 25 API Calls | 10, 20, 35 Euros |
| UsenetCrawler | Best Free Account Offering | Over 500 Groups Crawled |
| NZBgeek | Open and Free to Register | Free and Paid Service |
| NZBGrabit | Free 5 .ZIP Downloads | Arcade, and Photo Editor Included |
| DrunkenSlug | Free 100 API Hits and 5 NZBs Daily | Invite-Only Website |
| NZB.su | Open NZB Site | API Integrations |
| DogNZB | Invite Only | $20/Yr for VIP |
| NZBPlanet | Invite Only | 2 Million NZBs Indexed |
| FileSharingTalk | Forum-Based Site | Option to Donate |
| OmgWtfNZBs | Invite-Only NZB Site | $10/Yr for Donators |