RhinoNewsgroups Review
Last Updated: Jan 19, 2022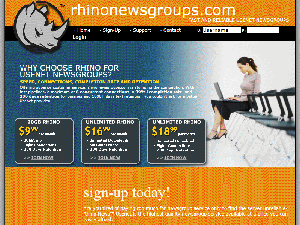 Rating
Price
$9.99 / Month
Retention
200 Days
Free Trial
None
Features
No Frills Service
SSL Included
US and EU Servers
RhinoNewsgroups is a Giganews reseller. Their plan prices are quite high for what they offer and they have features not at par with the best Usenet service providers today
Quick Facts
Three Subscription Plans
Unlimited Speed
North American and EU Servers
24-Hour Support
99% Completion Rate
Low Retention Rate
Up to 8 Connections
Binary Retention
RhinoNewsgroups currently offers 200 days of binary retention and 1000+ days of text retention. This is extremely low compared to our best Usenet service providersand not at all competitive with most of the providers out there.
Pricing
RhinoNewsgroups has three packages. The two top-tier packages are differentiated by the number of connections allowed.
| Name | Price/month | Connections |
| --- | --- | --- |
| 20GB | $9.99 | 8 |
| Unlimited | $16.99 | 6 |
| Unlimited Rhino | $18.99 | 8 |
Free Trial info
There is currently no free trial available from this provider. If we get one, we'll share it with our readers, so be sure to check back.
Special Offers / Coupons
There are currently no special offers on tap from Rhinonewsgroups, but we'll certainly share any that we get in the future.
Speed Test
RhinoNewsgroups was fast in testing. Most USENET services are very fast these days and you shouldn't have any trouble with getting your maximum broadband speed when downloading.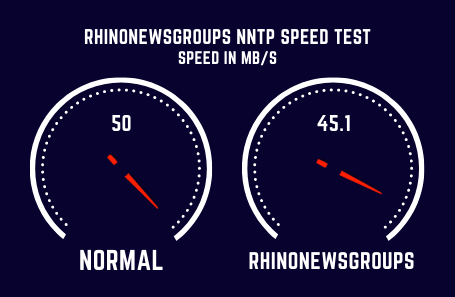 Connections
RhinoNewsgroups offers a very limited number of connections with their accounts, but they should suffice to get your maximum speed. The eight connections allotted on the highest-priced plan might be too few for some users, however.
News Servers / Ports / Configuration
Server: news.rhinonewsgroups.com
Port: 119, 23, 80
Frequently Asked Questions
Q: These prices seem high. Are they?
A:Yes, they're very high, particularly compared to our best providers. RhinoNewsgroups doesn't really come through on the pricing end of things. For half the price they charge for their most expensive plan, our top providers can generally offer more speed, more connections and more features than RhinoNewsgroups offers
Q: What kind of newsreader can I use with this service?
A: You can use any newsreader or downloader you like with this service, as is the case with most USENET providers. Remember that you'll have to configure your options correctly and, from where we stand, that means connecting to the server using SSL. Never go unencrypted.
Q: Does this provider offer block access?
A: No. They offer a limited download plan—their least expensive offering—but they offer no true block access. Block access completely expires once you use it up, which is great for people who don't want to buy a renewing subscription. The 20GB plan from this provider will stop working if you run out of your allotted download data before the end of your billing period, but it will renew automatically if you don't cancel it. True block access doesn't renew unless you buy another block of download.
Q: The support information is thin on RhinoNewsgroups' site. Where can I get more information on setting up my client?
A: We have extensive information on setting up various newsreaders right here on UsenetReviewz. If you want more information on a specific client, go ahead and follow the link to that client's homepage that we share on all our newsreader reviews. There are a lot of newsreaders out there worth trying, so don't be afraid to experiment!
Q: Is it safe to pay for USENET with credit cards?
A: Most online payment providers are entirely safe but, if you're worried about privacy, you might want to try another option. Several of our top providers accept Bitcoin, which is a great option if you want the highest-possible levels of privacy. You can also look at other anonymous online payment providers. Some USENET providers even take mailed-in money orders for payment, so don't feel like you're short on options in terms of privacy protection when you pay for your subscription.
Q: Can I upload with this service?
A: No. RhinoNewsgroups does not allow you to upload using their service. There are many providers that do, however, including our top five.
Q: Are there enough connections with this provider's packages?
A: We're not big on rating providers by the number of connections they allow, but RhinoNewsgroups is lacking in this regard. There should be at least twenty connections allowed with their fastest subscriptions. Most users won't need twenty connections to max out their bandwidth, but some will and it's always nice to offer people the option, especially when they're paying for high-speed, unlimited downloads.
Q: Does this provider offer a VPN?
A: No, they do not. Several of our top five providers do, however, so check them out if you want a privacy-protecting VPN along with USENET access. Newshosting, UsenetServer and Tweaknews all have VPN offers.
Support
You can fill out a form to get support. The form is located at https://www.rhinonewsgroups.com/contact/technical.html
Contact Information
RhinoNewsgroups only provides a form for contact. You can access the form at https://www.rhinonewsgroups.com/contact/
Security /Company Privacy Policy
RhinoNewsgroups says that they do not monitor or log your usage.
Payment Options
You can pay for your service from RhinoNewsgroups using a credit card or PayPal.
Our Opinion
We cannot recommend RhinoNewsgroups to our readers. Their prices are very high. Most of our best providers will offer you a lot more than Rhinonewsgroups will and, in some cases, for around half the price of what Rhinonewsgroups wants for their most expensive plan.
Where those plans are concerned, they're lacking in terms of features. They offer too few connections and, in the case of the lowest-priced, 20 GB plan, there's really no reason to choose it above block access. With block access, you could get more connections—therefore, more speed—at a much lower price than what Rhinonewsgroups offers.
We recommend that our readers look elsewhere for their USENET service. You can check any of our top five providers for a much better deal than you'll find at RhinoNewsgroups. For example, for $12.95 per month, Newshosting will give you 30 connections and unlimited downloads while, for $18.99, RhinoNewsgroups will only give you eight connections. For more competitive prices, Tweaknews will not only beat what Rhinonewsgroups offers, but will also throw in a VPN. You can do better elsewhere than you can from this provider. Save yourself some money. Check our top five providers if you want fast, low-cost USENET.
Altenatives To RhinoNewsgroups
| Name | Price | Info |
| --- | --- | --- |
| Newshosting | $8.33 | Best Price / Free Newsreader |
| UsenetServer | $7.95 | NZB Search / Fast Speeds |
| Eweka | €7,00 | Best EU Provider / Lifetime Discount |
| Easynews | $9.98 | Easy Web App / File Previews |
| TweakNews | €7,50 | Free Newsreader / Free VPN |
| PureUSENET | €5.97 | Good EU Provider / Free SSL |
| XLned | €7.49 | Fast Speeds / EU Servers |