Red Orb News Review
Last Updated: Nov 04, 2021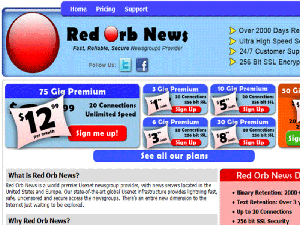 Rating
Price
$14.95 / Month
Retention
630 Days
Free Trial
None
Features
Email Support
7 Plans
Now Closed
Editor's Note: Red Orb News is now a closed Usenet service provider. Their website is now owned by a different company. The review below is kept for historical purposes.
Red Orb News is a Usenet service provider, with news servers located in the United States and Europe. They are associated with slyck.com as Red Orb came out of nowhere this year to be promoted.
NOTE:
As mentioned, Red Orb News is no longer online. You can check out our list of the best Usenet service providers for Usenet access options.
Red Orb News Binary Retention
Binary Retention is more than 630, while text retention is over two years. The completion rate is 99.9%.
Servers
Red Orb News offer high speed servers, both in the United States and Europe.
Red Orb News pricing
Red Orb News offers 7 monthly plans; 6 of them are metered, while one package has an unlimited bandwidth. All packages include 20 connections and 256 bit SSL. Prices for 3, 6, 10, 30, 50 and 75GB packages are $1.99, $3.99, $5.99, $8.99, $10.99 and $12.99 per month respectively, while price for an unlimited package is $19.99 per month.
Red Orb News Free Trial
Red Orb News does not offer a free trial option.
Red Orb News Special Coupons
Currently, there are no special coupons available.
Red Orb News Speed
Since their high speed news servers are located in the US and Europe. And users should have no problems if they are located in these areas. We maxed out our 12 MB connection in our testing.
SSL (256 bit) is offered included with every plan, encryption is available with all their newsgroup services. Therefore, an encryption will help keep user 's data transmissions secure.
They offer 10 and 20 connection options.
Social networking
They have something called Red Orb News TV, which is actually an official YouTube channel, although it offers only three very short animations and from this point of view, we don 't find it useful for end users.
They have Twitter , Facebook and blogs setup, etc but these all seem a bit out of date.
Customer support
Red Orb News provides 24/7 customers support. Regardless, they encourage users that they read their Support/FAQ page first and see if their issue is already addressed there. They provide an e-mail support any time, but additionally, they also have a live chat available during most hours of the day.
From their website
The Internet is their second home, and they know what it takes to make the online world a smash. They 've worked hard to give users the best newsgroups service possible, so why not give Red Orb News a shot.
Conclusion
Although RedOrbNews represents a decent choice for a Usenet Provider, we are recommending that you look at our best Usenet Service Providers list first or our special offers page.
Altenatives To Red Orb News
| Name | Price | Info |
| --- | --- | --- |
| Newshosting | $5.99 | Best Overall / Fastest Speeds |
| Eweka | €6,99 | Best EU Provider / High Retention |
| UsenetServer | $7.95 | Unlimited Access / NZB Search |
| Easynews | $9.98 | All-in-One / Usenet Search |
| TweakNews | €7,50 | Quality Retention / Quality Completion |
| PureUSENET | €5.97 | Good EU Provider / Free SSL |
| XLned | €7.49 | Fast Speeds / EU Servers |