Readnews Review
Last Updated: Jan 19, 2022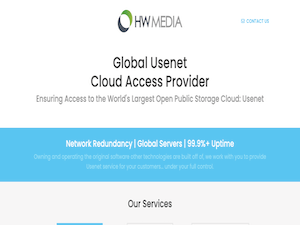 Rating
Price
$9.99 / Month
Retention
2000 Days
Free Trial
None
Features
USENET Reseller
Since 1997
US and EU Servers
Readnews, now known as HW Media but running under readnews.com, is for USENET resellers and not for individuals. The global Usenet cloud access provider has been around since 1997 and, in that long company lifespan, they've managed to become one of the bigger brands out there. While we really can't recommend them, as they only offer their service to resellers and individuals cannot sign up for service through Readnews, the service does power a lot of the big resellers out there.
Some of the Usenet Service Providers that you might be familiar with that resell Readnews access include:
AnonyNews
NewsReader
SecretUsenet
Stealthnews
Uncensorednewsfeed
Usenet.se
UsenetMonster
UsenetNewsServer
UsenetRocket
If you're on one of these services, you're getting Readnews service.
The company has servers located in the US and EU. They allow resellers to use their own infrastructure but the company points out that this is not always a money-saving strategy. They offer Gigabit Ethernet, a header feeder, a numbering master, a full newsfeed and spool access.
Their prices are set at $0.10 per mbit downloaded. They offer unlimited accounts for $7.50 per month, which have a 50 connection limit. The bandwidth is unlimited until it gets up to 300GB per month. After reaching that amount, the download speed might be limited to 4/mbit per second at Readnews's discretion.
Features for Users
Resellers can offer their customers the aforementioned speed and connection limits. The server provides SSL access, so privacy is protected. Readnews offers 2000 days of binary retention. There's also 2000+ days of text retention, keeping it competitive with the other options out there and, of course, making binaries available for a good long time after they're uploaded to the USENET system.
The company will run the infrastructure for a reseller, but the price is high according to the company themselves. They are willing to discuss the matter, but having a company take over that much work will cost and, particularly if a reseller wants assistance, the price could be high.
The infrastructure at the company itself includes 250+ Petabytes of spool, Their own software that is designed to scale, a 24/7 NOC and tens of gigabits of capacity on their reader infrastructure. They can get most services set up within 24 hours after the order is completed.
They may be worth looking into if you're interested in getting set up as a reseller. There are plenty of options out there, but Readnews has a lot to offer.
Altenatives To Readnews
| Name | Price | Info |
| --- | --- | --- |
| Newshosting | $8.33 | Best Price / Free Newsreader |
| UsenetServer | $7.95 | NZB Search / Fast Speeds |
| Eweka | €7,00 | Best EU Provider / Lifetime Discount |
| Easynews | $9.98 | Easy Web App / File Previews |
| TweakNews | €7,50 | Free Newsreader / Free VPN |
| PureUSENET | €5.97 | Good EU Provider / Free SSL |
| XLned | €7.49 | Fast Speeds / EU Servers |