Qouch Review
Last Updated: Jan 11, 2022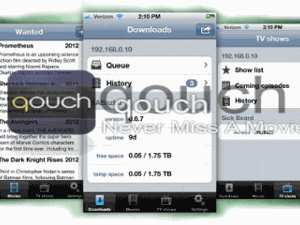 Rating
Price
Free
Features
Dead as of 2012
Pulled From AppStore
Was Available Elsewhere
Dead as of 2012
EDITOR'S NOTE: This program has been dead since 2012.
Qouch has been pulled from the App Store for IOS devices, leaving people who love this feature with no way to manage their downloads; or so it would seem. You can still make Qouch work on your iPhone and you don 't have to jailbreak the device to do it. Previously you could go to the unofficial app store to download plug-ins from the unsupported App Store , which enables you to get the app running the way it used to before Apple decided to take it away from users.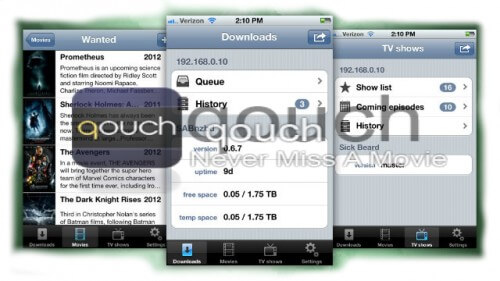 The Fix
One solution was to use Safari with the web interfaces for whatever download manager you 're using. You could get the system working again, however, by using Plex iOS, as well.
As of 2019, it is recommended to after that, go into that App Store and install the plug-ins for Sickbeard, CouchPotato and SAB.
Once you have all of this installed, go to Plex and turn on the applications. From there, you should be able to manage your downloads right from your iPhone or your iPad, allowing you to enjoy the kind of conveniences that Apple apparently doesn 't want to make available to you without jumping through the aforementioned hoops.
Qouch
Qouch allows you to use an Internet PVR from your web browser. It will let you know when videos that you 're looking for become available and automatically download them as soon as those videos do become available.
Before Apple pulled it from the App Store users used to be able to purchase this product for $2.99 for the iPhone, iPad and iPad Touch devices. Apple has no plans on reinstating this app in their store, so you have to use the unsupported App Store to get a hold of it.
If you want to get more information on the app, you can take a look at the Facebook page at http://www.facebook.com/Qouch . The developers announced on September 13, 2012, that the App Store has rejected the new version of their app, so don 't expect it to be available through regular channels anytime soon. As is the case with most great Internet technology, however, there is a way for users to get around the gatekeepers at corporate headquarters and to make certain that they can get their money 's worth out of their devices in whatever way they choose fit, even if the manufacturer wants to make it hard for them.