PureNZB Newsreader Review
Last Updated: May 26, 2019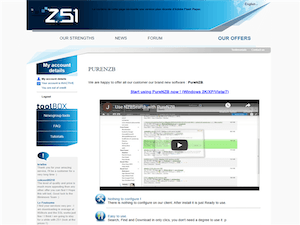 Rating
Price
Free
Retention
500 Days
Free Trial
None
Features
Connected to USENET Service
Very Simple NZB Downloader
Unrar, UnPar and UnZip
PureNZB is available with an Unliminews subscription or with a subscription to Z51. The program is remarkably easy to use and, if you just want to get on USENET and start downloading binaries, it will set you up with everything you need.
Because this is attached to the aforementioned providers, it's not as flexible as some of the other options out there. It's basically a value-added product for Unliminews and Z51. It does perform admirably, however, and is worth considering if you want an all-in-one package that gets you USENET access and an easy interface for making the most of it.
Installation
Installation is a breeze with this program. Download the software and run the installer. Once it's completed, the program will open up and ask for your login credentials for the USENET service. If you don't have an account with Z51 or Unliminews, you can create one right from the login screen.
Using the Program
If you don't like complex programs, PureNZB is probably for you. This NZB downloader makes it remarkably easy to find and download files.
The interface is about as simplified as they come. It displays your speed, the amount of data transfer you've used, a search window and your account duration. It might seem overly simple but, really, if all you want to do is download an NZB, that's about all the information you'll need.
There are even handy instructions built into the interface, so beginners will not get lost.
Whether or not this is right for you will depend upon your expectations of an NZB downloader. If you want advanced scheduling features, a customizable interface, the ability to add as many USENET services as you wish from whichever providers you use and more options, this will not work for you.
PureNZB is among the NZB downloaders that allow you to stream files before they finish.
Technical Details
Free with a subscription to Z51 or Unliminews
Updates automatically
Handles decompression automatically
Integrated search feature
Preconfigured for server access
Streams videos while downloading
Automatic repair
Summary
PureNZB is available for free with an Unliminews subscription. This is a very simple NZB downloader that has all the basic features and little else. It's very easy to use and designed to be that way. You can't use this software with other USENET access providers, so it's out of the running if you have a different service. If you don't, however, and you just want to get up and running as quickly and easily as possible, this is a good option.
Summary Page
PureNZB is simple, streamlined and free. It's also attached to the Z51 and Unliminews USENET services, so it's not an option if you use another provider. If you're in the market for a service and a reader, however, this is one that does boast some of the most impressive ease-of-use features around, so it might be a good choice if you're not that familiar with NZB files, newsgroups, binaries and the rest of the USENET experience. You can stream files as you download them with this newsreader.
Visit PureNZB
Best Usenet Newsreaders