Prepaid Usenet Review
Last Updated: Jan 20, 2022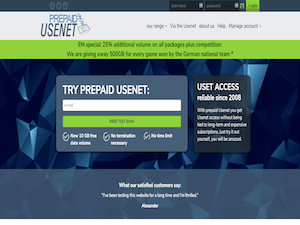 Rating
Price
€15 / Month
Retention
1800 Days
Free Trial
10GB
Features
Prepaid Payments
Usenet Without Subscription
Full Cost Control
Prepaid Usenet provides Usenet access without pressure and risk. What makes it different from other Usenet service providers is that they give users complete cost transparency and control in such a way that they offer access without subscription but instead through prepaid payments.
Prepaid Usenet does not have any hidden fees and they also offer a money-back guarantee if you are not satisfied with their service, as well as a free trial offering without having the need to give your information.
Prepaid Usenet Quick Summary
Prepaid Payment
No subscription plans
1800 days of binary retention
Guaranteed volume with no decline
Complete anonymity – SSL Encryption
Free SMS test account – 10GB of data volume
Full cost control
Comes with own newsreader
No termination necessary
Binary Retention
Prepaid Usenet has a binary retention of 1800 days and over 5 years of text retention
Pricing
With Prepaid Usenet you get Usenet access without being tied to long-term and expensive subscriptions. They offer 6 prepaid plans which includes a free plan for testing that comes with 10GB of volume.
10GB - €0.00
12GB - €5.00
50GB - €15.00
100GB - €25.00
220GB - €50.00
500GB - €100.00
All their plans include the following:
Set data volume
SSL Encryption
Maximum Internet speed
Free newsreader
Based on our previous review, they made changes on their pricing by sticking to the same price but lowering the data volume.
Free Trial Info
As mentioned, Prepaid Usenet has a testing plan which costs users nothing. You would simply need to order a test account by registering a nickname, email address, mobile number and password. After registration you will receive a confirmation code by SMS, which you have to enter on the query page after registration. You then have a free 10GB test account that you can use with the full functionality of prepaid Usenet.
During the test phase or after using up the 10GB, you can top up your access at any time in the customer center with a new volume. If you don't like their service, there's no need to do anything.
Special Offers/ Coupons
Prepaid Usenet currently has an "EM Special" wherein they offer 25% additional volume on all packages. They are also giving away 500GB for every game won by the German National team via a randomizer. This is only valid for all paid orders from the start of the promotion which is June 11, 2021.
Speed Test
Prepaid Usenet is connected with two data centers - in Netherlands and USA and makes 100Mbit/s of speed easy to attain.
Prepaid Usenet offers "maximum internet speed" and this is also evident upon our speed test as seen on the image below.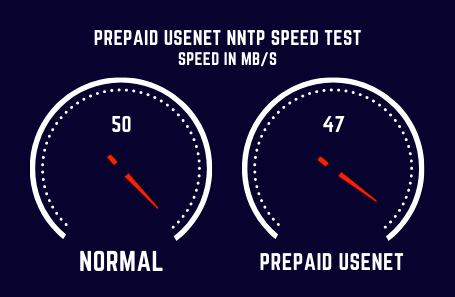 Connections
Prepaid Usenet has 30 connections available which should be enough for a good Usenet experience. We recommend that when looking for a good Usenet provider, 20-40 connections should be good and fortunately, this provider has enough connections.
Frequently Asked Questions
Q: Will my volume expire like other Usenet service providers?
A: No, the volume can be used until it is used up. No unused volume expires.
Q: Do I have to cancel my (test) account?
A: Since they do not offer any subscriptions or accounts with follow-up costs, a cancellation is not necessary. If you no longer want to use your account, simply stop using it and it will pause. If you change your mind at some point, just use it again.
Q: What is the maximum time I can download?
A: The Usenet is accessed via 2 high-speed data centers in the Netherlands and the USA. You can use a total of 30 connections, which normally makes full use of your speed. 100Mbit / s is not a big problem.Please note, however, that Internet providers, especially cable providers, keep reducing the speed of the Usenet port. If you have speed issues, inquire if this is the case for you.
Q: What happens when I have used up my download volume?
A: If the volume is used up, the access is automatically blocked. You can top up the volume of your account with 2 clicks of the mouse in the customer center - regardless of whether it is already used up or you want to top up it as a precaution.
Q: Does prepaid Usenet offer an app for mobile devices such as Android or iOS?
A: They currently do not offer a special app for our news reader for mobile devices (e.g. Android, iOS). However, you are always welcome to switch to an alternative that is already available on the respective system.
In the app settings, you can then simply use your access data from the prepaid Usenet customer center to establish a connection to the Usenet.
Support
For basic questions, users can check out the FAQ section of the Prepaid Usenet website. It is a pretty comprehensive section and provides enough basic information. You can also request for assistance via email by filling up the contact form available on their "contact us" page or Help section.
Contact Information
PPU Prepaid Usenet UG
Nattheimer Str. 13
89520 Heidenheim an der Brenz
Telephone: 07321/4889807
E-Mail: info@prepaid-usenet.de
Security/ Company Privacy Policy
All Prepaid Usenet plans come with SSL encryption which gives users anonymity and privacy when accessing Usenet.
For security reasons and to protect the transmission of confidential content, such as orders or inquiries that users send to Prepaid Usenet as the website operator, their site uses an SSL or TLS encryption. If the SSL or TLS encryption is activated, the data that you transmit to us cannot be read by third parties.
With regards to their logging policy, Prepaid Usenet automatically collects the following information:
Browser type and browser version
Operating system used
Referrer URL
Host name of the accessing computer
Time of the server request
IP address
It is unclear how long this information is retained.
Payment Options
Prepaid Usenet allows multiple payment methods like Paypal, bank transfers, Paysafecard for anonymous payment methods, or Sofortüberweisung.de.
Our Opinion
Prepaid Usenet is an interesting Usenet service provider. They are unique in such a way that they do not offer any subscription plans, but instead they just offer prepaid plans which work similarly as a block access plan. There are other providers that offer both unlimited subscription plans and limited block access plans so Prepaid Usenet may not be a complete standout in terms of this "unique" offering. However, we do appreciate that they are very transparent with their pricing and the service they provide. There are no hidden costs with this provider and it seems like they achieve customer satisfaction through efficient service and good customer support without having the need to offer long-term plans.
Altenatives To Prepaid Usenet
| Name | Price | Info |
| --- | --- | --- |
| Newshosting | $8.33 | Best Price / Free Newsreader |
| UsenetServer | $7.95 | NZB Search / Fast Speeds |
| Eweka | €7,00 | Best EU Provider / Lifetime Discount |
| Easynews | $9.98 | Easy Web App / File Previews |
| TweakNews | €7,50 | Free Newsreader / Free VPN |
| PureUSENET | €5.97 | Good EU Provider / Free SSL |
| XLned | €7.49 | Fast Speeds / EU Servers |