Pirates4All Review
Last Updated: Oct 29, 2021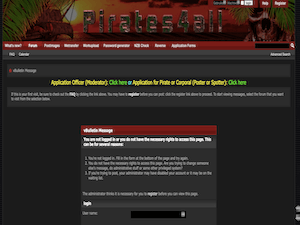 | | |
| --- | --- |
| Rating | |
| Price | Free |
| Retention | None |
| Free Trial | None |
| Features | Dead Site |
Pirates4All is a dead NZB site
Please see our list of best NZB sites for other alternatives
Editor's Note: Pirates4All has been offline since September 2021. Hence, we declare this site as a dead NZB site. The review below is kept for historical purposes
Pirates4All offers multiple ways to transfer files on its platform. They have PostImages option (image upload), Wetransfer (for sending files via email), Workupload (for large file sharing and storing), and Password generator for sharing secured content into the community. It also has an NZB Check option to upload files. However, upon our recent check, this resource could not be found. Pirates4All also recently added a Reverse Text tool which is basically a string reverser that allows you to get reversed text.
It has a daily unique visitor of 2700+ and the website is estimated to be operating since August 2018. Some of their users say that Pirates4All is the former enzetbee forum which was closed in the same year the Pirates4All operates, and while it is not yet proven to be true, their users are contented to think that enzetbee is back operating as Pirates4All.
Pirates4All has an active policy of not allowing spammers. You cannot also register while using a VPN since they tract and report IPs with malicious actions. You can see the list of spammers and their respective IPs in the lower-left corner of the homepage.
Highlighted Features
Open and easy registration
Privacy: SSL
Ads: Minimal
Shoutbox and arcade games
Nzb checker available
Advanced search engine
Multiple ways to share file
Active community
Retention: undisclosed
Content updates every 15 seconds
Interface
Pirates4All is powered by VBulletin and other custom designers. The website has different themes and designs to choose from, and it has no ads on the website.
Ease of Use
Pirates4All is very easy to use. Even if you are new to this website, you can easily navigate your options and search bars. While the website has colorful fonts and images, the links and main menus are easy to be found. What we just observe here is that even you set your language to English, you need to manually change it every time you visit the comment sections/forums because the translations only worked for the interface of the website.
They have a dedicated page for tutorials, and 'Pirate' rules to guide you before you upload and download files. They also have arcade games, so you can play with the other users while visiting the website.
Like other NZB forums, Pirates4All encourages you to say pleasant words to the uploader before you get the link of the file to download.
Pirates4All also features the top NZB files uploaded within the day and within the week, so if you need to search for the trending movies, looking at this corner might help.
Membership Levels
Pirate4All is free to use.
Support
Pirates4All has a dedicated page for Frequently Asked Questions. Their moderators are also open to answer your questions through its forum, or by messaging them to the 'Current Staff Online' that can be found in the middle right of the homepage.
They also provide the Contact us page for your queries.
Uptime Status
Pirates4All has average uptime results. It is also worth mentioning that the website automatically logs you out when you are not using it, or if you left it idle for minutes.
Pirate4All's server is located in France.
Conclusion
Pirates4All has a smart interface and is also well-optimized. They are also well-equipped with instructions and reminders for their members.
We like that the Pirate4All is dedicating time to make their community safer, and enjoyable to their users.
Altenatives To Pirates4All
| Name | NZBs | Price |
| --- | --- | --- |
| NZBFinder | Free 5 NZBs & 25 API Calls | 10, 20, 35 Euros |
| UsenetCrawler | Best Free Account Offering | Over 500 Groups Crawled |
| NZBgeek | Open and Free to Register | Free and Paid Service |
| NZBGrabit | Free 5 .ZIP Downloads | Arcade, and Photo Editor Included |
| DrunkenSlug | Free 100 API Hits and 5 NZBs Daily | Invite-Only Website |
| NZB.su | Open NZB Site | API Integrations |
| DogNZB | Invite Only | $20/Yr for VIP |
| NZBPlanet | Invite Only | 2 Million NZBs Indexed |
| FileSharingTalk | Forum-Based Site | Option to Donate |
| OmgWtfNZBs | Invite-Only NZB Site | $10/Yr for Donators |