PAN Newsreader Review
Last Updated: May 20, 2019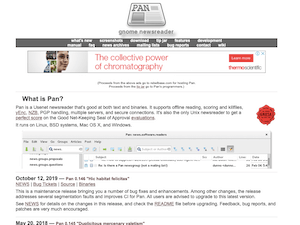 Rating
Price
Free
Retention
500 Days
Free Trial
None
Features
Linux and Windows Only
Good for Reading News
Good for NZB Downloads
Last updated in May of 2018 ,  Pan is a newsreader for Linux and Windows.  Pan attempts to satisfy both new users and power users and we thing they manage to pull it off well.
This program isn't specifically designed as an NZB handler, so it's a bit unwieldy compared to some of the other options. It's likely best for those who are experienced with USENET and who want something as pure as possible, as far as not having any new enhancements added to the mix to make things more user friendly goes.
Installation
The installation process will depend upon your flavor of Linux. For Windows, you'll need the GTK2-Runtime libraries to get Pan up and running. You can download and install them from a link on Pan's site.
Once the program is installed, it's easy to get set up. Just enter your server address, port, username and password and Pan will download your newsgroup list automatically.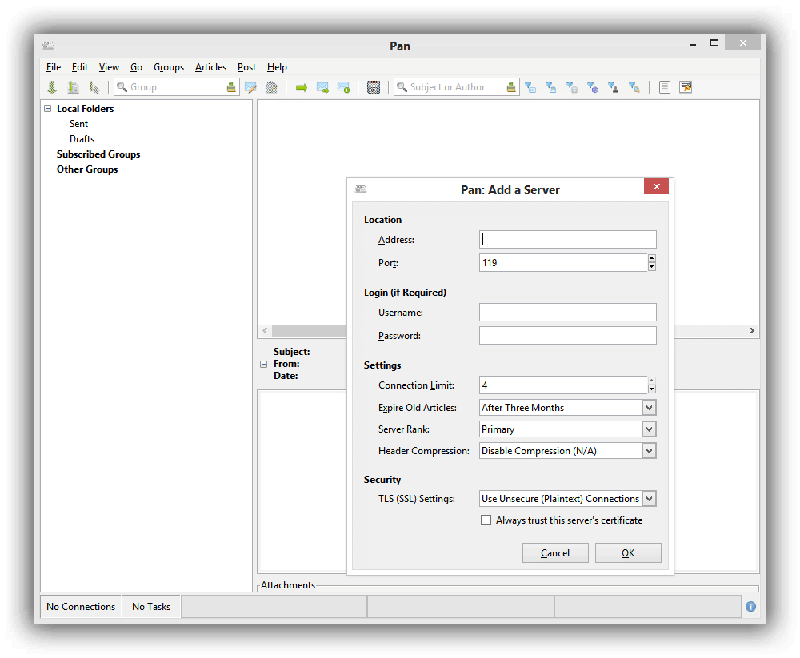 Using the Program
Pan is not a flashy program. When you open it up, after having downloaded your list of groups, you'll see the article headers listed on the top right of the screen, the article contents on the lower left and the list of newsgroups on the leftmost side of the interface. It looks a bit dated, but it is very practical.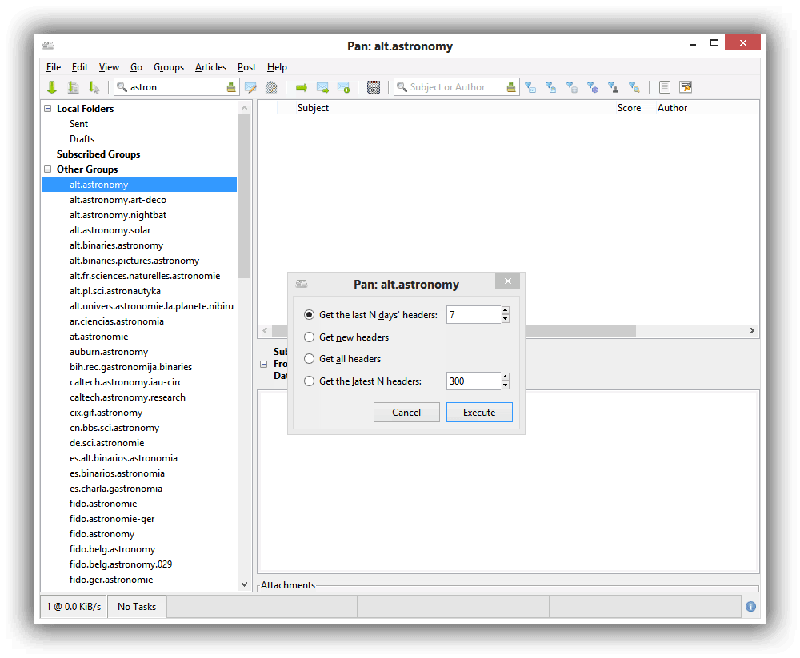 This isn't a dedicated binary downloader, so don't expect features that make downloading and managing files as easy as possible. The options are listed along the top of the screen, with small icons and fields providing ways to sort, search and interact with the newsgroup articles. The bottom of the screen gives you a list of your tasks, your download speed and transfer totals.
Technical Details
Linux and Windows compatible
Offline reading function
Advanced sorting function
Keyboard bindings
Message organization features built in
Can set parameters for notification based on message content, subject, etc.
Supports yEnc
Groups multi-part articles
Powerful download task management
Can display images in line
Summary
Pan has a classic interface. That might put some users off, as it looks quite clunky compared to other binary downloader options. This newsreader, however, does have some very nice features built into it, though it might take a while to figure them out for newer users. If you've been on USENET for a long time, however, and if you're a Windows or Linux user, you might find this to be a great solution for reading, posting and downloading.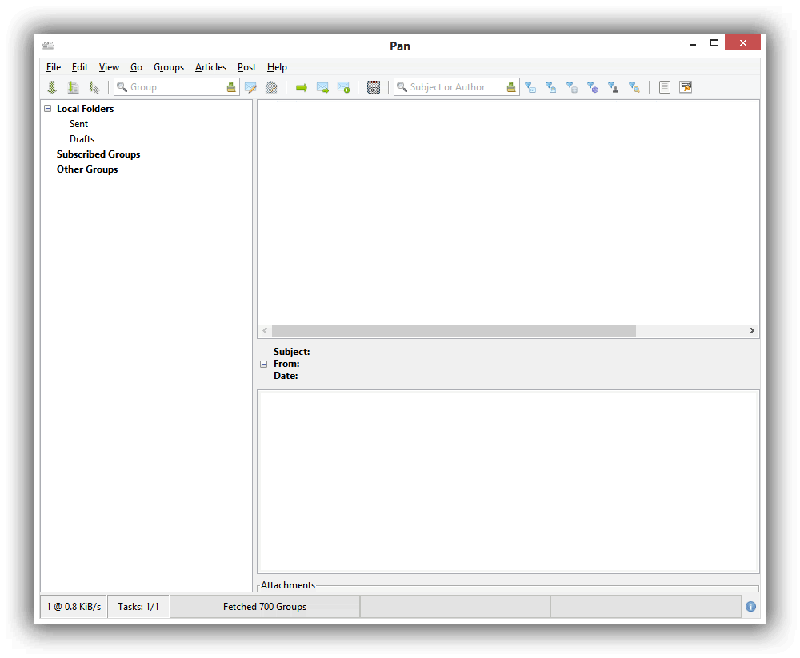 Summary Page
Pan is a Gnome newsreader for Linux and Windows. It supports yEnc and is a capable NZB/Binary downloading option, but it offers little in the way of user friendliness. This newsreader is most likely to appeal to those who have been on USENET for a long time, who appreciate the look of a classic newsreader interface and who need very little hand holding. Some of the Windows versions are not quite stable, so be aware of potential issues with that OS.
Visit PAN
Best Usenet Newsreaders