NZBScout Review
Last Updated: Feb 04, 2022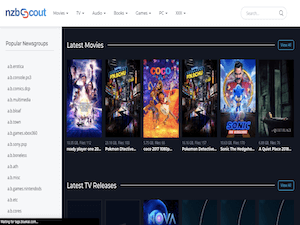 Rating
Price
free
Retention
N/A Days
Free Trial
None
Features
Open NZB Site
No Usage Limits
NZBs From Popular Newsgroups
NZBScout is a relatively new NZB site for video content, audio files, e-books, games, PC apps and adult content. This NZB search engine was developed from scratch by their own coders and does not use any external content management system or indexing script.
What makes NZBScout stand out from other NZB sites and Usenet search engines is that it is open for everyone, free to use and has no usage limits. And according to its developers, they have no plans on transitioning into a paid search site so visitors can download as many NZBs as they wish.
Highlighted Features
Open NZB site
Free; no membership levels
No usage limits
Crawls most downloaded NZBs from popular newsgroups
Updated daily
Additional info from external databases
Current verified NZBs: 400,000
Daily NZBs added: 1500 – 2000
Generates other file suggestions ("You Might Also Like" section)
Interface
NZBScout has an aesthetically pleasing and modern-looking interface. Once you enter the website, you will be greeted by a simple and clean look that would allow any user to easily navigate through the site and search for the files they want.
Latest releases consume the most space on the site which is actually convenient for frequent visitors to see the latest NZBs that have been added to NZBScout. This latest release section covers most categories from movies down to PC files.
File categories can also be viewed through the main menu located at the top section of the site where drop down subcategories can also be found.
Popular Newsgroups are also visible on the left side of the site and searching is made easy via the search box on the upper right corner.
Another great part of NZBScout is their suggested files/ shows that can be seen at the bottom of a file page, similar to how Netflix suggests shows you might like when you are currently watching video content you enjoy.
Membership Levels
As mentioned, NZBScout is open for everyone and has no usage limits. The site does not offer any paid membership levels like other NZB sites or Usenet Search engines, and its developers have no plans on doing this.
Support
Should a visitor have any concerns or inquiries with NZBScout and their service, they can be reached through their contact page. Other contact information or avenues like irc channels are not available.
Uptime Status
Based on uptime robot, NZBScout has a very good uptime status. It is rarely offline and also has a great response time. Upon our own testing, search results are generated quickly, and page transitions are also fast.
NZBScout Status / Uptime Charts
| | Status | Since | Average Response Time |
| --- | --- | --- | --- |
| ● | | | |
24 Hour Response Time Chart for
NZBScout
Chart will be updated in
X
seconds
Uptime Averages
Conclusion
With the abundance of NZB sites and Usenet search engines online today, NZBScout is definitely a great and welcome addition to our list of best nzb sites. While it may be relatively new, it competes well with other well-established NZB search services today. We especially like that it is completely free for everyone to use and does not limit its users by capping the number of NZBs they can download in a day.
Another great thing about NZBScout is that they also keep safety of files in mind by analyzing the content they crawl. They verify the content and pick up additional information from external databases before placing files in their system. Daily, NZBScout analyzes and adds about 1,500 to 2,000 files to their site.
All in all, NZBScout may just be one of the better options recently when it comes to NZB searching and downloading. Not only is it free and has no usage limits, the site also is very easy to use, has a clean and modern-looking interface and generates search results quickly – definitely an NZB site worth checking out and using.
Altenatives To NZBScout
| Name | NZBs | Price |
| --- | --- | --- |
| NZBFinder | Free 5 NZBs & 25 API Calls | 10, 20, 35 Euros |
| UsenetCrawler | Best Free Account Offering | Over 500 Groups Crawled |
| NZBgeek | Open and Free to Register | Free and Paid Service |
| NZBGrabit | Free 5 .ZIP Downloads | Arcade, and Photo Editor Included |
| DrunkenSlug | Free 100 API Hits and 5 NZBs Daily | Invite-Only Website |
| NZB.su | Open NZB Site | API Integrations |
| DogNZB | Invite Only | $20/Yr for VIP |
| NZBPlanet | Invite Only | 2 Million NZBs Indexed |
| FileSharingTalk | Forum-Based Site | Option to Donate |
| OmgWtfNZBs | Invite-Only NZB Site | $10/Yr for Donators |