NZBS2Go Review
Last Updated: Aug 10, 2019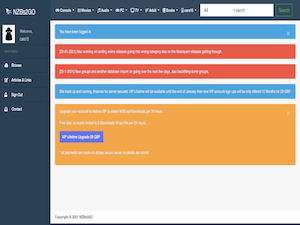 | | |
| --- | --- |
| Rating | |
| Price | |
| Retention | None |
| Free Trial | None |
| Features | Dead Site |
NZBS2Go is a dead NZB site
Please see our list of best NZB sites for other alternatives
NZBS2Go is a dead site as of September 2014
NZBS2Go, at its peak, had a great VIP package and excellent indexes that were relatively spam free. NZBS2Go has been dead since 2014 but it was a great destination for people seeking out NZBs when it was up and running; it was compatible with all of the most popular downloading software out there. While it might be gone for good, that doesn't mean that there aren't plenty of other sites to choose from.
Goodbye NZBS2Go
A Sad Day For All I am sad to announce that Nzbs2go (nzbs4u.net) will be closing forever.
I have made this decision because the site is taking all my free time and money. Also after a few emails from F.A.C.T we felt that it was time to close the site to avoid any legal action. (this has pushed us out more than anything) as sign up vip fee's would not cover a cost of a fine. for the record i have never made a penny off the site all vip fee's also adsense fee's went to server costs/domain renews.
Also domains will be on sale at sedo will post links if any one intrested in starting there own and has the time etc….
Also Just a big thankyou to all that helped out and also donated beyond the vip fee. ZBS2GO has gone for good as acoording to their web page This is what it says.
Alternatives to NZBS2Go
Take a peek at our list of best NZB sites if you're looking for an alternative to NZBS2GO. We review each site and detail the platform, membership options and other features of the site so that you can find something perfect for your needs. The list is constantly updated and dead sites are removed.
Altenatives To NZBS2Go
| Name | NZBs | Price |
| --- | --- | --- |
| Oznzb | 5 NZBs Daily | $16/Year & $ 55/Life. |
| NZBFinder | Free: 5 NZBs & 25 API Calls. | 10, 20, 35 Euros. |
| DogNZB | No Free Account | $18/Year for VIP |
| NZBGrabit | 10 Zip Dls / Day | $15/Year & $35/Life |
| ABnzb | 20 NZBs & 100 Calls | $25/Year for VIP |
| OMGWTFNZBS | No Free Account | $10/Year for VIP |
| NZB Tortuga | 5 NZBs a Day | $6/Year for VIP |
| NZBGeek | No Free Account | $12/Year for VIP |
| GingaDaddy | 3 API Hits/NZB Grabs | $17/Year for VIP |
| Nzbplanet | 5 NZBs Daily | $10/Year for VIP |