NZBMegaSearch Review
Last Updated: Feb 14, 2022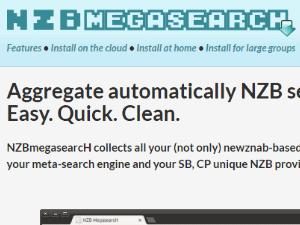 Rating
Price
Free
Features
Usenet Meta Search
Choose NZB Indexers
Multi Platform
Python Script
If you've ever wanted to search all your favorite NZB indexes from one program, NZBMegaSearch might be what you're looking for. This program is designed to allow you to utilize a meta-search function to look at all of the listings on your favorite NZB indexes from one spot. Obviously, this has a great deal of convenience built into it and should make it easier for people who end up searching several different indexes looking for NZB files to get access to good links much more quickly. However, it is also important to note that no updates have been made on this program since 2015. Consider checking out NZBHydra2 as an alternative.
Read on for more details and if you find this helpful then be sure to check out our list of Best NZB sites
Features
NZBMegaSearch is configurable with Newznab and Spotweb indexes. It also supports several others, according to the developer. It allows you to retrieve videos that are trending, as well, making it convenient as far as being able to access the most popular content of the moment.
NZBMegaSearch will give you search suggestions based upon what you're looking for, giving it a nice, full-featured feel. It has recently been updated and functions on Windows, Macintosh and Linux.
NZBMegaSearch does offer some significant advantages to searching directly on the site. For instance, it is integrated with SABnzbd. To utilize it with that program, you set it up with a valid URL or API and, after setting up this way, you don't even need to download the NZB file to get the binary you're after. It also automatically looks for new episodes with its Sickbeard support.
NZBMegaSearch is even shareable in and of itself. It has support for HTTPS built into it. Utilizing a username and a password, small groups of people can share access to NZBMegaSearch, allowing all of the users on a home network, for instance, to utilize the search features and to easily access NZB searches from all of their favor providers.
You can also customize your search provider, utilizing paid or free providers, so there really are some advantages to using NZBMegaSearch, simply based upon the variety of features it offers.
Some of the new features that have been recently added include IMDb suggestions and trends, user protection, a default search option that you can set up manually and more. It supports both HTTPS and SSL and, over the course of the various versions that have been developed, instability issues and other bugs have been fixed, making it ready for prime time and demanding NZB hunters.
Tech Specs
NZBMegaSearch is coded in Python, so it should work on any operating system.
Visit NZBMegaSearch