NZBLord Review
Last Updated: Jul 29, 2019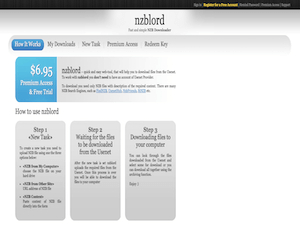 Rating
Price
$14.95 / Month
Retention
500 Days
Free Trial
None
Features
Newsreader Included
Simple Concept
Three Plans
NZBLord offers a web-based interface that allows users to download NZB files. The interface is much simpler than the one offered by Easynews, but that may not be good news for some users. The service is, however, very easy to use and, after selecting the NZB file you want, the web downloader pretty much takes care of everything for you. If you're looking for generous trial terms, don't look here. If you want something very easy to use and you're not at all familiar with USENET, this service might appeal to you.
Read on for more details and if you find this helpful then be sure to check out our list of Best NZB sites
The Basics
NZBLord functions over the web, so you don't need a traditional downloader or newsreader as you would with most other USENET access providers. The closest thing to NZBLord on the market is Easynews, which offers a much more feature-rich version of the downloader offered by NZBLord. While Easynews allows you to stream content that you're interested in downloading and allows you to preview files that you've found to make sure they're what you're looking for, NZBLord concentrates on keeping everything basic.
Service Plans
| Package | Traffic Period | NZB Max Size | NZB Max Files | Speed | Secure | Price |
| --- | --- | --- | --- | --- | --- | --- |
| Driver | 30 Days | 5 GBs | 3000 | 10 Mb/s | No | $14.95 |
| Aviator | 60 Days | 6 GBs | 4000 | 12 Mb/s | Yes | $25.95 |
| Astronaut | 90 Days | 7 GBs | 5000 | 15 Mb/s | Yes | $38.85 |
| Annual | 360 Days | 7 GBs | 5000 | 15 Mb/s | Yes | $98.75 |
The Service
There are several different levels of service with NZBLord. The account options include the Driver level of service, with 5GB of NZ downloads per month at $18.45. Bandwidth on this account level is limited to 10Mbps. Aviator offers 6GB of downloads per month with a cap of 12Mbps for a 60-day commitment. Aviator level service costs $34.35 every other month. If you want to most robust service package from NZBLord, go with Astronaut, which you can renew every 90 days for $48.55. This account level gives you 7GB of downloads at 15Mbps. The trial terms are very restrictive on this service. You get 10MB, which is tiny. These accounts don't auto-renew, so you'll have to repurchase service at the level you want when your agreement expires.
Overall Impression
NZBLord is OK. They're not great. While they do eliminate the need for a newsreader, that might actually not be a good thing for many users. Newsreaders and downloaders such as Newsbin and SABnzbd have their advantages and, though they might be a bit intimidating the first time a user tries to employ them, they're really not at all difficult to use. The Newshosting service also has a fine newsreader that might outpace what NZBLord is offering right now. The trial is open, but small, so users can check out this service and see what they think for themselves.
Be sure to bookmark our NZB site page or keep checking back and signup for our newsletter if you want to be kept up to date.
Also worth a look would be our list of Best Usenet Providers.
Altenatives To NZBLord
| Name | Price | Info |
| --- | --- | --- |
| Newshosting | $8.33 | Best Price / Free Newsreader |
| UsenetServer | $7.95 | NZB Search / Fast Speeds |
| Eweka | €7,50 | Best EU Provider / Lifetime Discount |
| Easynews | $9.98 | Easy Web App / File Previews |
| TweakNews | €7,50 | Free Newsreader / Free VPN |
| PureUSENET | €6.63 | Good EU Provider / Free SSL |
| XLned | €7.39 | Fast Speeds / EU Servers |