NZBLord Review
Last Updated: Jan 31, 2022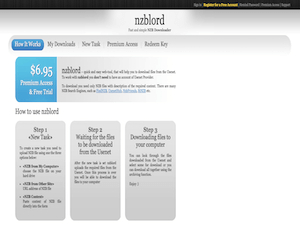 | | |
| --- | --- |
| Rating | |
| Price | $6.95 |
| Retention | None |
| Free Trial | None |
| Features | Dead Site |
Editor's Note
: Update as of January 2021 - Based on their website, Project NZBLord is closed. You may contact them via email at
support@nzblord.com
NZBLord is a quick and easy web tool where you can download NZB files from. To download, you would simply need to go to your favorite NZB search engine and look for the files you want. NZBLord gives you the option to download files from either your computer, URL address of an NZB file, or paste the content of the NZB file directly to the form they provide.
With the simplicity of its process, NZBLord does not require users to have an account with a Usenet provider. But while this NZB downloader seems like a very impressive tool, it would cost you several dollars to get premium access to their service. You still may want to go for other reliable downloaders that are free, like NZBGet or SABnzbd.
We'd also like to note that since there is no configuration involved for you to be able to use SSL ports for your downloading, your activity is not secure and anonymous. The NZBLord website is also labelled as "not secure", so users should avoid entering any sensitive information on the site.
Highlighted Features
NZBLord has several features that would allow users to conveniently download NZB files. And since it is a web tool, it can work on any device regardless of what operating system you are using.
Multiple ways to download NZB files

NZB from Computer
NZB from Other Site
NZB Content

Simultaneous performance of multiple NZB downloading tasks
Notification when the task is completed
Fast (up to 5MB) and multithreaded downloading of files to your computer
Archiving and easy download of large number of files
Our spyware scans all the files you are going to download
100% operation with web-browser with no need to have the Usenet Provider account
Responsive and friendly Support
Easy to use interface via web-tool
Multiple Premium Access packages

Unlimited Traffic
Varies in duration, NZB Max size, NZB Max Files Amount, Speed and Security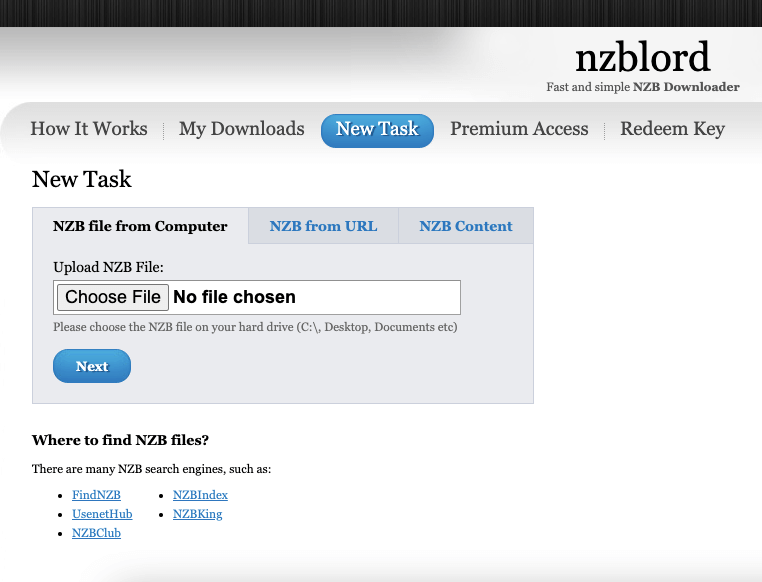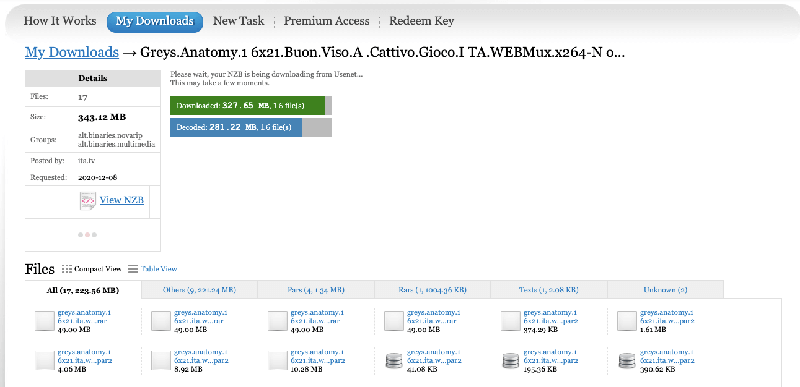 Plans & Pricing
NZBLord has multiple premium access plans, as stated on their website. Their cheapest plan is at $6.95 which includes a free trial. Other packages range from $14.95 to $98.75 depending on the duration you want to use their service for. Please note that their 30-day period does not have a secure download feature and that all plans vary in NZB max size, max file amount and speed.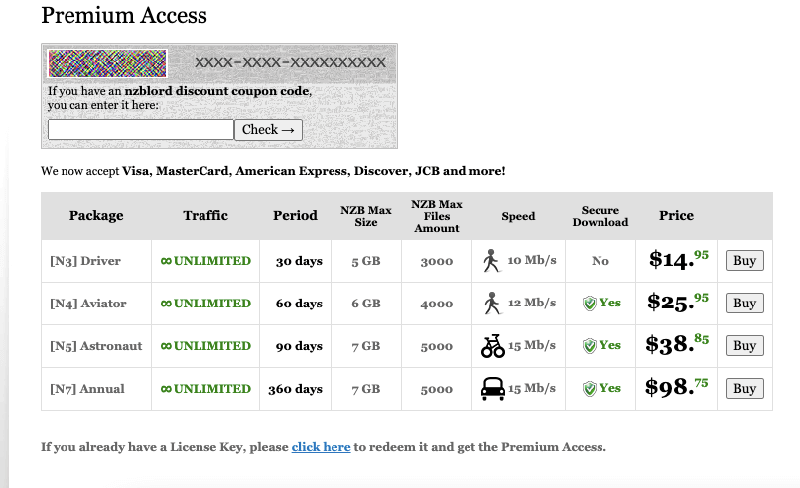 Once you've purchased a premium access plan, a license key will be sent to your email address. To begin using NZBLord with its full features, enter your email address and license key on the "Redeem Key" page of their website.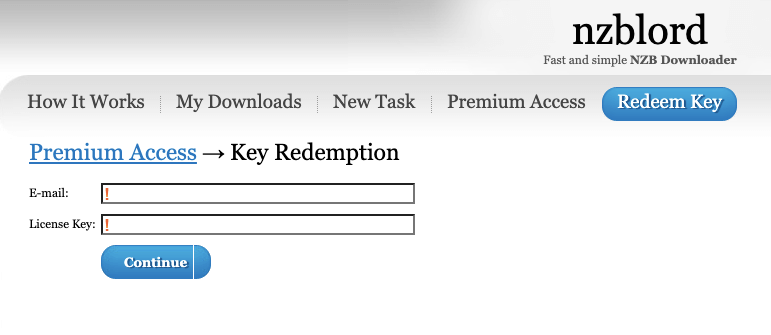 Free Trial Information
While it is mentioned on their site that NZBLord has a free trial offering, it is quite unclear for how long this is. You can simply test out their service by going to the "New task" tab on their website and download an NZB through the three previously mentioned methods and see if it works well for you.
Usage Overview
Based on our testing, NZBLord does live up to its tagline of being a fast and simple NZB downloader. With no complications of installation and configuration, NZBLord can be used instantly and without Usenet provider details. You simply need to get NZBs from your favorite NZB site or Usenet search engine.
Installation
NZBLord does not require any installation since it is an easy-to-use web tool. You can enjoy downloading NZB files from your web browser by going to the NZBLord website.
Configuration
There are also no configurations needed when downloading from NZBLord. Its website provides instant access to its downloading capabilities once you have a premium access account with them. And as previously mentioned, they do not require users to have a Usenet provider account. Meaning, you do not have to enter any server information or account details which are usually required by other NZB downloaders.
Scheduling & Automation
One major differentiation of other popular NZB downloaders with NZBLord is that the said web tool does not have any scheduling or automation features. And unlike other NZB downloaders, it cannot integrate third-party applications like PVRs or automated audio downloaders to its system since it does not have API support.
To be able to use applications like Sickbeard or Sonarr, we suggest you use NZBGet or SABnzbd.
Usability
While NZBLord does not have any scheduling or automated features, unlike other newsreaders or NZB downloaders, this web tool is pretty much very easy to use. Once you have a premium access account with them, you can easily download NZB files via the three methods they have and just wait for the files to be downloaded from Usenet. You can then look through the files you've downloaded and choose to either select some files for download or use the archiving function to download all files.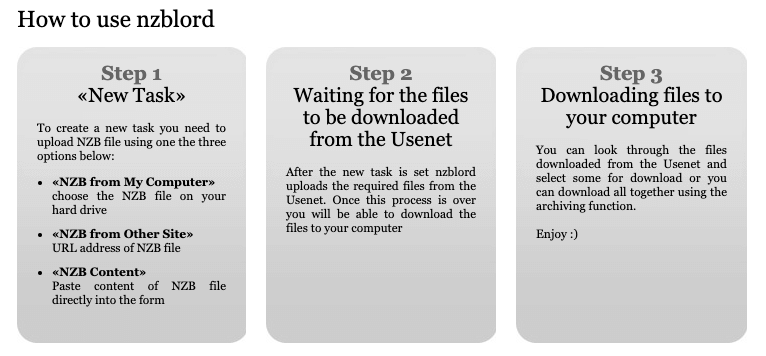 Conclusion
At first glance, NZBLord seems like a very convenient NZB downloader. As a web tool capable of downloading NZB files and that does not require users to have a Usenet service account, NZBLord lives up to its claim of being a quick and easy NZB downloader. However, when compared to popular downloaders like SABnzbd and NZBGet, NZBLord still has a long way to go to be considered to be at the level of these mentioned applications. For one, SABnzbd and NZBGet has been a popular choice by a lot of Usenet users. These two downloaders also are free to use, while NZBLord requires you to pay for access to its full features. Aside from that, NZBLord cannot integrate third-party applications like PVRs or automated downloaders that enhances the whole downloading experience and improves the whole Usenet journey. Plus, the website itself is not secure , meaning your downloading and information is not secure and anonymous. All in all, while NZBLord is unique in what it is capable of doing, there are still other aspects to consider like other features, reliability, track record, security, pricing and integrations that would make other Usenet newsreaders and NZB downloaders a better choice.
Visit NZBLord
Best Usenet Newsreaders