NZBKing Review
Last Updated: May 14, 2019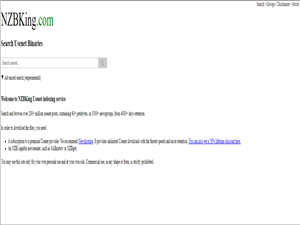 Rating
Price
Free
Retention
500 Days
Free Trial
None
Features
Fast Searches
Sphinx Database Backend
OK Content
NZBKing uses a sophisticated pattern-matching algorithm to make it easier to find NZB post that you are interested in. Like other NZB sites, this one doesn't post any content, but does provide you with the NZB files that can point you to the content that you are looking for.
The site currently has nearly 50,000,000 NZB's available and indexes 3,556 USENET groups, making it rather comprehensive and likely a good choice for people who want to make certain that they have access to as much of the content on the USENET system as possible.
Tech
NZBKing has a backend that is implemented in C++. It uses a complex regular expression to come up with matches for subject headers. The site storage is done on a Mongo database. The indexing is handled by Sphinx. The website interface is implemented in the Python language.
The tech behind the site is certainly impressive and the developers seem to have put quite a bit of time into the system that they designed. They have an indexing engine that tracks postings and, using the web service, you can search and browse through them, making it fairly easy to find whatever it is you're looking for.
When you do find the binary that you want, you simply mark it and download it, and then use your USENET downloader to download the actual content.
Overall Impression
The search system on this site is enormously easy to use and, even though it is based on some rather complex technology, the user experience is very straightforward. You'll get a listing of the sites along with their subject lines, the poster, the group and the age of the post. Selecting a checkbox next to the entry allows you to click on the download button and save the NZB file to your computer. The site also offers the option of streaming or downloading the content using the NZBDrive service. This is limited in the free version, but you can get a license for it and get the unlimited version of the software.
Overall, NZBKing is definitely worth looking at if you're looking for a new NZB indexer to use to find the binaries that interest you. The interface is simple enough that people who aren't particularly experienced with NZB files should be able to figure out how they work simply by exploring the site a bit, downloading a few and learning from the experience.
NZBKing Status / Uptime Charts
| | Status | Since | Average Response Time |
| --- | --- | --- | --- |
| ● | | | |
24 Hour Response Time Chart for
NZBKing
Chart will be updated in
X
seconds
Uptime Averages
Altenatives To NZBKing
| Name | NZBs | Price |
| --- | --- | --- |
| Oznzb | 5 NZBs Daily | $16/Year & $ 55/Life. |
| NZBFinder | Free: 5 NZBs & 25 API Calls. | 10, 20, 35 Euros. |
| DogNZB | No Free Account | $18/Year for VIP |
| NZBGrabit | 10 Zip Dls / Day | $15/Year & $35/Life |
| ABnzb | 20 NZBs & 100 Calls | $25/Year for VIP |
| OMGWTFNZBS | No Free Account | $10/Year for VIP |
| NZB Tortuga | 5 NZBs a Day | $6/Year for VIP |
| NZBGeek | No Free Account | $12/Year for VIP |
| GingaDaddy | 3 API Hits/NZB Grabs | $17/Year for VIP |
| Nzbplanet | 5 NZBs Daily | $10/Year for VIP |
Visit NZBKing
Best Usenet Search Engines