NZBKing Review
Last Updated: Feb 08, 2022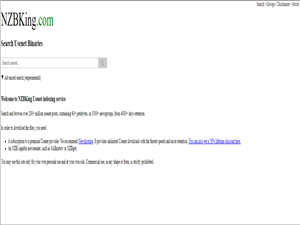 Rating
Price
N/A
Retention
4000+ days Days
Free Trial
None
Features
Uses Pattern-Matching Algorithm
Access to Over 200 Million Usenet Posts
Open and Free Site
NZBKing has 3500 newsgroups crawled with up to 60+ petabytes of content. They offer 4000+ retention days of binary, and it is one of the longest we know for a free account.
Like other NZB sites, NZBKing does not host files on its website. The website is not automated, and even NZBKing promotes the use of a dedicated newsreader as an essential tool in downloading files.
Highlighted Features
Open to register
FREE to search and download
Access to over 200 million Usenet posts
Dedicated search engine
Retention: 4000+ days
Ads: No
Uses pattern matching algorithm
Up to 3500+ indexed newsgroups
Up to 60+ petabytes available
Interface
NZBKing has a custom interface and is written in a Python language. The indexing is created by a Sphinx database, which indexes up to 10-15 MB of text per second. This search server is written in C++ and it works on Linux, macOS, Solaris, Windows, and more.
Ease of Use
Once you've entered their website, you can easily find the search bar to type the keyword you want to find. The advanced search engine (experimental) is an option for you to use, and you can sort by its file type, group, poster, date, size, etc.
Membership Levels
NZBKing is free to use.
Support
For your concerns and queries, you may email them directly at info@nzbking.com.
Uptime Status
For the last few weeks, NZBKing shows fewer downtime results on their website; and just like the other providers, they have an average response rate.
NZBKing Status / Uptime Charts
| | Status | Since | Average Response Time |
| --- | --- | --- | --- |
| ● | | | |
24 Hour Response Time Chart for
NZBKing
Chart will be updated in
X
seconds
Uptime Averages
Conclusions
Though NZBKing uses a rather complex algorithm to search for the content of the file, they prove to be a source of quality NZBs. They constantly upgrade their service and offer users unique and competitive features at no cost at all. For a free and open NZB site, NZBKing definitely has a lot of good things going for them and is certainly worth considering as your go-to indexer.
Altenatives To NZBKing
| Name | NZBs | Price |
| --- | --- | --- |
| NZBFinder | Free 5 NZBs & 25 API Calls | 10, 20, 35 Euros |
| UsenetCrawler | Best Free Account Offering | Over 500 Groups Crawled |
| NZBgeek | Open and Free to Register | Free and Paid Service |
| NZBGrabit | Free 5 .ZIP Downloads | Arcade, and Photo Editor Included |
| DrunkenSlug | Free 100 API Hits and 5 NZBs Daily | Invite-Only Website |
| NZB.su | Open NZB Site | API Integrations |
| DogNZB | Invite Only | $20/Yr for VIP |
| NZBPlanet | Invite Only | 2 Million NZBs Indexed |
| FileSharingTalk | Forum-Based Site | Option to Donate |
| OmgWtfNZBs | Invite-Only NZB Site | $10/Yr for Donators |
Visit NZBKing
Best Usenet Search Engines