NZBDrive Review
Last Updated: Jun 19, 2019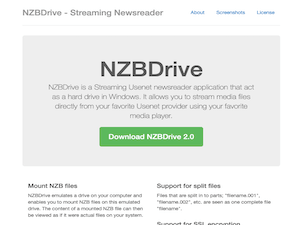 Rating
Price
$15 One Time
Retention
500 Days
Free Trial
None
Features
Streaming While Download
Support for Multiple Servers
Windows Only
NZBDrive lets you stream NZB files as you download them. Given how fast USENET services download, you won't have to use the live streaming for long, but streaming on the fly does beat waiting for an entire video to download.
This program supports SSL and comes in 32- and 64-bit Windows versions. The program is easy to use, but does require that you register it—that costs money—or deal with a fifteen-minute download time limit and other restrictions.
Bitcoin is the only payment method accepted for registering NZBDrive.
Installation
There's really nothing special about the installation process for NZBDrive, which is a good thing, of course. Download the installer package from the site and run it. The program takes care of the rest and all you have to do is hit the usual "Next" screens to complete the process.
Using the Program
When you start up, NZBDrive will offer you some suggestions for newsgroup providers if you don't have one. If you do, just select "No" and move on. The program will immediately give you a window to enter your server information.
Once you have the server information entered, you're brought to the main screen. You can use the icons to mount files, manage your options, unlock the program and perform other basic tasks.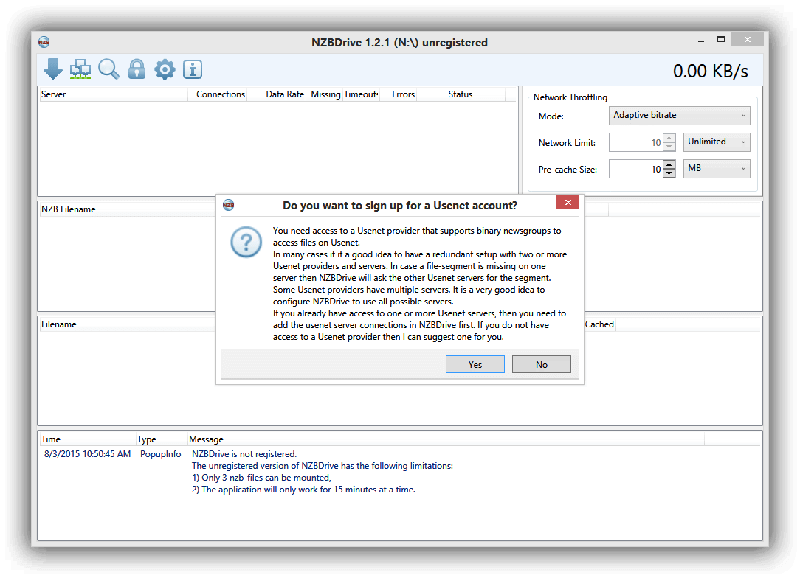 There's a search link along the top. You can search for an NZB at any site, however, and download the binary using NZBDrive. Drag and drop any NZB file into the "NZB Filename" screen in the middle of the program to start downloading it.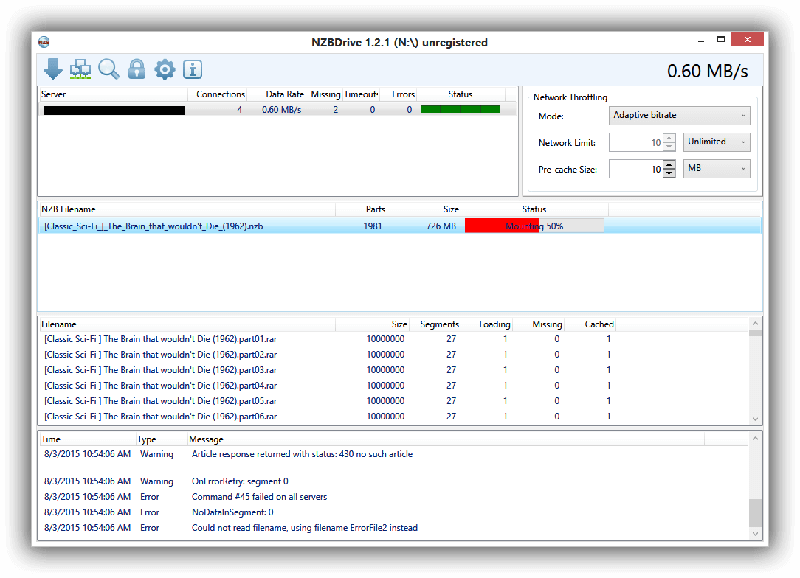 Select "Mount" from the alt menu—right click—or from the top icons to mount the downloading NZB and stream it. That's all there is to using this program.
Technical Details
NZBDrive has a simple interface and you're not going to find screens full of options to play with, but it is very good at what it does. Some of its features include:
Stream content while you download it
Support for multiple servers
Very easy configuration
SSL supported
Connect over any port
Unrars and Unzips files automatically
Summary
NZBDrive allows you to stream the binary you're downloading before it's even finished. This is really the main reason to consider this particular NZB downloader, in fact. Though this feature isn't unique to NZBDrive, the program is really built around it, so it's definitely one of the easiest to use for streaming content as it downloads. This program has a free and paid version. The former is very restricted. Bitcoin is the only accepted payment method for the full version.
Summary Page
NZBDrive is one of the simplest solutions for streaming content while you download it. Open an NZB file in the program, mount it and you can start watching it right away. The free version of this program is very limited. You can purchase an unlock code to get all the features NZBDrive has to offer. The only payment method accepted is Bitcoin, so be sure you have some before you go to buy your license key.
Visit NZBDrive
Best Usenet Newsreaders