NZBDrive Review
Last Updated: Jan 26, 2022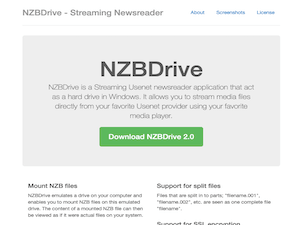 Rating
Price
free
Retention
500 Days
Free Trial
None
Features
Streaming Newsreader
SSL Support
Multi Server Support
NZBDrive is a free newsreader capable of streaming media files from your favorite Usenet service provider by using your favorite media player. Given how fast USENET services download, you won't have to use the live streaming for long, but streaming on the fly does beat waiting for an entire video to download.
While this newsreader has mainly been downloaded for Windows operating systems, it can also run on Linux platforms. However, we'd like to note that this newsreader has not been updated in the past few years. You can download its latest version, 2.0, from the NZBDrive website which is run by ByteFountain. The current version was released in Dec 2018 and is consistently being maintained by its developer.
Highlighted Features
The main selling point of NZBDrive is its capability to stream NZB files while you are downloading them. It also has other features that are similar with other newsreaders available in the market today.
Mounts NZB Files – emulates a drive on your computer, allowing you to mount NZB files on this emulated drive
Supports split files – files that are split into parts are seen as one complete file
Multiple server support – configure multiple servers to increase bandwidth and provide failover or redundancy. Fill servers can also be configured to provide missing file parts on other servers.
Download on demand – Only parts of files you are accessing are retrieved when needed. No need to download gigabytes of data first.
Media Streaming – depending on how fast your connection is, you will be able to stream media files while the content is being downloaded
RAR and ZIP support – files that are archived in RAR and ZIP files are visible as individual files, including multi part archive files.
32 and 64 bit application – supports 32 and 64-bit Windows devices. The installer would determine which NZBDrive version best fits your Windows version.
SSL Encryption support – encrypted connection for safety and anonymity
Share files with your media center – use Windows file-share to share the emulated drive with your media center, which also allows you to play files on your TV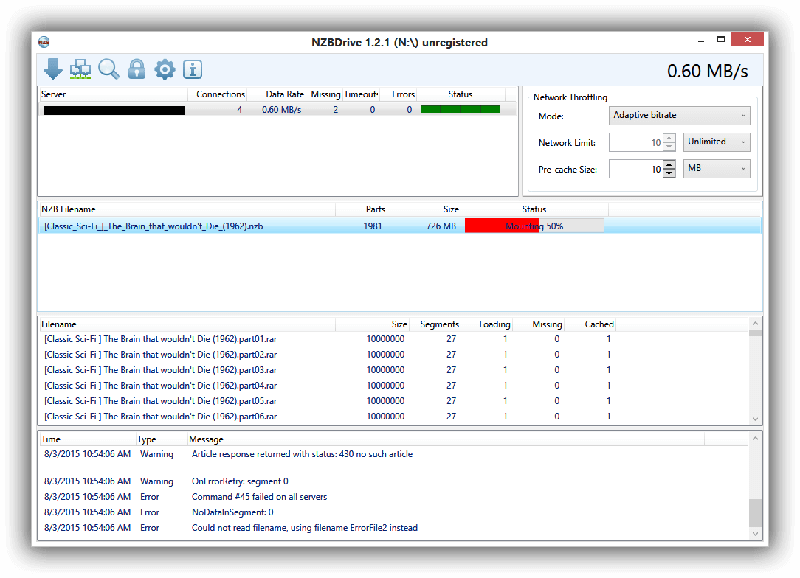 Plans & Pricing
NZBDrive is completely free to download and use.
Usage Overview
NZBDrive is an open-source project. While there is an installer available on the NZBDrive website, you can also find other information and installation processes for Linux on their Github page.
Installation
Installing NZBDrive on your Windows device is pretty straightforward. It can be installed like any other Windows software where you would simply need to download the installer package from a site and run it. Just following the setup wizard process and click on finish as soon as you're done.
There are also compilation instructions on the Github page to be able to install NZBDrive on Linux. A Windows compilation is also available if you want to go through that complex process.
For Linux:
Install prerequisites (make, g++-8, boost1.69, libssl-dev, tinyxml2, libfuse-dev, libcurlpp-dev, pkg-config) and run "make" in the src-directory. This should generate an executable "nzbmounter".
Windows compilation:
If you do not already have Visual Studio 2017 or later then download and start a developer virtual machine from https://developer.microsoft.com/en-us/windows/downloads/virtual-machines
Start "Visual Studio Installer" and add the following components:

Visual C++ MFC for x86 and x64
C++/CLI support

Install Dokany from: https://github.com/dokan-dev/dokany/releases
Install git: https://git-scm.com/download/win
Launch git-bash and clone NZBDrive repository:
Clone tinyxml2 repository:
Follow the clone- and build instructions for boost: https://github.com/boostorg/boost/wiki/Getting-Started
Clone the OpenSSL repository:
Follow the notes that come with the OpenSSL source to build the libraries (requires installation of Perl and NASM) and install with prefix ./openssl/x64 and ./openssl/x86.
Start Visual Studio and batch-build all in NZBDrive.sln. The binaries are now located in x86/x64.
Download and install InnoSetup if you want to make an installer: http://www.jrsoftware.org/isdl.php
Download the files:
To the folder "NZBDrive\Source\Windows\NZBDriveInnoSetup". Start Inno Setup Compiler and compile the file "NZBDriveSetupScript.iss".
Configuration
When you start up, NZBDrive will offer you some suggestions for newsgroup providers if you don't have one. If you do, just select "No" and move on. The program will immediately give you a window to enter your server information. You would have to configure your server settings with the proper information. Enter the server address, name/port, priority, encryption, connections and account details (if required). Make sure you have an active subscription with a reliable Usenet Provider to be able to use NZBDrive. If you are uncertain which Usenet service best suits your need, check out our list of the best Usenet service providers.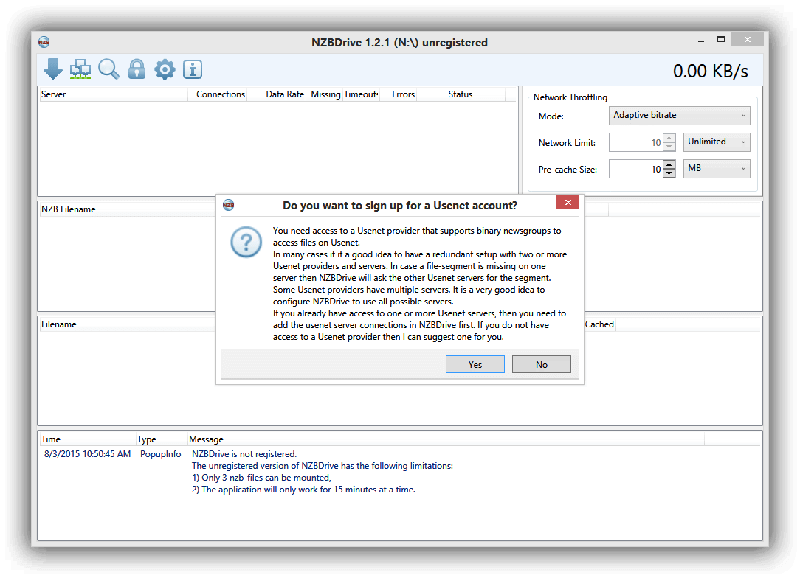 Scheduling & Automation
Based on our testing and research, NZBDrive does not have any automated or scheduling features like auto shutdown or download scheduler. As mentioned, this newsreader has not been updated in several years.
Usability
NZBDrive has a clean-looking interface that has icons that serve as the main functions or sections of the program. You can use these icons to mount files, manage your options, unlock the program and perform other basic tasks. A search link is available on the top section. However, you can also search for files on Usenet search engines or NZB sites, download files from there and then drag and drop the file into the "NZB Filename" on the NZBDrive program to start the downloading process.
Conclusion
NZBDrive allows users to stream media files while these files are being downloaded. This is the main selling point of this newsreader. And while this feature is not really unique to this newsreader, it is definitely one of the easiest to use in terms of streaming content as it is being downloaded. This application is free and has its latest version 2.0 available on their website. And while a downloadable installer is available on their site, it can also run on Linux devices.
Visit NZBDrive
Best Usenet Newsreaders