NGroups Review
Last Updated: Jan 14, 2022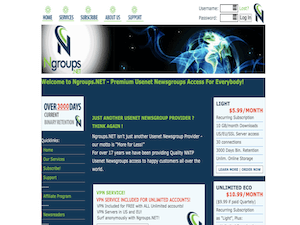 Rating
Price
$10.99 / Month
Retention
3000 Days
Free Trial
3 Days or 5 GB
Features
US and EU Servers
VPN Add on Available
Yearly Discount
NGroups provides several different options for USENET access, some with VPN included. This company Usenet service provider is based in Sweden.
Quick Facts
Data centers in both US and EU
Usenet newsgroups access
High retention rate - 3000 days of binary retention and 10 years of text retention
High completion
SSL access to both server farms
Up to 60 simultaneous connections
Unlimited download plans available
24/7 support
Multiple Payment options
VPN service included
Binary Retention
NGroups has more than 3000 days of binary retention. This is competitive with other providers and better than many however not at the same level as our listed best Usenet service providers.
Pricing
Ngroups has quite a few options for service. Some of the services come with a VPN included. With the Unlimited Eco, the VPN has limited speed and usage limits every month.
| Plan | Price per month | Price per quarter | Transfer Limit | Connections |
| --- | --- | --- | --- | --- |
| Light | $5.99 | N/A | 10 GB | 30 |
| Unlimited Eco | $10.99 | $29.97 | Unlimited | 30 |
| Unlimited Extra | $19.99 | $54.97 | Unlimited | 60 |
Block accounts are available from this provider, as well. You can opt for a "manual" account, which requires that you manually renew it at the end of your subscription period. Full pricing details below: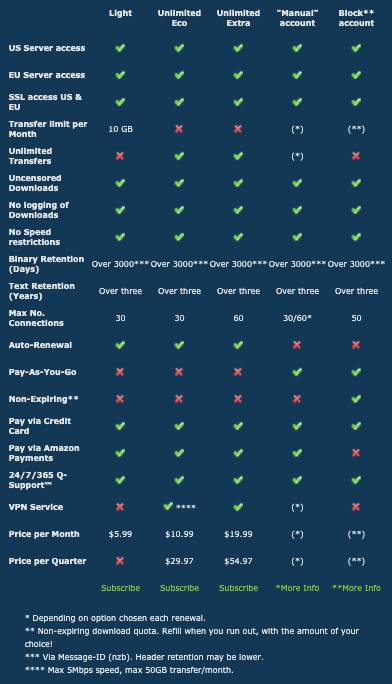 Free Trial info
You can sign up for a three-day, 5 GB trial from this company. If you don't want the service, just cancel before your subscription begins.
Special Offers / Coupons
There are no special offers for this company right now, but we always share offers when we get them, so be sure to check back frequently.
Speed Test
NGroups had good speed when we tested their servers. Most USENET service providers do provide very fast download speeds.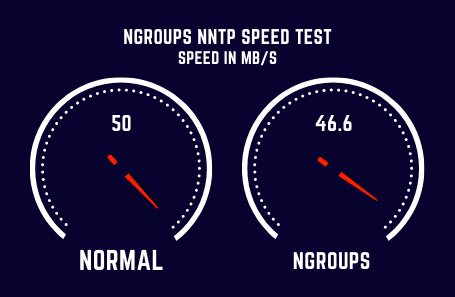 Connections
You'll get at least 30 connections with any package from this provider; some go as high as 60. Most users won't need 30 connections so, while adding more connections to higher priced packages makes sense from a numbers point of view, it's not likely to do much for speed.
News Servers / Ports / Configuration
US: us.Ngroups.NET
Europe: eu.Ngroups.NET
Unencrypted Ports: 119, 20, 23, 53, 443, 2000, 8080, 9000, 9001, 9002
SSL Ports : 563, 80, 81, 465, 993
Frequently Asked Questions
Q: Is this company still around? Their site looks really dated.
A: Yes, they're still live and, yes, their site does look a bit older than most but, nonetheless, they are open for business. Click our link to go there.
Q: These plans seem complicated, what's the bottom line with them?
A: Essentially, if you want a subscription that auto renews, you have three options; the first three plans listed on the table above. Each of those can be purchased for different lengths of time on a non-renewing basis, if you prefer. Block access runs out once you download the listed quantity of data, but never expires until you do.
Q: Can I use my own newsreader with this service?
A: Yes! Most USENET providers allow you to use whatever newsreader you want. Some of our top providers offer their own, custom, newsreader software, as well, but it's usually just an option. If you want to use something different, most USENET providers are more than happy to accommodate that. They just provide the server. You can access it using whatever software you like.
Q: Do I need a newsreader to use this service?
A: Yes, you do. If you're really not in the mood to pick out a newsreader—we get it, it's a lot of work sometimes—you can go with Newshosting, Tweaknews or Easynews, all of which offer either their own newsreader or, in the case of Easynews, a web app that completely eliminates the need for a newsreader at all.
Q: Are these prices high?
A: They're competitive, but not as good as what our top providers offer. Tweaknews and Newshosting are better on price, particularly if you go for a year-long subscription, where the difference is really dramatic.
Q: Is it easier to just go with block access if I don't know what I want?
A: Yes. Block access is great if you're not sure how much you'll use your USENET access and, in particular, if you really only need it for limited purposes. Try out a block account if that's the case. Students tend to like block access, as well, since it's very cheap and a small block of data might last you all semester. Just remember: If you're downloading on a monitored network, such as a campus-provided broadband connection, be sure you connect over SSL so that your privacy is protected.
Support
NGroups has an extensive FAQ on its site and it's organized very well. If that doesn't fix your problem, you can go to http://q-support.com/ and use their ticketing system.
Contact Information
@Space Enterprises, LLC
5348 Vegas Drive # 800
Las Vegas, NV 89108
US
Security /Company Privacy Policy
NGroups says that they don't monitor your downloads or which groups you visit. They do have to turn over information in the event of a legitimate legal request, however.
Payment Options
You can pay via credit card or Amazon payments for service from this provider.
Our Opinion
NGroups is not bad at all. Their page is dated and their subscription plans sound more complicated than they actually are, which might make some users hesitate, but NGroups is a legitimate company that's been in business for a long time and that offers a lot of what we like.
They have SSL ports, server farms on two continents, a good support section on their site and their retention rates are competitive. Their prices are higher than we'd like, however, and the difference between NGroups' prices and those of companies such as Tweaknews and Newshosting, particularly for long subscriptions, are very noticeable. We find our preferred providers to be better deals.
This company's site might give you the impression that they haven't kept up with the times, but they have and they're definitely a good provider. For value, however, you'll get more from any of our best Usenet service providers. Those providers tend to have more intuitive sites, which is important when you need customer support, and we can't overlook that, either.
Altenatives To NGroups
| Name | Price | Info |
| --- | --- | --- |
| Newshosting | $5.99 | Best Overall / Fastest Speeds |
| Eweka | €6,99 | Best EU Provider / High Retention |
| UsenetServer | $7.95 | Unlimited Access / NZB Search |
| Easynews | $9.98 | All-in-One / Usenet Search |
| TweakNews | €7,50 | Quality Retention / Quality Completion |
| PureUSENET | €5.97 | Good EU Provider / Free SSL |
| XLned | €7.49 | Fast Speeds / EU Servers |