NewsXS Review
Last Updated: Jan 25, 2022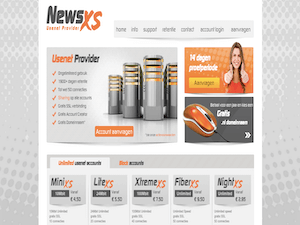 Rating
Price
€9.50 / Month
Retention
1900 Days
Free Trial
Features
Multiple Packages
Dutch Usenet Provider
With Block Accounts
NewsXS is a Dutch Usenet service provider that offers a wide variety of unlimited and block account options. They have been in the Usenet business for quite some time now and have established themselves as a reliable Usenet provider especially for the European market.
While NewsXS is not at the same level as the best Usenet service providers in the market today, they offer a good amount of connections for their users, as well as a decent retention rate. SSL is also included in their plans and they also allow account sharing.
NewsXS Quick Summary
Dutch Usenet Service Provider
Unlimited Usenet Accounts
Block Usenet Accounts
14-day Free Trial Period
1900 days of Retention
Up to 50 connections
Account Sharing Allowed
Free SSL Connection
Multiple IP Addresses
Multiple Payment Methods
Binary Retention
NewsXS has a retention of 1900 days. This retention rate has not changed for the past few years. While this may not be at par with the best Usenet service providers, this is decent enough to be able to find files from 5 years back.
Pricing
NewsXS has two main types of accounts: Unlimited Usenet and Block Access.
Their Unlimited Usenet accounts vary in speed and number of connections. This would be perfect for users who heavily rely on Usenet for downloading files and newsgroup discussions.

If you are not a heavy user, you can choose to go with NewXS' block accounts which controls the amount of your usage based on your block limit. Block accounts have no speed limit and are set to 25 connections.

Free Trial Info
NewsXS offers a 14-day free trial period only for their unlimited access plans. You can use an unlimited account free trial if:
You currently don't have a NewsXS account
You haven't had a free trial before
You have no overdue payment/s
Not in combination with other discounts
There is a limit, however, with this free trial. You can only use up to 150 GB within the free trial period.
To request for a free trial, simply go to their site and choose the unlimited plan you want and proceed with all the required information needed.
Special Offers/ Coupons
There are currently no special offers or coupons from this Usenet service provider. Make sure to check back with us for future promos, if there will be any.
Speed Test
The speed of your Usenet activity depends on the type of account you select. But similar to other providers, you will be able to max out your speed with NewsXS. When we tested their service, it performed well in terms of speed. However, be sure to choose a plan that matches the speed of your internet service provider because you can also be limited by how fast your own internet connection is.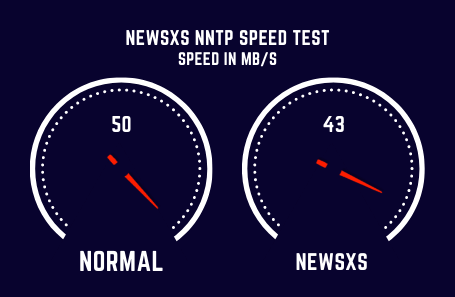 Connections
NewsXS provides a maximum of 50 connections for its users. However, you can only get that maximum number on their FiberXS and NightXS unlimited Usenet accounts. Other unlimited plans offer less than that. Their block accounts only has 25 connections.
News Servers/ Ports/ Configuration
Their server address is: reader2.newsxs.nl.
Standard Ports: 119, 23, 80, 81, 443, 8080, 2323 and 8181
SSL Ports: 563, 564, 600, 663 and 664
Frequently Asked Questions
Q: When will my unlimited account be renewed?
A: The renewal of an unlimited account depends on the payment period: every 30 days (month), 90 days (quarter), half year or whole year.
Q: I have a Block-XS account, how long will my GBs of this account be valid?
A: After purchasing your Block-XS account, it will remain valid for 1 year. If you renew your current Block-XS account within the year (by taking an extra block), the total account will again be valid for 1 year.
Q: How are the GBs of my Block-XS account calculated?
A: Of course, only the actual data is calculated. Grouplists and headers are not included. You can view an overview by logging in with your account details on the NewsXS website. Please note that the data calculation may be more than the actual files. This is caused by the package size (yEnc) etc.
Q: I would like to post, what information do I need?
A: For uploading you can use the same data as you also download. The server address reader2.newsxs.nl also remains the same.
Q: Can I upgrade my unlimited account?
A: Yes, you can upgrade at any time by logging into your control panel. The upgrade takes effect on the renewal date. This can also be done earlier if necessary. You can find more information about this when you are logged in to the control panel and click on "Edit my account".
Support
NewsXS has a support page on their website containing answers to possible financial and technical questions. This support page also contains manuals for newsreaders like SABnzbd, Newsleecher and GrabIt.
Contact Information
For questions, you can use the form on the contact page. Even in the evenings and at weekends, their support staff are available to answer your questions quickly and professionally.
You can also directly email them for support and technical questions, administrative questions, product information and abuse. Email addresses can be found on their contact page as well.
Address details:
NewsXS BV
Willem Dreeslaan 153
2729 NE Zoetermeer
Security/ Company Privacy Policy
NewsXS does not track what you do in any way. Only your data totals are tracked. When posting, no IP address is sent in the header information.
Payment Options
NewsXS accepts the following as payment options:
iDeal
PayPal
MasterCard
Visa
Our Opinion
NewsXS has been providing Usenet access to users for more than 15 years. And with all those years of service and experience, they have established themselves as one of the more reliable Dutch Usenet service providers in the market today. However, they have yet to be at par with the best Usenet service providers like Newshosting that offer a better retention rate, more competitive service and additional features. That being said, NewsXS is still one of the better options out there.
Altenatives To NewsXS
| Name | Price | Info |
| --- | --- | --- |
| Newshosting | $8.33 | Best Price / Free Newsreader |
| UsenetServer | $7.95 | NZB Search / Fast Speeds |
| Eweka | €7,00 | Best EU Provider / Lifetime Discount |
| Easynews | $9.98 | Easy Web App / File Previews |
| TweakNews | €7,50 | Free Newsreader / Free VPN |
| PureUSENET | €5.97 | Good EU Provider / Free SSL |
| XLned | €7.49 | Fast Speeds / EU Servers |