Newsservers Review
Last Updated: Jan 26, 2021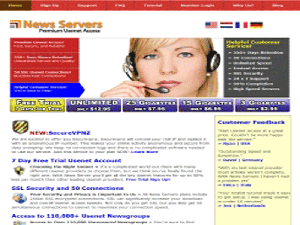 Rating
Price
$12.95 / Month
Retention
550 Days
Free Trial
7 Days/3GB
Features
Three Metered Plans
Free SSL
Now Closed
Newsservers is no longer active and has no active website. The review below is kept for historical purposes. You can check out our top providers for Usenet access.
Newsservers is a world-Wide Usenet service provider, offering high speed Usenet access to more than 110,000 Uncensored Newsgroups.
Newsservers Binary Retention
Newsservers currently provides more than 550 days of binary retention, while the completion rate is 99%.
Newsservers pricing
Newsservers offers three metered accounts and one unlimited package. All packages come with free SSL encryption and 50 connections. Metered packages are available in three options: 3, 15 and 25GB of monthly bandwidth, while the prices for these packages are $2.95, $6.95 and $7.95 per month. The price for an unlimited option is $12.95 per month. All packages include over 550 days of binary retention, 50 simultaneous connections and 24/7 e-mail customer support.
Monthly accounts are automatically renewed at the end of the billing cycle, until the subscribers decide to cancel the service.
Newsservers Free Trial
The free trial provides unrestricted access for 7 days or 3 gigabytes, whichever is used first. After 7 days, the subscribers account will be activated at the chosen membership level.
Newsservers Special Coupons
Currently, there are no special discounts for the service discounts, but you might want to try their free trial option.
Newsservers Speed
They do not limit the download speed. In other words, they allow the subscribers to connect at whatever speed they are capable of. Naturally, the speed will be determined by Internet traffic, Internet connection speed, and finally by the route to their servers. They provide 50 connections with all packages.
Newsservers Servers
The server address is News.Newsservers.net, which is available on port 119. The secure server is available on the address is Secure-News.Newsservers.net and it uses port 563.
Newsservers Security/Privacy
All News Servers plans include 256bit SSL encrypted connections.
Other Nice Features
Recently, they introduced Securevpnz into their offer. Securevpnz conceals the real IP of subscribers and replaces it with an anonymous IP number. As a result, an online activity of the user becomes anonymous and secure. News Servers does not keep connection logs and there is no complicated software required for usage of the service.
Furthermore, they have prepared a detailed tutorial (images included) on how to setup GrabIt, which is binary-oriented newsreader with a simple interface, allowing multiple server connections and assignment of folders for each newsgroup.
Conclusion
New and somewhat generic Usenet service provider. That said, they have good retention levels and you can check out their 7 days or 3 gigabytes free trial. Also you might want to compare them with top Usenet providers from our list.
Altenatives To Newsservers
| Name | Price | Info |
| --- | --- | --- |
| Newshosting | $8.33 | Best Price / Free Newsreader |
| UsenetServer | $7.95 | NZB Search / Fast Speeds |
| Eweka | €7,50 | Best EU Provider / Lifetime Discount |
| Easynews | $9.98 | Easy Web App / File Previews |
| TweakNews | €7,50 | Free Newsreader / Free VPN |
| PureUSENET | €5.97 | Good EU Provider / Free SSL |
| XLned | €7.49 | Fast Speeds / EU Servers |