Newsguy Review
Last Updated: Nov 24, 2021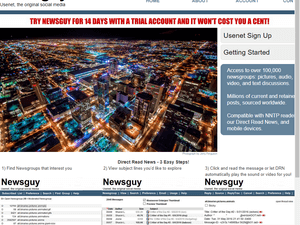 Rating
Price
$9.99 / Month
Retention
300 Days
Free Trial
2 Days 20 GB
Features
Monthly Limits
Selling Email Accounts
Yearly Discount
EDITOR'S NOTE: Newsguys has filed for bankruptcy in August 2021 and has sent out emails to their email box account holders to download important mails to user's local computers. They also encouraged any website or file storage account holders to download copies of files. Their website is also no longer active.
The review below is kept for historical purposes.
Newsguy has been around for a long time, but their offerings don't really seem to have kept pace with the times. Based on their website, no changes or updates have been made on their service, featured and on their site itself since 2016. And while web access to USENET and email is available from this Usenet service provider, we feel that our readers would do well to spend their money elsewhere.
Quick Facts
SSL (Privacy Protection)
Bandwidth on Demand Option
Web Access
Email Service Available
14-Day Free Trial
Binary Retention
Newsguy offers 300 days of retention. This is a lot less than most of what our best Usenet service providers offer.
Pricing
The pricing models on Newsguy are straightforward enough. You get 15 GB of data for $10 per month. You can add to that if you wish. You'll get a 33% discount if you sign up for 12 months of service. Any plan comes with free email service.
Free Trial info
Newsguy offers a 14-day free trial. If you don't want the service after that time has passed, cancel before your subscription officially begins.
Special Offers / Coupons
The only special offer with this provider is a discount of 33% that applies to one-year signups.
Speed Test
Newsguy is fast. They did well in our speed tests, as most USENET service providers do.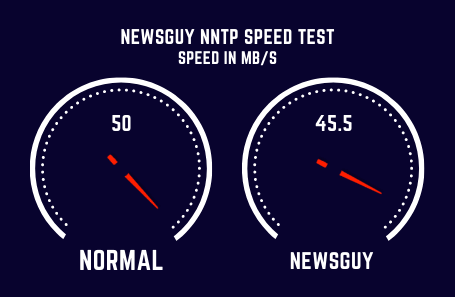 Connections
You can use up to 32 simultaneous connections with this Usenet service provider, but you probably won't need anywhere near that amount to max out your bandwidth. If your downloads are going too slow and adding connections doesn't help, try reducing the number of connections. Too many connections will slow down your download speeds.
News Servers / Ports / Configuration
Server address: news.newsguy.com
Ports
Unsecured :119, 80, 8080
SSL Encryption :443, 563
Frequently Asked Questions
Q: I'm having a hard time finding out information about this provider. Is that a problem?  

A: Newsguy's About page, while amusing, offers little of substance. There's no reason we can find to doubt this company, but there's precious little contact information that we can give to our readers—address, phone number, etc.—and that does prevent them from getting a recommendation from us.

Q: What's the Web Access feature?  

A: It allows you to access USENET content without using a newsreader, which may be easier for some subscribers. You can check out Easynews, one of our recommended Usenet service providers, for a more advanced version of this feature, which also comes at a lower price.

Q: Is using a credit card for USENET access safe?  

A: Yes, as long as the provider is legitimate, it should be fine. There are some users located in jurisdictions that might want to avoid using easily-traceable payment methods, however. If that describes you, we highly recommend going with a Usenet service provider that accepts some type of anonymous payment. Many of our best providers accept Bitcoin, which is generally preferred for private online transactions.

Q: What kinds of newsreaders work with this service?

A: Anything should work. There are great newsreaders out there, from Newsbin to Grabbit to more specialized applications, such as Sonarr and Sickbeard, which are used for downloading binaries. Newsguy—and most other providers, for that matter—will allow you to use whatever newsreader you wish, though some come with preconfigured readers that might be the easiest options for some users.

Q: Is the email service a valuable add on?  

A: It seems a bit dated in our present day, when free email accounts are widely available. If you want an email address at the Newsguy domain, it might be worth it. Alternately, you could get block access from one of our best providers for half the price of what Newsguy charges and get a free email account from any number of providers.

Q: Is there phone support from this provider or an address?  

A: No.

Q: How are the prices compared to other providers?  

A: They're not great but they're also not the most expensive we've seen. In the end, however, you'll do better to go with one of our preferred providers, as they offer a better deal for the money you spend. If you want limited access—such as a block access account—to save money, go ahead and buy regular block access from one of our best Usenet service providers. You'll get more for your money.
Support
Support issues can be reported via their contact page.
Contact Information
The only contact information for this provider is their web form, which is also used for support. You can find it at: http://www.newsguy.com/contact.htm
Payment Options
Newsguy accepts credit cards for payment.
Our Opinion
Newsguy seems a bit dated to us. Their plans aren't particularly affordable. While 15 GB for $10 might seem steep, you can get that same amount of data from Easynews for literally half the price. Many of our best providers offer unlimited downloads for a lower price than Newsguy charges for 15 GB, as well.
All in all, this Usenet service provider seems good, but dated. The website doesn't have the kind of information we like to see from our providers. While there's a plenty of history with this company in terms of how long they've been at it, we like to see at least an address from our providers so we can vouch for them with more confidence.
There's nothing bad about Newsguy except the dated nature of their plans and their site and, for us, that's enough to leave them out of the running for our recommendation. You can get more value for your money with any of our preferred providers. You'll also get better information about the company, better contact options and more from any of our preferred vendors. The web access feature that Newsguy offers is nice, but it's also an offering that our preferred providers do a bit better, in our opinion, and for a better price.
Our final recommendation is to look elsewhere. You can check out our list of the USENET has been around for a long time, but that's no reason to not have cutting-edge service. Live support, included newsreaders, cheap access and more are all available from our best Usenet service providers and we recommend that you look to any of them for superior service.
Altenatives To Newsguy
| Name | Price | Info |
| --- | --- | --- |
| Newshosting | $8.33 | Best Price / Free Newsreader |
| UsenetServer | $7.95 | NZB Search / Fast Speeds |
| Eweka | €7,00 | Best EU Provider / Lifetime Discount |
| Easynews | $9.98 | Easy Web App / File Previews |
| TweakNews | €7,50 | Free Newsreader / Free VPN |
| PureUSENET | €5.97 | Good EU Provider / Free SSL |
| XLned | €7.49 | Fast Speeds / EU Servers |