Newsgroup Commander Pro Review
Last Updated: Feb 01, 2022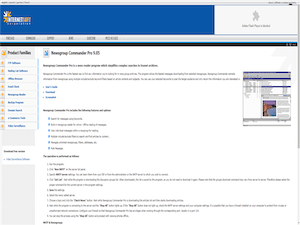 Rating
Price
$49.95
Retention
500 Days
Free Trial
None
Features
Built-in Newsgroup Reader
Online and Offline Reading
Message Search via Keywords
Newsgroup Commander Pro basically allows you to search, read, reply, and send new messages on Usenet using a simple, yet handy, interface. Developed by InternetSoft Corporation, which is a company that mainly focuses on email client software and FTP software, Newsgroup Commander Pro helps you go through newsgroups and download articles from them.
This Usenet newsreader has several basic, yet functional features that allow it to perform well and provide fundamental commands that traditional newsreaders are known for including message searching, posting, online and offline reading and managing newsgroups.
Highlighted Features
Newsgroup Commander has the following features and options:
Message search via keywords
Built-in newsgroup reader
Online and Offline Reading
View individual messages within a newsgroup for reading
Multiple include/ exclude filters to search and find articles by content
Unlimited newsgroup management
Manages filets, addresses, etc
Post messages
Multiple Connection Support
Allows you to choose between downloading all articles of a group or only the specified number of the last articles
Automatic loading of articles via mouse click
Online Filters
Article Title only downloading
Configurable layout to set up various message list views as well as toolbars and buttons
Newsgroup Commander Pro's latest version is 9.05 and can be downloaded from the Internet Soft Corporation website.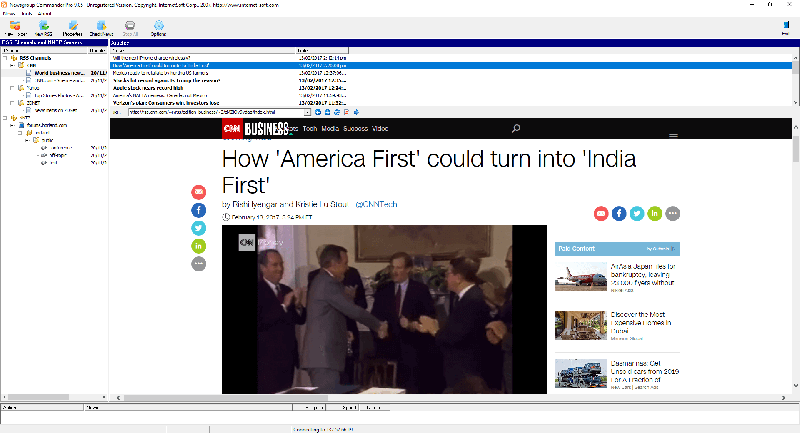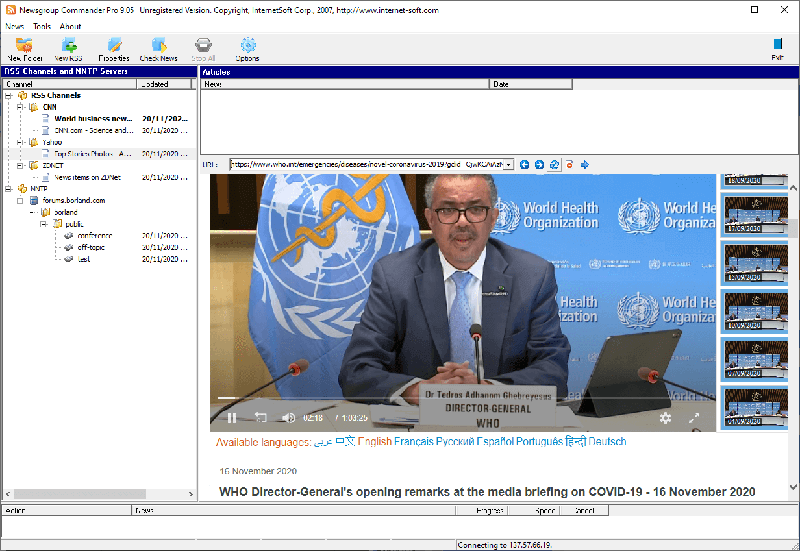 Plans & Pricing
Newsgroup Commander Pro can be installed and used for free. However, there are certain limitations if you will be using this program freely. You would need to pay for a registered account to be able to enjoy the full features of this newsreader. This costs $49.95 and can be paid via credit card, wire/transfer, check, cash or purchase order.
Usage Overview
Newsgroup Commander Pro can run on various versions of the Windows operating system. It is very easy to install and configure and has a simple interface that is quite perfect for its basic function.
Installation
To install this newsreader, simply download a .exe file from the InternetSoft Corporation website. Open the downloaded file and complete the process indicated on the setup wizard.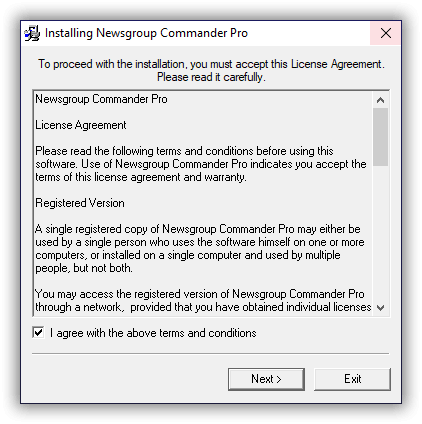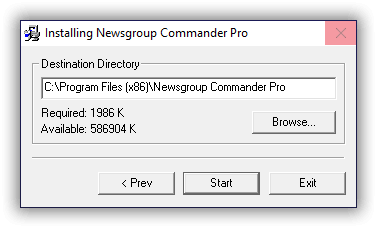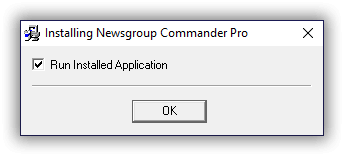 Configuration
To begin starting the Newsgroup Commander Pro, run the program and add a new newsgroup server. You must enter the NNTP host, user id and password if authentication is required and other information like port and return address.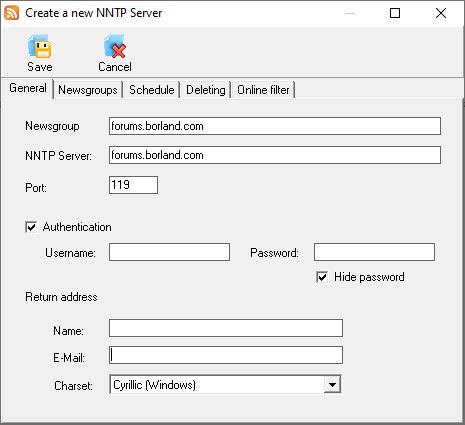 After saving the settings on the newsgroup servers list panel, you should see the server name you have just entered. Select page "Newsgroup" and then click "Get List". Please note that different servers may use different commands to get a group's list. You may need to adjust the NNTP Server Properties for proper operation.
Usability
To simplify how Newsgroup Commander is used, it can be broken down into a few simple steps as stated on their user guide:
Run the program.
Click "New NNTP" on the server list panel.
Specify NNTP server settings. You can learn them from your ISP or from the administrator or the NNTP server to which you wish to connect.
Click "Get List". Wait while the program is downloading the discussion group's list. When downloaded, the list is saved by the program, so you do not need to download it again. Please note that the groups download command may vary from server to server. Therefore, please select the proper command for the current server in the program settings.
Save the settings.
Select the newly added server.
Choose a desired group and click the "Check News" button. Wait while Newsgroup Commander Pro is downloading the articles list and then starts downloading article bodies.
Wait while the program is connecting to the server and the "Stop All" button lights up. If the "Stop All" button does not light up, check the NNTP server settings and your computer settings. It is possible that you have a firewall installed on your computer to protect from viruses or unauthorized network connections. Configure your firewall so that Newsgroup Commander Pro has privileges when working through the corresponding port. Usually it is port 119.
You can stop the process using the "Stop" button and proceed with viewing articles offline.
Once you are done with all these steps, you can proceed with enjoying the full features of Newsgroup Commander Pro from viewing articles, to replying to messages to posting on newsgroups. Please remember, though, that Newsgroup Commander Pro is only a basic newsreader and does not have the capabilities of downloading actual files from Usenet.
Conclusion
For a basic Usenet newsreader, Newsgroup Commander Pro has some simple but very functional features. It does not bother to provide users with features like automated schedulers or any other advanced features that more modern newsreaders may have. However, this is not to say that Newsgroup Commander Pro is not a decent Usenet client. As mentioned, it performs well and provides both online and offline reading for users.
Newsgroup Commander Pro could be a perfect tool for users who simply want to browse through, read, reply and post on Usenet newsgroups. Although, this newsreader could use some enhancement and improvement to not make it seem like an outdated Usenet client. With the emergence of a lot of modern-looking and feature-rich newsreaders in the market, Newsgroup Commander could benefit from a program update.
Visit Newsgroup Commander Pro
Best Usenet Newsreaders